Please visit us at the Integrative Health Symposium in NY this weekend / Relax Saunas - booth # 1025 (2nd Floor)
Hello Relax Sauna User, (or one very interested in it)
Once again , Relax Saunas of Momentum will be having a booth (Booth #1125) at the International Health Symposium for Medical Doctors & Health Professionals -- at the New York Midtown Hilton, 1335 Ave of Americas, New York City
Some of the Speakers include:

Exhibit Hall Hours
Friday - Feb. 24 - 10 AM - 6 PM
Saturday - Feb 25 - 10 AM - 5:30 PM
Who Attends?
Medical Doctors, Osteopaths, Residents, Registered Nurses, Physician Assistants, Nurse Practitioners, Advanced Practice Nurses, Registered Dietitians, Nutritionists, Chiropractors, Licensed Herbalists, Naturopaths, Homeopaths, Physical Therapists, Massage Therapists, Traditional Chinese Medicine, Acupuncturists, Pharmacists, Psychiatrists, Psychologists, Faculty and other integrative medicine practitioners.
This is for Health Professionals - the cost per day is $400 to attend, or $685 for both Friday and Saturday.
You May attend the Exhibit Hall ONLY for BOTH Days - The Exhibit Hall pass is only $100, and is well worth it !

This is a great opportunity to try the Relax Far Infrared Sauna.
We say that One experience in the Relax Sauna is worth 1000 pictures!
It's very hard to put in words: The amazing effects of being in the Relax Sauna for just 5 minutes!
If you would like to look at the Relax Sauna, or to bring a friend, I do have some free exhibit passes that I can give you.
Call me at 626 200 8454, my cell phone, and let me know you will be here.
I will come and give you an exhibit hall pass.
---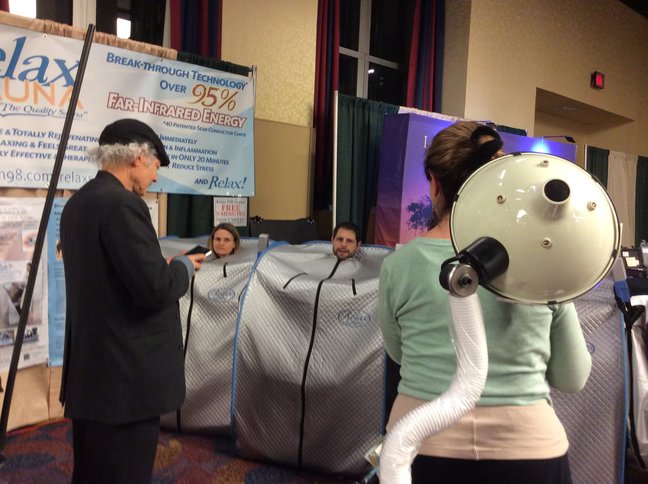 We were extremely well received last year at this conference, and we invite you to come visit us, and
to bring anyone who you feel might like to try the Relax Sauna (for free) at our booth.

______________________________________________________________

Here are some recent videos of people describing their experiences with the Relax sauna


If you are already attending the conference, let us know you saw this email. We can Give you a Free Gift when you show up at our booth.
Please do share with us how much you like the Relax Sauna, and how it has improved the quality of your life.
_______________________________________________________________
We look forward to seeing you again. It is always fun to see old friends.
We look forward to seeing you.
Click here to download a copy of the show program
Thanks,
Phillip Wilson
Relax Saunas of Momentum, Columbus, Ohio
For more information about the Relax sauna and other momentum98.com products, please go to:
www.momentum98.com or www.momentum98.com/relaxsauna.html
Phillip Wilson
Momentum98 - President
Relax Sauna - National Sales

3509 N. High St.
Columbus, Ohio 43214
626-200-8454 cell
614-262-7087 store & office phone or 800-533-4372