African Red Tea Logo


Egyptian Black Seed Oil


Four different blends
of Rooibos tea

Benefits and Uses of Red Tea
.
Red Tea is the ideal drink for people with a busy lifestyle. It can be enjoyed in unlimited quantities throughout the day.
It is a great thirst quencher for athletes as iced tea, or mixed with fruit juice. For the diet conscious, who are
experiencing the stress of a restricted diet, Red Tea is a soothing drink, without adding calories.
Because of its lower tannin content, Red Tea is less bitter than regular tea and can be enjoyed without sugar.
Red Tea is not just for making drinks. It can also be used in baking and cooking. Red Tea can be used in any recipe.
Just replace the liquid content in the recipe with ready made Red Tea.
It may be used as base for soups, stews, marinades, and sauces. Red Tea is also a natural meat tenderizer.
Acid & Zinc in Red Tea promotes a healthy and glowing skin.

Red Tea is a Tea of Purity
Red Tea contains no additives, preservatives or colorants.
It is completely pure and natural and contains no caffeine.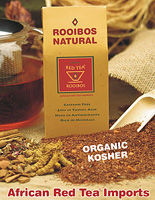 Red Tea contains little tannin, a substance that affects the metabolism by decreasing absorption of certain nutrients
like iron and protein. Growing children and especially women require added iron, so the decreased tannin can play
an important role in improving the iron level of the diet.
We have multiple selections of rooibos tea

Organic Red Tea With Cumin Seed (Black Seed)
This is a tea drinker's must. Nigella Sativa (Black Cumin seed) – analysis has revealed that it contains phosphates, iron,
carotene and natural antibiotics. Helpful for headaches, toothache, digestive and menstrual disorders, nasal congestion,
rheumatism and bronchial asthma. Excellent with milk.
AFR06- 20 Bags
Organic African Red Tea with Star Anise (Chai Tea)
Aromatic and refreshing. This is unlike any other Chai on the market today. Indulge your taste buds!
AFR07- 20 BAGS
Organic African Red Tea® With Madagascar Vanilla Bean
One of our best sellers. Mixed with 100% organic vanilla beans – not vanilla essence.
Extremely smooth and a delight to drink all day. This is unbelievably good even with nonfat milk!
AFR08- 20 BAGS
Organic African Red Tea® with Sceletium: The Happy Tea
This red tea has Sceletium powder added to it. An all natural and very effective anti-depressant, Sceletium elevates mood,
decreases anxiety and tension. Sceletium is also known to reduce addictive cravings particularly
with regard to nicotine and lessens the withdrawal effects of alcohol.
AFR09- 20 BAGS

Pure Egyptian Black Seed Oil

African Red Tea®Organic Black Cumin Seed from Egypt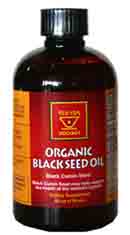 African Red Tea brand of Organic Black Seed Oil is from Egypt. Not from Turkey, or India, but from Egypt.
This black seed oil is probably the highest grade of black seed oil you can find in the world, and therefore,
it does cost more than your other brands of Black seed oil.

Black seed oil is very famous in the Arab world, and through their Bible, the Koran, It is always talked about
almost as a cure-all for everything.

We also sell the Oreganol www.momentum98.com/oregano.html which is closely related to black cumin seed oil.
They have similar wonderful results.

We have had some incredible experiences with THIS Brand of Black Seed Oil,
about the skin looking SO MUCH YOUNGER.
And about Serious problems being alleviated.
If this does not get published here by the time you read this,
Email us and we will send you the details.

Black Seed Oil contains several ingredients (in significant amounts) with potential value.
Black Cumin (Nigella sativa) Seed is rich in nutritional values. Monosaccharides (single molecule sugars)
in the form of glucose, rhamnose, xylose, and arabinose are found in the black seed.
The Black Cumin (Nigella sativa) Seed contains a non-starch polysaccharide component, which is a useful source of dietary fiber.
It is rich in fatty acids, particularly the unsaturated and essential fatty acids (Linoleic and Linolenic acid).

The EFAs, consisting of alpha-Linolenic acid (omega-3) and Linoleic acid (omega-6), are substances that cannot be
manufactured in the body, and thus must be taken in as supplements or through high-EFA foods.
Fifteen amino acids make up the protein content of the Black Cumin (Nigella sativa) Seed, including eight of the nine essential amino acids.
Essential amino acids cannot be synthesized within our body in sufficient quantities and are thus required from our diet.
Black seed contains Arginine, which is essential for infant growth. Chemical analysis has further revealed that the
Black Cumin (Nigella sativa) Seed contains carotene, which is converted by the liver into vitamin A.
The Black Cumin (Nigella sativa) Seed is also a source of calcium, iron, sodium, and potassium.
Required only in small amounts by the body, these elements' main function is to act as essential cofactors in various enzyme functions.

Black Seed contains over 100 valuable components.
It is a significant source of essential fatty acids, proteins, carbohydrates and other vitamins and minerals.
"The seeds are also rich in sterols, especially beta-sitosterol, which is known to have anticarcinogenic activity".
Dr. Michael Tierra, L.AC. OMD.

Black Seed stimulates bone marrow and immune cells, protects normal cells against cell destroying effects of viruses,
destroys tumor cells and raises the number of anti-bodies producing B cells.
Cancer Immuno-biology Lab, Southern California

Black Seed proves to have an anti-histamine, anti-oxidant, anti-biotic, anti-mycotic and broncho-dilating effect.
Study of Black seed oil on humans, American Scientists

Black Seed is a valuable source of protein, carbohydrates, essential fatty acids, vitamins A, B1, B2, C and niacin as well as minerals
such as calcium, potassium, iron, magnesium, selenium and zinc. Phytochemicals of Nigella Sativa seeds.
Food Chemistry