Almased

Another Great Survival Food! Almased's unique formula contains the key ingredients for successful weight loss, optimal health and maximum energy:

• High-quality fermented soy

• Skim milk yogurt powder
• Honey enzymes

The essential ingredients found in Al
mased help the body burn fat, not vital muscle mass like so many other diet programs. Almased® is all-natural, gluten-free and suitable for vegetarians. It contains:

• No trans fat or cholesterol
• No added sugar, starches or preservatives
• No artificial colors, fillers or flavors
• No stimulants like ephedrine (ma huang) or caffeine

Almased® has been proven to help you lose weight effectively. It speeds up your metabolism so you burn fat, maintain high energy levels and feel great… all without hunger. The unique patented formula reprograms your metabolism and teaches your body to literally "think thin". Almased® is also an ideal supplement even for people who don't want to lose weight but simply seek to supoort their health, physical performance and overall well-being.

NET WT 17.6 oz (500 g), approx. 10 servings
MSRP: $39.95 - Buy now and save $2.00!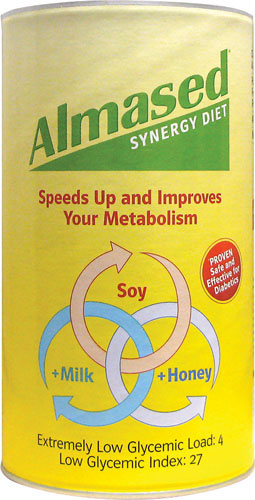 The Almased® Formula


Almased, is a powder made from the purest all-natural ingredients using a unique manufacturing process. It is made from soy protein, honey enzymes, and skim milk yogurt powder that complement each other through a fermentation process and work together in a synergistic way. When combined, these ingredients are more effective than if used individually – this is how Almased supplies the body with highly effective nutrients for the best possible metabolism. In addition to the Almased powder, we also offer an herbal Wellness Tea.
Scientifically Supported

Almased® is backed by several clinical studies from universities in Germany and the United States. Unlike many nutritional formulas that refer to studies conducted with mixtures or pharmaceutical substances related to their product, Almased® is supported by clinical studies of the product itself. Our customers can trust in the research behind the product.
Additionally, the International Journal of Obesity reported the beneficial effects of Almased® on overweight and obese individuals. Research has also revealed that Almased® can support healthy blood levels in people with diabetes, as well as improve the overall well-being of healthy individuals.

Ingredients:


Soy Protein Isolate, Honey, Skim Milk Yogurt Powder, Potassium Chloride, Magnesium Carbonate, Calcium Citrate, Vitamin C, Niacin, Color Additive: Riboflavin (Vitamin B 2), Vitamin E, Zinc Oxide, Ferrous Fumerate, Manganese Sulfate, Calcium Pantothenate, Vitamin B2, Vitamin B6, Vitamin B1, Vitamin A, Folic Acid, Potassium Iodide, Sodium Selenite, Biotin, Vitamin D3, Vitamin B12
.
---
---