Ancient Formulas - Persian Herbal Formulas - Ancient Formulas
Last updated: 4/4/11

Shop Our Online Store:

Since 1980!

Momentum 98
Natural Health Store

Taking Advantage of the Moment!




Propelling Yourself into Greatness!
ANCIENT FORMULAS
Based on Ancient Persian herbal formulas
---
Vital Pulse
Supports Blood Pressure Health.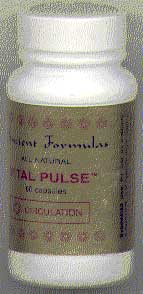 Vital Pulse is an herbal preparation based on an ancient Persian formula that specifically addresses
Blood Pressure Health (as documented by clinical studies in the United States).
When Vital Pulse constituents were taken under a doctor's supervision,
patients with chronic hypertension generally experienced decreased blood pressure with no side effects.
Some patients also reported increased energy and bowel regularity.

Primary ingredients: Hibiscus flowers, strawberry leaves and garlic.
All have been observed to enhance cardiovascular health.

Other herbal ingredients: Persian garlic, fumitory, raspberry leaves, cichorium root, onion.
The herbs not only enhance the cardiovascular effect, but also support total body functioning.
---
---
Assimilate
Strengthens the Digestive Tract.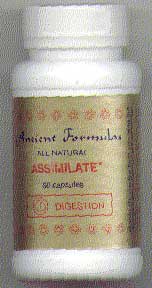 Assimilate is now available to strengthen and stimulate the digestive tract,

as well as to support general systemic fortification including the removal of toxins.
Assimilate uses herbs which are all recognized by both ancient tradition & modern research
for their ability to strengthen digestion.

Primary ingredients: yellow blossom clover, coriander, fumitory, calendula, fenugreek, leek, cumin, thyme, fennel,
mint red grape, hops nettle, cinnamon, wild chamomile, walnut, silver birch, galangal, cardamom, ginger,
Chinese cabbage, garlic, & capsicum.
---
---
Vibrance
Cleanses & builds Body Energy.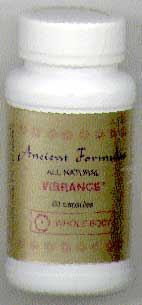 Vibrance increases body energy not through a temporary boost of adrenaline, but through a healthy total body approach.

This 100% natural herbal product promotes removal of toxins through cleansing of the blood and organs,
provides general immune-system support, and then increases the metabolism through its tonic properties.
This renewal of energy is experienced holistically because of the restoration of natural physical functioning.

Herbs in Vibrance: 100 % pure fenugreek, true lavender, thyme, sage, rosemary, cultivated radish,
chickweed, lemon balm, horehound, cinnamon, lovage, chicory, celery, white Korean ginseng, and kelp.
These botanicals have been traditionally observed to exhibit tonic properties which increase
the strength of the muscular and nervous systems.
Improved digestion and assimilation, the resulting enhanced metabolic functioning and an improved
sense of well being are also characteristic of tonic support.
---
---
Breathe Ease
Respiratory Support for Colds, Sinus, Hayfever, Asthma & Allergies.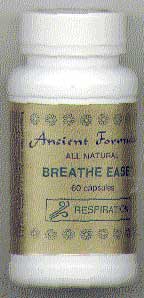 Stinging Nettles / most concentrated ingredient in Breath Ease herbal formula.
The Nettle Plant (Urtica Dioica) has a long, documented history with that reveals a widespread reputation for beneficial medicinal properties. The use of nettles as a medicine is recognized by the scientific community and written about in Asia, Europe, Africa, and the Middle East.
Double-blind studies conducted with individuals suffering from allergic rhinitis found nettle to be moderate to highly effective with minimal and non-harmful side effects and without suppressing normal human immune function.
Recent clinical findings concur with the use of nettle in the treatment of hayfever symptoms,
allergic rhinitis and some upper respiratory tract illnesses.
Breathe Ease also contains the Chinese herb Ma Juang (Ephedra) for its well-documented medicinal properties relative to the eye, ear, nose and throat systems as well as the upper respiratory tract. Thousands of published studies confirm the biochemically active compounds in Ma Juang and their helpful and healthful actions on the body.
Other ingredients: Chinese herb Lonicera (Jin Yin Hua), flavinoids, jujube tree fruit, & capsicum (cayenne pepper), all of which have been found effective in dramatically increasing the treatment of allergenic rehinits, hayfever symptoms,
and other respiratory challenges.
---
---
Slumber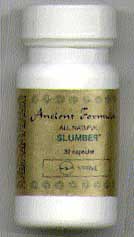 Gentle, natural support for the relaxation of the body prior to sleep.

Slumber is a pure herbal preparation that contains many herbal ingredients which have enjoyed a long history of use as natural relaxants.

Ingredients:
valerian, hops, passion flower, skullcap, roman chamomile, coriander, catnip, feverfew, poppy seed,
yellow blossom clover, thyme, lavender, & marjoram.
---
---
How To Purchase Items
Click the Add To Cart button beneath the product description to purchase the item. A shopping cart will appear on the right side of the screen. You can continue to add items from different pages on our site, then when you are ready to check out simply click on the cart icon, and click Checkout.


Contact Momentum98.com to purchase any item that does not have an Add To Cart button. You can purchase the item by email at

moment98@gmail.com

or by telephone at

614-262-7087

.


Read our terms and conditions of sale.
| | | | |
| --- | --- | --- | --- |
| CODE | PRODUCT | SIZE | PRICE |
| ANF01 | ASSIMILATE | 60 CAPS | $19.95 |
| ANF02 | BREATHE EASE | 24 CAPS | $ 9.95 |
| ANF04 | SLUMBER | 30 CAPS | $ 8.95 |
| ANF05 | VIBRANCE | 60 CAPS | $19.95 |
| ANF06 | VITAL PULSE | 60 CAPS | $19.95 |