body talks charts, food combining charts, reflexology charts, foot reflexology, iridology, tarot, vitamins, acupuncture, wallet cards
hand reflexology, chakra, holistic health, nutrition, crystals, color therapy
Last Updated:7/17/16
Shop Our Online Store:

Since 1980!

Momentum 98
Natural Health Store

Taking Advantage of the Moment!




Propelling Yourself into Greatness!
BODY TALKS CHARTS
---
The Body Talks Chart
Footnotes for Health.
The relationship between Body, Mind, and Emotions.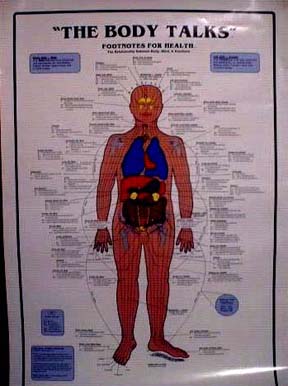 CHB20 - The Body Talks - 22" x 34" chart
Chart created by Barbara Brower Besides relating the relationship between the body, the mind,
and the emotions, the charts suggest Bach Flower remedies that may help remedy the relationship. A very, very interesting chart.
---
Segments of the Chart (Normal Size)

Top right of Chart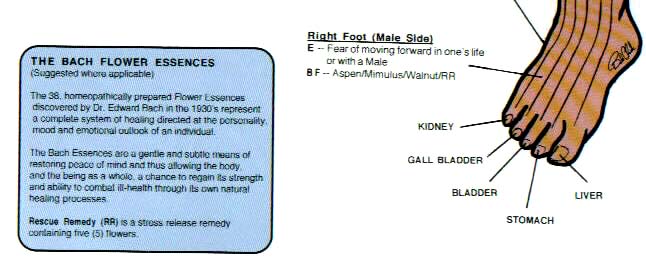 Bottom left part of Chart CHB20 - BODY TALKS CHART (22" x 34") - $26.95
---
Many More Charts...

Ingham Charts
Legion of Light Charts
Food Combining Charts . Vita Charts
Inner Light Charts Page . Sacred Wisdom Charts Page . Decoder Chart Page
---
Wallet Cards

We carry about 50 different wallet cards.

Go to Inner Light page of 20+ aromatherapy & other Cards
Go to Helion Sacred Wisdom page of over 20 wallet Cards

We also have other wallet cards available from the Legion of Light page (1),
from the Ingham Reflexology charts page (2),
and from the Pickering Food Combining charts page (2).
---
How To Purchase Items
Click the Add To Cart button beneath the product description to purchase the item. A shopping cart will appear on the right side of the screen. You can continue to add items from different pages on our site, then when you are ready to check out simply click on the cart icon, and click Checkout.


Contact Momentum98.com to purchase any item that does not have an Add To Cart button. You can purchase the item by email at

moment98@gmail.com

or by telephone at

614-262-7087

.


Read our terms and conditions of sale.

DYNAMO HOUSE MINI CHARTS
6.5" x 9"


CODE

ITEM

UNIT

PRICE

CHD816

PALMISTRY

6.5" x 9"

$4.00

CHD869

PILATES

6.5" x 9"

$4.00

CHD838

QUI GONG

UNAVAILABLE




6.5" x 9"

$4.00

CHD818

REFLEXOLOGY

6.5" x 9"

$4.00

CHD828

RUNES


6.5" x 9"

$4.00

CHD819

SHIATSU SELF MASSAGE

unavailable

6.5" x 9"

$4.00

CHD870

SOLAR SYSTEM DISCONTINUED

6.5" x 9"

$4.00

CHD821

SUSHI DISCONTINUED

6.5" x 9"

$4.00

CHD822

TAO OF SEX


6.5" x 9"

$4.00

CHD823

TAROT


6.5" x 9"

$4.00

CHD871

TEA CUP FORTUNE DISCONTINUED

6.5" x 9"

$4.00

CHD837

VITAMINS & MINERALS

UNAVAILABLE`

6.5" x 9"

$4.00

CHD824

WORLD RELIGIONS


6.5" x 9"

$4.00

CHD825

YOGA

6.5" x 9"

$4.00