Crystal Synergy Cream

The ANCIENT healing power of crystals and gemstones has now been harnessed into an all-purpose healing and pain cream. It's a safe, all-natural alternative to expensive treatments.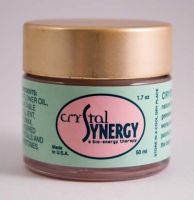 ADC01 - 1.7 oz
ADC03 - 4 oz
An all natural composition of powdered crystals and gemstones. When topically applied, Crystal Synergy works with your body's own energy to alleviate painful discomfort caused by interruptions to the body's natural energy flow patterns.

Crystal Synergy is a topically applied ointment developed using
vibrational medicine principles. It does not rely on heat or cold to
penetrate deep in the body.

Crystal Synergy is fragrance free.
Clear and invisible. No staining if used correctly.
Will seek out pain or imbalance, even if it is deep within the body.
Produces long lasting relief. The micro crystals stay on the area until you wash them off.
---
Chakra Balancing Cream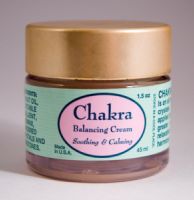 ADC02 -
1.5 oz
An all natural composition of powdered crystals and gemstones. When topically applied to all seven chakra's:
It provides greater clarity, focus and a state of relaxation.
It promotes balance and harmony.
It is excellent for meditation.
---
Crystals & Silk - Hand & Body Cream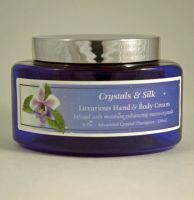 ADC04 - 8 oz
This luxurious cream contains special micro-crystals to firm, tone, and moisturize. It also contains hydrolyzed silk to smooth, soften and condition your skin.
---
Since early times, humanity has been fascinated with beauty and power of crystals, gemstones and minerals. Druids used them for healing as well as for their religious rituals. Medieval Europeans ground them into powders for medicinal purposes. The Tibetans regarded quarts crystals as one of the seven most precious substances of Buddha. For thousands of years, South American Indians have used a variety of gemstones and minerals to insure the excellent growth of their crops. They buried them in the ground at strategic points throughout the fields and refused to reveal the secret of exactly which stones thy used, and where they were placed. It's well known, however, that the Amaranth crops of

Andes

grown by these methods produced and incredible harvest. The chemical compositions of different minerals were put here on earth to be healing & supportive. The mineral kingdom is just as important to the overall eco-system of life, (even though it's inorganic), as the plant kingdom.

Crystal are form of Vibrational Medicine
The recognition that all matter is energy, forms the foundation for understanding how human being can be considered dynamic energetic systems. Through his famous equation, E=mc2 Albert Einstein proved to scientists that energy & matter are dual expressions of the same universal substance. That universal substance is primal energy or vibration of which we are all composed, therefore, attempting to heal the body through the manipulation of this basic vibrational or energetic level of substance can be thought of as vibrational medicine. Instead of drug & surgical approaches, vibrational medicine attempts to treat people with pure energy. This theoretical perspective is based upon the understanding that the energetic network, which represents the physical/cellular framework, is organized & nourished by "subtle energetic systems" which coordinate the life force with the body.

Crystal & the Body's Connection
Some of the crystals, particularly quartz, on people (as well as animals) relate to a particular resonance effect that occurs within our own crystalline structures. Science has begun to recognize a new class of crystals known as liquid crystals that have a structure which is partially crystalline and partially fluid. Scientist are starting to understand that many substances and membranes in the body appear to function as liquid crystals. When using crystals on the body, energy transference occurs. Partly because of a resonance effect between the quartz crystal and those cellular crystal systems with quarts-like properties.

The quartz crystal is one of many stones that can be used for the purposes of healing and energizing. The research in this area has resulted in the creation of topical cream whose ingredients are a combination of very powerful crystals and gemstones. It is these stones that interact with our own body's energy to promote a state of excellent health.

Crystals

and gemstones are ground into a super fine powder which produced many small individual stones. That enhanced the stones ability to cover a broader area as well as utilizing its healing properties to its maximum potential.
When the body is in an unhealthy state, there is a mis-vibration occurring in the affected area. When a crystal is placed within the body's electromagnetic field its vibration travel through the body (via the body's meridians), correcting any mis-vibration.
---
Disclaimer
These statements have not been evaluated by the Food and Drug Administration. These products are not intended to diagnose, treat, cure or prevent any disease. The statements are for informational purposes only and are not meant to replace the services or recommendations of a physician or qualified health care practitioner. Those with health problems, pregnancy or who are nursing are specifically advised that they should consult their physician before taking any nutritional supplement.

---