DVD - Now available
A 41 minute Talk by Phil Wilson
"
Bathing in the Healing Light of Far Infrared Ray Light"

given in Long Beach, Ca on April 4, 2009
$10.00, including shipping and handling.
$10.00 rebate if your order a Relax Sauna from us.
Just let us know when you order the sauna that you get a $10.00 rebate for Your DVD purchase.
If you have already ordered a Relax Sauna from us, you are entitled to a DVD for free.
Just put that in the notes at the bottom of the order form on this page !

go to order form to order DVD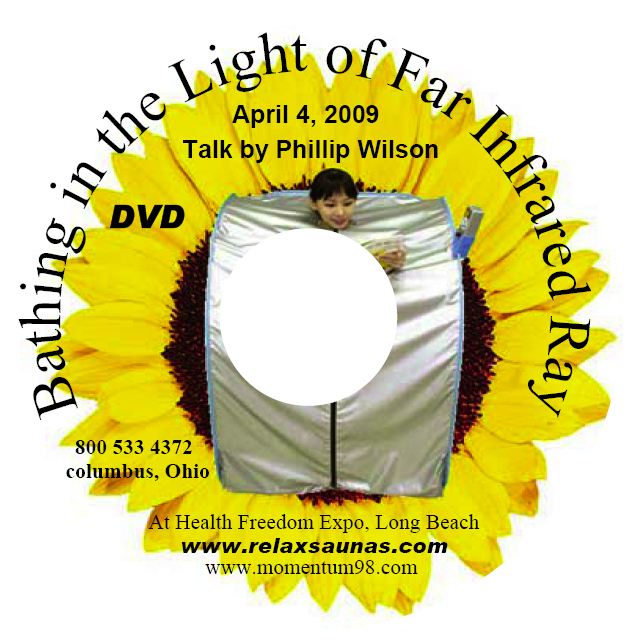 ------------------------------------------------------------------------------------------------------------------------------------------------------------------------------

RELAX SIT - UP SAUNA
FAR INFRARED RAY (FIR) TECHNOLOGY
(FIR stands for Far Infared Ray Light)
.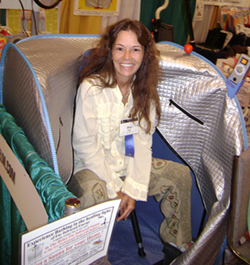 .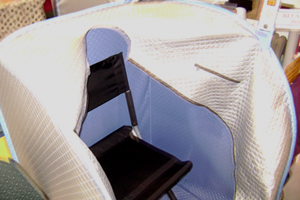 The Relax Sauna
.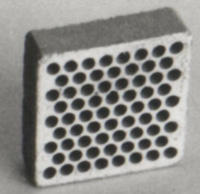 The Only

Sauna with the computer-programmed Ceramic Semi-conductor chip
that filters out ALL of the Non-Healing light rays, so that you can totally absorb
the healing Far Infrared Rays of 4-14 microns, and not have to resist any other energies.
.
---
---
Huge
Diabetic Ulcer (
1.5" x .75")
clears in 7 weeks, 20 minutes per day.



This is a case study of a large diabetic ulcer that was healed using the FIR Professional Radiator.




Doctors had not been able to do anything with it for 1 1/2 years.




We show this information and pictures to nurses, and they are truly, truly amazed at what


the Relax Far Infrared Ray Sauna can do.
Relax FIR Healing Case Study ( 287 KB pdf )



Smaller Diabetic Ulcers clear up in 2 months after Sauna treatments twice a week !



One lady who owns a spa in Philadelphia bought our sauna because she was impressed with this report.
She has since reported to us that she has had two clients who have had maybe 5-10 diabetic ulcers
on their legs. In both cases, the ulcers cleared up in 2 months, using the sauna just twice a week.

People who have been in accidents are getting pain relief in minutes 1st time in 4 months !

In our store, we have had a number of people come into our store and go into the Relax Sauna for 5-10 minutes.
One lady who had been in a rear ended car accident came in for a 10 minute treatment, and found such
relief, she came back a week later with her sweats on, and spent 15 minutes in the Sauna. She cried after
that since she was able to be pain free for the first time in 4 months.

Another lady, a health professional, was just in the Sauna for 5-8 minutes. She called two weeks later and
said that this was the only thing that has given her relief from an an accident she had had, hurting her leg.
So she had to get a Relax Sauna from us.


Massage Therapists have Great Results / Their Clients melt like Butter !
We have been having amazing reports recently by many many many health professionals, and massage therapists.
We had a massage therapist in Detroit have such incredible success in 3 days after she got a Relax Sauna
from us with one of her MS clients and others. She called us and told us that 3 of them wanted Saunas.
A special friend of mine who has been a massage therapist for about 6 years ago, has been telling her friends
and other massage therapists that "You want to work smarter, not harder." as she explains to them
that after she puts her client in the sauna, she can do more good for her clients with a 20 minute massage
than with a 55 minute massage with no sauna treatment.

I had been relaying this also to many health professionals and massage therapists who we meet at shows we do,
and who come into our store. It finally hit home the other day, when one of the well-known massage
therapists in the Columbus Area got a Sauna from us, and relayed to me his experience.
He said massaging people after they have been in the sauna for 10 minutes is like
"putting butter into a microwave." They just melt, and he can do wonders.
A lady in the Cincinnati area who does reconnective tissue work said to me, "Yes, for sure." Usually, she
can do a 1 hour reconnective tissue work session in 20 minutes after her client has been in the sauna.
The other day, she was able to complete the job in about 10 minutes.
If you have a spa that offers Relax Sauna treatments to the public,
let us know, and we will add you to our list. We get many calls
from individuals wanting to try the Relax Sauna. Go to more info.

24-page booklet on The Relax Far Infrared Sauna & Sweat Therapy Available !



We have a handout booklet of 24 pages that explains many of the benefits of Far Infrared Light.
This booklet is entitled: Sweat Therapy: Detoxify Naturally, Lose Weight & Rejuvenate.
The 1st 12 pages explains how it works, how the water molecules are vibrated by being
infused with the far infrared light, and explains the many benefits that one can derive
by using the sauna regularly. (prevention of chronic diseases, improving diabetes, gout, and
many other adverse health conditons.)
The second 12 pages answer frequently Asked Questions about the technology & about the Sauna.
This will help alleviate any fears you may have, and help you see the beauty of this wonderful product.

We will also be more than happy to send you a copy of this 24-page booklet. Email us if you want a copy.
Or you may see read this booklet from the internet now:


Look at Relax Far Infrared Sauna 24 Page Booklet - edited July, 2008
Relax Far Infrared Sauna 12 Page Mini Booklet (1st 12 pages of 24 page booklet)
Relax Far Infrared Sauna 12 Page FAQ's (2nd 12 pages of 24 page booklet)
You may look at the FDA Summary of Our listing as a Medical Device documenting that
The range of emission of the Relax Sauna is 4-14 microns, and additonal information.
Relax Far Infrared Sauna certificates documenting the authenticity of the Relax Far Infrared Saunas.
---
Research indicates the FIR Sauna can help:
Discharge toxins from the body (especially heavy metals).
Lose weight & beautify the body.
Prevent illnesses.
Prevent Aging.
Energize.
---
RELAX (brand) SIT - UP SAUNA
FAR INFRARED RAY (FIR) TECHNOLOGY
The Deluxe Insulated Chair is included with your Sauna purchase.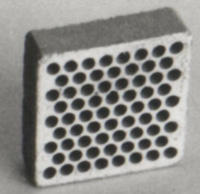 Programmed Ceramic Semi-conductor chip
20 in each radiator



Click here to see pdf on

info on Advanced Technology of Relax Sauna





The Relax sauna has a computer programmed ceramic semi-conductor chip that filters out all NON-healing energies.




The Relax Sauna has a reflecting tent that penetrates deep into human tissues over and over and over again.




The Relax Sauna uses 1500 watts of energy, and generates a very intense healing light energy



Click to see this 1 page elaboration of why the relax sauna is unique and more effective than almost all other saunas

********************************************************
.


New Testimony on Relax Sauna of getting rid of Heavy metal Toxicity (Mercury & Lead)



Karen Russell purchased a sauna from us at the American College of Alternative Medicine show in Phoenix
in November, 2007 after talking to Doris Rapp, who wrote the excellent book: Our Toxic World



Karen's testimony on how the Relax Sauna helped her to get her mercury and lead levels to normal, and how




it helped her to reduce her ceullulite greatly, along with before and after pictures, is quite inspiring

:


Karen had struggled with Heavy Metal toxicity for 2 1/2 years. She had tried numerous products, of which she




received partial relief. It only took 4-5 weeks to get her lead and mercury levels down to normal once she started




using the RELAX Brand Far Infrared Sauna. She also experienced incredible benefits in reduction of cellulite (65-70%)




over the next 3 months, and additionally was able to get rid of flab as well from having previous lost weight.


She was amazed at how the Relax Sauna was instrumental in toning up her whole body. Click the link below for more.

Click here to see testimony & Pictures in PDF form of Karen Russel's experience in overcoming heavy metal toxicity



We are working on creating a list of places where you can
experience a 20-25 minute Sauna Session.
Stores and Spas & health professionals renting time in the Relax Sauna are invited to contact us, so that we may publish this list of places where you can experience the benefits of being in the Relax Sauna - The ONLY Sauna using
a 4th level of Far Infrared technology.
********************
We have had 3 instances in the last few weeks where people have had to spend 45 minutes in other FIR Saunas, in order to get a good sweat, and in one instance,
the lady didn't even sweat. This same lady was so excited to start sweating
in our store while being in the sauna for only 10-15 minutes.
********************
If you have the Relax Sauna available for use by clients or customers,
please Email us so that we can add you to our list.
********************
In our store, anyone can go into the Sauna with their clothes on for 5-10 minutes.
Many experience incredible results in this small amount of time.
********************


The best way to experience the Relax Sauna is to sign up for a 20-25 minute




treatment at your local health spa or with a massage therapist or other


health professional who uses the Relax Sauna as part of their therapy.
Email us if you want us to add your place to our list of therapists who offer Relax Sauna Treatments.

---
---
The RELAX (FIR) Sauna uses Far Infrared Light, which is a dry heat, & which is mildew free.
It can be used for discharging body toxins and excess acidity, for preventing the aging process,
losing weight & beautifying the body, for energizing, or for experiencing Total Wellness.
---
Because of the reflecting nature of the material that the Sauna is made out of, the
Far Infrared Rays are able to circulate throughout the Sauna, allowing every part
of the body to absorb the Far Infrared Rays.
How To Purchase Items
Click the Add To Cart button beneath the product description to purchase the item. A shopping cart will appear on the right side of the screen. You can continue to add items from different pages on our site, then when you are ready to check out simply click on the cart icon, and click Checkout.


Contact Momentum98.com to purchase any item that does not have an Add To Cart button. You can purchase the item by email at

moment98@gmail.com

or by telephone at

614-262-7087

.


Order DVD or Products NOT On This Page
OR you can order everything from our Master Price List - See Our Price List
CODE
PRODUCT
PRICE
If you know the codes, use these spaces to order other items from us.
Price for DVD includes Freight !


SAHTLB


DVD - 41 minute talk on Bathing in the Healing Light of Far Infrared - by Phil Wilson 4/09



$10.00