Sept. 18, 2010
Hello !
We have a big fall schedule of shows where we will have Momentum98 booths, this year. We wanted to alert you now so you can plan to visit us if you live in those cities.
And many of you are regulars who see us every year at these shows in your city. We always love seeing you guys again.
It seems we are demonstrating our favorite Momentum Products at shows about every other week. That has been our schedule since the middel of March.
We will be sending out a newsletter next week, letting you know some of the latest discoveries we have made in recent months, and also introducing you to a number of new products that we have recently started selling at our Brick/and/Mortar store in Columbus, Ohio, and Hence, also on line.
Incidentally, we are having such good results at shows in recent months, promoting the Relax Far Infrared Sauna. In 4 years at the Cancer Control Society Annual Labor Day Weekend Convention in LA, we have sold over 70 Relax Saunas. And this is a market where medical doctors are speaking. It seems like the average comment is that they have a clinic, and they recommend certain herbal products, AND then they add: And we recommend (or sometimes Insist) our patients us a Far Infrared Sauna.
We have also been attending Integrative Medical Doctor shows, Naturopathic Doctor shows, Massage Therapy shows, and Holistic Nutritional Consultant shows, and have been having results as good as the results we have had at the Cancer Control Society Conventions.
We make NO CLAIMS, on what the Relax Sauna can do. We do have medical resports from different countries, indicating that the levels of heavy metals after someone has been in the Relax Sauna for 20 minutes are significantly greater in the urine, as they are prior the person getting into the Sauna for a FIR Sauna Treatment.
People DO feel invigorated. That is real, and we have received literally hundreds of comments from all of our customers about how much they LOVE their Relax Far Infrared Saunas. Incidentally, The Relax Sauna -- don't be fooled by gimick advertising by other companies trying to look like the Relax Sauna, and saying that they have semi conductor chips. They don't. And there is a big, big, difference between infrared heaters that heat your skin, you get hot, and you get a good sweat (their infrared heaters (which look like they are worth about $15 each) (they say they are FIR, but we don't think so, maybe at room temperature (which has not penetrating effect because the wattage is so low) , certainly NOT at temperatures much above room temperature. ) , and the Relax Far Infrared Radiators, which generate a very penetrating healing light energy, that is ABSORBED by your body, and excites the water cells, thus increasing your core temperature, your circulation (big time), and your lympatic system. The Radiators used in the Relax Sauna use the same technology as their Sky Eye 800 watt lamp, which is listed with the FDA as a medical device, and alone sell for $795.00. If we did not use the reflecting (hall of mirrors, you could say) tent, that reflects the Far Infared Light so that you absorb the light from every nook and cranny of the tent, and thus get a thorough flooding of this light into your body, the Relax Sauna would probably cost about $5000.00, since our technology appears to be further advanced in technology than most if not all of the wooden saunas.
Here are some testimonials and testimonial reports:
testimonial reports on the Relax Sauna conducted by scientists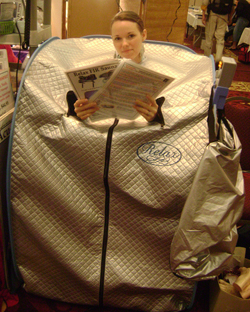 We have some new videos ... out not only on the Relax Sauna, but also on other products we carry, such as the Acu-Masseur Massager for not just the neck and shoulders, but also the whole body. We also have a new youtube video on the Foot massagers we carry and the Old Friend Massage Sandals.
See these new youtube videos:
History of the Relax Sauna
Setting up the Relax Sauna ( less than 5 min):
Setting up the Relax Sauna
taking it down:
1 minute - take it down - put in travel carry case
this is a video on the correction on How to Put the Relax Sauna together:
both top poles of the Relax Sauna are identical
All of those youtube videos are on this page along with 4-5 others on the acu-masseur & some massage tools:
momentum Youtube Videos
More videos next month. That's plenty for now. For a clew of other videos on the Relax Sauna (about 10-20) see:
this youtube page
Meanwhile... For now, here is a list of the shows we are doing this Fall.
Come meet me or other represenatives of Momentum at the following shows:
(Detroit) Michigan 3rd Annual RawHealth Eco Festival 2010
Brighton, Michigan - Saturday, Sept. 18
- 10 AM - 7:30 PM (& 10 PM) - Phil Wilson attending
or see this website:
RawFoodEcoFestival
or :
Detroit 3rd Annual Raw Foods Eco-Fest
(Detroit) Growing Connections Conference & Organic Harvest Festival
Birmingham, Michigan - Sunday Sept. 19
(8 AM - 6 PM) - Phil Wilson attending
Jordan Rubin (Garden of Life Health Food Products) will be the featured Guest Speaker
(Prescott, Az - Near Sedona) Raw Spirit Festival - HUGE SHOW
Raw Spirit Expo - Prescott, Arizona - Fri - Sun - Sept. 24-26
- dozens of Famous Authors will be there - Phil Wilson attending
That Same weekend, we will also be at the
AMTA National Annual Massage Therapy Convention
Sept. 22-25 (Wed evening - Saturday 6 pm) - Minneapolis, MN
We have had booths at this show for the last 4-5 years, and Massage Therapists LOVE our Massage Tools.
They also find when they put their clients in the Relax Sauna for 5 minutes , they can do a WAY BETTER massage
There is a Seniors Expo - one of the largest ones in the Country - about 10 days later
Tuesday- Wednesday - Oct. 5-6 - Minneapolis Area
We feel that many of our products well be extremely well received by folks wanting to feel better in their golden years.
Then Our Store - Momentum98 Celebrates Itself at the
Columbus, Ohio - Universal Light Expo
Saturday & Sunday, October 9 - 10 - Vets Memorial
- Hundreds of Great Speakers
WE always have 4 booths. This is our coming out party where we display ALL of our Stuff !
This is actually the show that our president Phil Wilson inspired. Conrad Sherwin, a friend of Phil's, had been watching Phil go to all
these Huge Holistic Health - Whole Life - Expos in New York, in Boston, in DC, in Atlanta, in Chicago, etc. ...
"Why can't Columbus have an expo like this ?", he asked. Boy you ask a question like that and presto:
The Balanced Life Expo (later Named Universal Light Expo) was born.
That was 21 years ago. And Now they are hosting the 22nd Annual Universal Light Expo.
In Our City - in Columbus, Ohio - 5 miles from our Brick and Mortar store which has been sitting on High Street in Columbus
for 30 years now ! This is our 31st Year .... Wow .... promoting unique Holistic Health Products.
The following Weekend, Fri - Sat - Sun, Oct. 15-16-17, we will be at 2 shows
New Life Expo - New York City - (since 1982 ? )
New Yorker Hotel - across from Madison Square Garden
- Friday - Saturday - Sunday, October 15-16-17
Many Very Famous Authors will be speaking at this show ! - Phil Wilson Attending
Fri - Sat - Sun, Oct. 15-16-17 - Cincinnati, Ohio
International Iidology & Healthcare Congress
Annual Iridology Congress - Cincinnati Airport Mariott
Generally, this congress is attended by Health Professionals who either practice irridology
or who are adding another modality to their tools they use to assist their clients in a holistic way.
"Philadelphia" - Fri - Sat - Sun, Oct. 22-23-24
Mind Body Spirit Expo
Valley Forge, Pa - Mind Body Spirit Expo
- Many Very famous authors will be speaking. - Phil Wilson Attending
American College for Advancement in Medicine Fall Conference
Las Vegas - Paris Hotel - November 3-7
This conference is attended largely by Medical Doctos, and some Naturopathic doctors, as well as other Holistic Health Practitioners.
The conference is a professional conference, and the Doctors attending are all leaders in their fields.
We have attended about 10 of their conferences in the last 7-8 years.
I Can Do It Conference (Louise Hay - Hay House) - Tampa
Louise Hay I Can Do IT Conference - Tampa, Fla - November 12-14
We did their conference in San Diego in May. We were overwhelmed by the response from those attending.
All of the speakers are authors who are published by Hay House.
The conference is inspiring for those who attend.
Wayne Dyer, Louise Hay, Dr. Christiane Northrup, Gregg Braden, and Bruce Lipton are a sampling of the speakers.
(All famous in their own right.)
WE will also be at some other shows this fall, and they will be announced in our next newsletter.
By the way, WE have many new products in our Health Store in Columbus.




Soon we will hae online, one of our new sensations:


Raw Vegan Sun Warrior Protein


It is bio-fermented Raw Sprouted Whole Grain Brown Rice, which is a




complete amino-Acid Profile for 98.% assimilation.




In our newsletter next week, we will say more about it, and also




let you know how to order it.





Until then, call the store: 800 533 4372.




The Store is Open 7 days a week. (Momentum98 Health Store, in Columbus, Ohio