VRL-X
By Olympian Labs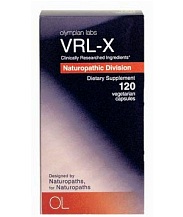 OLY31 - 120 caps
FORMERLY HERP-EEZE
Supports Immune Function and Promotes Homeostasis
Healing can often occur naturally if the body receives the proper nutritional support.
Supplementation with certain natural compounds from plant sources is a convenient way to balance and
support the beneficial processes within our own bodies. Such is the case with VRL-X.

VRL-X contains a unique blend of natural ingredients and synergistic antioxidants which have numerous,
documented biological activities. Together, this unique chemistry functions to promote homeostasis in the body.
Homeostasis is a state of stability and balance in the body´s internal environment.
This balance is achieved by cellular systems, i.e. the immune system, nervous system, endocrine system, etc.
and chemical mechanisms, i.e. inflammatory cascade, immune reaction, hormonal release, etc.
that act in synchrony to control and regulate the body's state of being.

Nutrition Facts:
Serving Size (caps) 4
Servings Per 30
Vitamin C (mg) 60
Zinc (mg) 15

Proprietary Blend 3.21g: self health (prunella vulgaris)(leaf), lysine, olive leaf extract,
clove flower powdered extract, bitter melon, rosmarinic acid, acerola extract.
Suggested Use:
As a dietary supplement, take 4 caps once a day on an empty stomach.

Research on VRL-X (Herp-eeze)
A study, which included the active ingredients in VRL-X,
was done on a number of Chinese medicinal plants and their effects on the herpes virus.
The results found that these actives were among the most effective against the virus that causes herpes.
Researchers believe that these ingredients work in two ways: by stopping the herpes virus from multiplying within the infected cell and by preventing it from binding to healthy cells. In 1992, French biologists found that all of the herpes viruses were inhibited or killed by extracts from one of the active ingredients in VRL-X.

The researchers included twenty-eight references to the antiviral action of this ingredient in their report.
This ingredient seems to show itself as an immune system builder by directly stimulating phagocytosis, an immune system response in which cells ingest harmful microorganisms and foreign matter. It also contains natural flavonoids and esters that create a structural complex that infectious microorganisms may not readily develop a resistance to.

Research done by a virologist named Dr. Harold Renis, while at the well-known pharmaceutical company UpJohn
and published by the American Society for Microbiology, found that an active component of VRL-X inhibited the growth of the herpes virus. The researchers credit a number of unique properties
possessed by this active compound for its broad killing power which include:
an ability to interfere with critical amino acid production essential for viruses;
an ability to contain viral infection and/or spread by inactivating viruses or by preventing virus shedding,
budding or assembly at the cell membrane; the ability to directly penetrate infected cells
and stop viral replication and its ability to stimulate phagocytosis.

The research suggests that this may be a "true anti-viral" compound because it appears to selectively block
an entire virus-specific system in the infected host. Therefore, it appears to offer healing effects not addressed by pharmaceutical antibiotics. VRL-X also contains L-lysine.
L-lysine is an amino acid with a pharmacological use much more specific than that of most other amino acids.
Supplementation of L-lysine is one of the best options available for the relief of herpes simplex virus infections,
especially oral forms. L-lysine competes with L-arginine for intestinal absorption and transport so when
you supplement with L-lysine, this tilts the balance between L-lysine and L-arginine heavily in favor of L-lysine.
This ameliorates herpes outbreaks because the herpes virus depends on the presence of L-arginine for its replication.
Olympian Labs' VRL-X is a 100% pure, vegetarian formulation that contains
no animal bi-products and is available in easy-to-swallow, kosher-certified capsules.
---
---


VIROX PRODUCTS
CAPSULES
VIR13 - 60 caps

LOTION
VIR12 - 1 oz

SPRAY
VIR14 - 2 oz
Made from the Larrea Plant.

LARREA TRIDENTATA IN VIROX PRODUCTS
The active ingredient in all the VIROX products is an extract of the ancient desert plant Larrea Tridentata.
This powerful plant, commonly known as the cresote bush, offers some unique healing powers.
Native American Lore tells the story of Larrea as being the first plant created by the Earth Maker.
Some currently living Larrea plants are over 11,000 years old.
Plant derived antioxidant - Natural antibiotic against bacteria fungi and yeast
Highly effective anti-inflammatory - Fights virus replication in the body
Traditionally used for:
- Cold sores
- Shingles
- Chronic Fatigue Syndrome
- Irritable Bowel Syndrome
- Eczema
- Psoriases
- Allergies
- Immune support
- Joint Pain and Inflammation
- Viral warts
- Herpes sores & lesions
- Epstein Barr
- Bells Palsy

The Larrea plant offers some unique benefits but is particularly effective in fighting viruses.
It offers invaluable immune support but also has the ability to stop viruses replicating in your body.
It also boasts effective anti-inflammatory properties, which make it particularly useful in preserving skin health
and thereby helps with skin conditions like eczema and psoriases.
It is also effective against joint aches and pains especially those associated with inflammatory conditions.
Virastatin is a patented extract of Larrea Tridentata.
Virastatin products represent the coming together of lessons from ancient medicine
with the technology of modern science in a synergistic fashion.
The proprietary extract contains all the beneficial phytochemicals from the Larrea Tridentata plant in
a form that is highly purified and concentrated.
This product has been developed over a decade of research and is proven safe for supplemental purposes.
Virastatin accentuates the body's natural defenses and is a powerful antioxidant.
It also supports a healthy nervous system, sustains joint health, and preserves skin health.


---
How does Larrea tridentata work
Containing 18 identified flavone and flavonol aglycones, quercitin bioflavonoids, larreic acid, and two guaiuretic acid lignins, one of which is called NDGA (Nordihydroguaiaretic acid). NDGA has been the subject of numerous studies over several decades. It played a very important role as a food additive for its powerful antioxidant powers and was used to keep processed meat from becoming rancid. A role, now played by synthetic antioxidants such as BHT and BHA.

Who can benefit from Larrea-tridentata
It is estimated that greater than 90% of the Global Population, regardless of age, sex or geographic location
can benefit from this remarkable plant. These people include:
* Healthy Individuals general health, illness prevention
through its antioxidant activity
* Aging Individuals anti-aging health and beauty needs
* Elderly Individuals shingles, post-herpetic neuralgia and other age related diseases induced by viral infection or inflammatory problems (arthritis, psoriasis, etc.)
* Female Individuals Candida, fungal, viral and microbial related conditions
* Healthy, sexually active, Individuals Prevention and or health maintenance of STD's (herpes virus papilloma virus)
* Immune Compromised Individuals Aids infected individuals with Bells Palsy, Kaposi's sarcoma, Lupus, genital herpes, cytemegalovirus,mononucleosis etc., transplant patients, etc.
---
---
Treating Herpes Naturally
with Larrea Tridentata
An effective natural remedy for Cold sores, Genital herpes, Shingles,
Chickenpox, Epstein-Barr,
and other herpes outbreaks.
by Dennis Clark, Ph.D.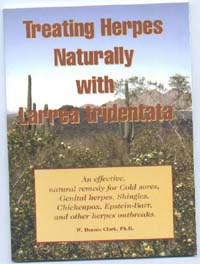 BOK033
Although this book appears only to be addressing the Herpes Virus (i.e. Title),
it actually points out the benefits of Larrea with ALL viruses.
Two quotes from the book:
The most important question in your mind is probably,
"How do I know that Larrea works?"
After the sections about herpes and other viruses,
you will find the information you need to answer this question.
First you will see why Larrea is such a remarkable medicinal plant, followed by an
explanation of the scientific basis for its use in treating herpes infections
and the current medical evidence for its effectiveness. - page 2
In addition, the internal use of Larrea also has a strong, broad base of medical applications.
Tablets from Larrea have been of great benefit for decades in treating
arthritis and rheumatism. Cancer patients have reported success in
shrinking and eliminating tumors by taking powdered larrea leaves.
A tea from Larrea, although horrible-tasting, is nevertheless beneficial
against impaired liver metabolism, dry skin, brittle hair and nails,
and digestive disorders involving fats in the diet.
Clinical data show that this tea aids people who have poor-quality blood lipids
(fats, cholesterol, etc.) that are associated with arteriosclerosis. - page 25