Learn About One Of The Most Effective & Easiest Ways (15 min per day) To
Detoxify The Body From Chemicals, Toxins & Poisons of All Kinds!
Try the Relax Sauna for 5 minutes, and experience Wonderfulness, Gratefulness & Relief from All sorts and kinds of aches & Pain. In only 5-10 minutes we have seen over 5000 Minor or Major Miracles. ---- People reporting relief of Fibromyalgia, migraines, asthma,headaches, digestion difficulties, sinus draining, and much more. We have reports of the Relax Sauna helping with Lyme Disease, Oxygen Deprivation, Diabetes, and Meditating, heart problems, cancer and much more. Ask for our research papers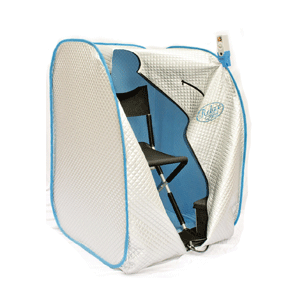 Why do health professionals prefer the Relax Sauna to all other saunas?
● The Relax Sauna is used very effectively with your clothes on for 5-10 minute treatments for Pain Relief, Relaxation & Vitality.
● The Relax Sauna produces a very profuse sweat in 20 minutes, NOT 45 minutes to an Hour. It is invigorating, Not Tiring.
● The Relax Sauna takes 30 seconds to warm up & feel great, NOT 10 or 20 or 30 or 45 minutes ! Your patients are compliant !
● The Relax Sauna fits anywhere, even in a suitcase when folded. Takes 4 minutes to set up, less to undo. Portable and
● Affordable ! Hundreds of Integrative Medical Doctors & Health Professionals USE & recommend the Relax Saunas.
CLICK ON A LINK BELOW TO VIEW PRODUCT
USE CODE IACT FOR 20% OFF
---
---