Maqui Berry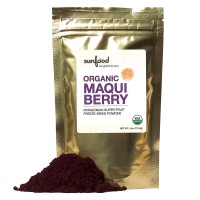 Code: Price: $17.95

A powerful health secret of the Mapuche People for hundreds of years, Maqui Berry (Aristotelia Chilensis) was a major source of strength
and considered a key reason for why they were never overtaken by conquistadors and the Incan Empire.

Native to South America, Maqui Berry is a true superfood. With the most pure and potent powder available, you can take on free radicals each and every day.
In tests, our Maqui Berry Powder proved to easily maintain the best antioxidant performance against the five top free radicals ORAC (Peroxyl),
HORAC (Hydroxyl), NORAC (Peroxynitrite), SOAC (Singlet oxygen) and SORAC (Superoxide anion); outpacing Acai in all categories.
According to another recent study, the high amount of anthocyanin makes Maquis beneficial effects readily available,
such as anti-atherogenic activities, inhibition of the HIV virus and supports healthy vision.
Today, experience the same great strength, stamina and health qualities
it provides! Wild grown in Patagonia, our powder contains 100% whole berries
and is freeze-dried to preserve its uniquely potent raw qualities. Used in traditional Chilean folk medicine for its anti-diarrhoeic,
anti-inflammatory and anti-hemorrhagicqualities, Maqui Berry Powder contains the highest natural and total ORAC value, and the
highest combination of anthocyanins and polyphenols of any known super fruit or berry, including Acai, Mangosteen,
Amalaki and Pomegranate. Just one small scoop of the pure powder can set you on a path to amazing health.