MASEUR INSOLES
MASEUR REFLEXOLOGY INNERSOLES
---
---
Reflexology and the feet...

Feet are the most sensitive part of the body. That's not surprising, considering they contain more than 7,000 nerves. For thousands of years, the wisdom of ancient Chinese, Egyptians, and Indians taught that care and attention paid to the feet will be repaid with increased well-being and energy. This is the ancient theory of reflexology. This theory states that linked directly to the head and running through different structures and organs in the body are energy streams ending at the feet known as meridian lines. According to this theory it is believed that when the pressure points on the feet are stimulated, the energy in these meridian lines is cleared, relaxing the body and relieving stress.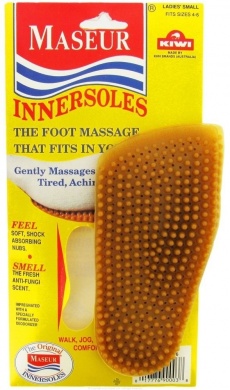 (Information and picture taken from the Maseur Company: http://www.foottherapy.com/)
---
---
---
A note from Phil Wilson
Owner of Momentum98
We were the first American store to sell the Maseur Sandals in 1982 and now our dwindling remaining is stock is among the very last available in the world! Our customers have stayed loyal to this brand for twenty-five years. Why? Because they are the best massage sandals on the market.
Why are Maseur Sandals the greatest?


The Maseur Sandal nodules apply the basic principles of reflexology and acupressure. Gravity carries the toxins in the body down to the feet (the ones that your body can not
or do not want to release). These toxins crystallize in the feet, thereby causing pressure,
hence pain. The Maseur Sandal rubber nodule action can stimulate the crystals
at the bottom of the feet to dissolve, revive circulation, and give your body another chance to do some release work. And of course,
the principles of reflexology, vita-flex therapy, and acupressure further explain why the feet, the back & the body respond so well to these Sandals.

Click here for an additional information on all Maseur Sandals styles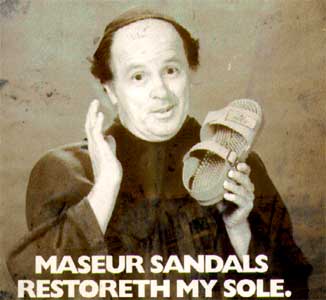 ---
---
| | |
| --- | --- |
| | |