Shop Our Online Store:

Since 1980!

Momentum 98
Natural Health Store

Taking Advantage of the Moment!




Propelling Yourself into Greatness!
---
to see this email online, click this link:

See Momentum98 at the
.

We have been having great results from people trying Diatomaceous Earth as talked about in our May Ohio newsletter


go to their website for all Expo information May 21-23
Look for the Momentum98 booth in the expo program guide.

5:00 PM - Saturday


Phil Wilson


BATHING IN THE HEALING LIGHT OF FAR INFRARED ENERGY

Far Infrared Ray light that has been proven to be very beneficial for balancing and cleansing human energy. One of the most effective methods for us to assimilate this light is in a Far Infrared Sauna.

Phillip Wilson, owner of www.momentum98.com, will talk about the relationship between spiritual purification & detoxification using the Relax Far-infrared Sauna.

See us at our Booth - for 3 days .




Friday , Saturday, or Sunday May 21-23


questions: call Phil on his cell: 626 200 8454

see new websites:

sauna testimonial reports

recently received testimonials - beautiful stories - Relax Sauna works !



Location:
Virtua Center (Skate Zone)
601 Laurel Oak Rd
Voorhees, NJ 08043
*****************************************
Become a fan of Momentum98 Health Store on Facebook


I haven't figured out how to do this. But look for us on Facebook, and email me




and tell me how I can let others know we exist on facebook. Thanks.





see article on why the RELAX Sauna stands Heads and Shoulders above all other saunas:





Recently, we have had a number of people reporting to us that there is a new kind of portable sauna on




the marketplace, that pretends to be as good as the Relax Sauna.





The Relax Sauna radiator uses Semi Conductor chips, and itself is sells for $795.




Ceramic heaters that look very similar to ones sold at Walmart or Target for $15.00 each




cannot and do not radiate FIR warm healing light even close to the healing light that exudes




from the Relax Sauna. - The Relax Sauna technology is documented by the FDA, as 100% FIR light,




and the Professional Model Sky Eye Radiator is listed as a medical device.




No other Portable sauna feels as good as the relax sauna, nor are any of them even close to being




medical devices.

See our Testimonial Report # 6 to see a comparison !






also: A talk by Phillip Wilson
on the Relax Far Infrared Sauna and ....
Saturday, May 22, 2010
5:00 p.m.

A talk by Phillip Wilson
on the Relax Far Infrared Sauna and ....


Understanding the Deeper Levels of Detoxification

What is Available?

Learn How to Detoxify With the
RELAX Far Infrared Ray Healing Light Sauna

Simple and Easy

Detoxify Heavy Metals,

Poisons in the skin and fat

Added benefit to any healing

Nutritional program




Used for:

Better Sleep and Energy

Feel lighter – energized

Health Problems

Clarity-Brain Fog

Joint & Muscle Pain


see testimonial reports on heavy metal detoxification





Speaker: Phil Wilson

Nutrition and Healing Tools - 35+ years experience

F.I.R. Relax Sauna Representative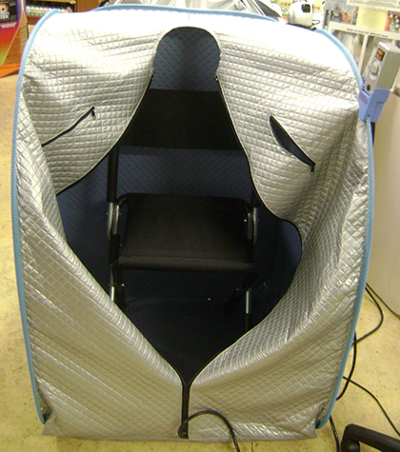 Relax Sauna - new model - 2008 - with double switches and new tent.

New and Improved light weight and portable
Small Units approx 38 x 38
Sauna Tents will be Demonstrated
Special Price for those attending the talk.
Please visit our health store in Clintonville, we would love to meet you !
3509 North High Street, Columbus, Ohio 43214 - DIRECTIONS
We're open 7 days a week ! Hours: M-F:10-7, Sat:10-6, Sun:12-6 PHONE: 1-800-533-HERB (4372) & 614-262-7087 -EMAIL: moment98@gmail.com
---
---
Momentum98 - Products Promoting Awareness & Health !
We appreciate your interest in improving the quality of your life !