Mist of Dreams - humidifier - mist maker negative ions - electrical oscillation - air freshener - cool humidity- electrical ionic mist maker - ultrasonic frequencies
- aromatic diffuser - aromatherapy diffuser - essential oils - water spray - waterfall - light and sound show - mister
Last Updated: 11/28/2011
Shop Our Online Store:

Since 1980!

Momentum 98
Natural Health Store

Taking Advantage of the Moment!




Propelling Yourself into Greatness!
MIST OF DREAMS
Electrical Ionic Mist Makers
---
ANNOUNCEMENTS:
We now have blue and white model 1000.

---
Replacement Oscillation Light Units now available!
---
4-21-08 The Mist of Dreams have been discontinued by the manufacturer.
We will not get any more in stock. Order now while supplies last!

---
Mist of Dreams Anion Decorative Lamp - Model 1000
Stands 34" tall, bowl is 16" in diameter and 5" tall


Currently Unavailable






REL13




Table Top Mini Mist Maker




MDR61 - 1000


Currently Unavailable

MDR61 - 1000 - Blue


Currently Unavailable

MDR60 - White


Currently Unavailable
---
Magic Sky (Mist of Dreams 2000)
(All colors sold out)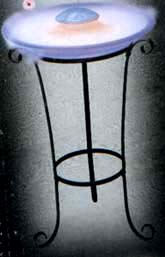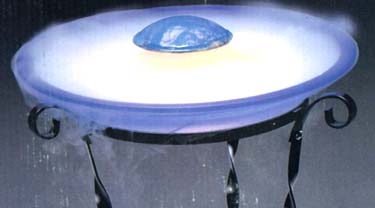 Dimensions of bowl: 4" deep x 15.5" diameter
The Magic Sky has all the features of the Mist of Dreams, and also...
Its own stand,
A deeper bowl to hold more water,
And a richer mist.

---
Relaxus Tabletop Mini - Mister

REL13
Table Top Mini Mist Maker



No stand needed, this smaller version of the popular mist maker.




Creates the same relaxing mist with just water and ultrasonic vibrations, no dry ice needed.




Also works as an excellent aromatherapy diffuser, just drop in a couple drops of your favorite essential oil!



---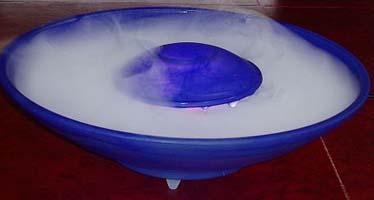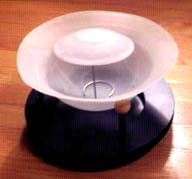 Mist of Dreams 3000 series in action Mist of Dreams 7000 Series
(Dimensions of bowl: 3" x 11.5") (Dimensions of bowl: 4" x 9.5")

Humidifies the air !
Ionizes (freshens) the air !
Aromatic diffusers !
No chemicals or dry ice !
---
How do they work ?
The Mist of Dream units use electrical oscillation at ultrasonic frequencies. Their
Ceramic Membrane (of the mist making unit) converts electrical oscillation to mechanical oscillation. Basically the electrical oscillation
converted to mechanical oscillation
creates a mist & water spray !
The oscillation also produces negative ions.
The Mist of Dreams is important for its health improving factors.
This mist-making lamp utilizes electrical ultrasound vibration to produce
water vapor which adds to the indoor humidity.
This process helps to freshen the air, as the mist humidifies the room.
The negative ions remove dust, pollen, smoke, pet dander, bacteria, and smog from the air.
Fantastic for people with sinus or asthma problems!
Fantastic for indoor plants that thrive in cool, humid environments.
No chemicals or heaters are needed, and it is not harmful to people or animals.


Give yourself a special treat and add your favorite essential oils to the water.
Add a drop or two of aromatherapy oil to the water
to enjoy the benefits of a high-tech aromatic diffuser.
The oscillation unit also contains a multi-colored flashing unit !
Combined with the sound of a gentle waterfall and dazzling light show,
the fountains add beauty and style to any home.
Produces a psychological feeling or calm and well being...
---
---
Parts: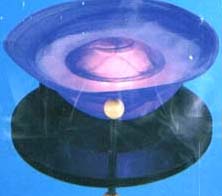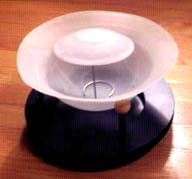 Mist of Dreams 3000 in action - Blue Mist of Dreams 7000 in action - White Mist of Dreams 7000
Mist of Dreams Counter style / 7000 series comes with black counter stand, 3000 has built in knobs.
Mist of Dreams 7000 is about 4 inches deep, and about 9 1/2 inches (diameter) Wide. (comes with black stand)
Mist of Dreams 3000 bowl is about 3 inches deep and 11 1/2 inches (diameter) wide (bowl has support knobs)
Not Pictured above (see Below) Magic Sky bowl is 4" deep and 15 1/2 " (diameter) wide, comes with Stand
The top bowls (domes) are 1 inch deep,and 5 inches (diameter) wide
---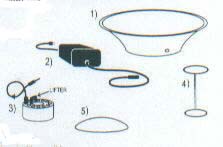 Second picture: Large Glass Bowl (with small hole near bottom) & glass cover. (1 & 5 above)
Power Supply (2), Oscillation light unit with rubber plug & Support Stem for glass cover (3 & 4)
---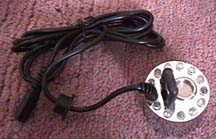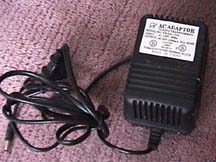 The LED (oscillation light) unit - and the AC Adapter (cord transformer).
---
Light show & Mist show

The oscillation light unit has 12 lights on it:
4 red lights, 4 blue lights, and 4 yellow lights.

The 4 red lights come on, then the 4 blue lights come on,
then the 4 yellow lights come on, and then all 12 lights come on,
as it alternates between these 4 possibilities, giving a very nice visual effect.

Meanwhile the ceramic membrane of this mist-making unit converts the electrical
oscillation to a mechanical oscillation, which creates the mist and the water spray.
The water spray meanwhile is captured by the cover giving a wonderful waterfall effect,
which adds to the mist effect and the light show to produce wonderfulness.
---
We recommend not using the unit more than 10 hours a day.
(It needs to rest too.)
Use distilled water, filtered water, reverse osmosis water, or spring water.
Check water periodically, and fill to proper level.
For use as an aromatherapy diffuser, add only 2 or 3 drops of oil.
The mist unit also sends up small jets of water while in operation.
Do not place the unit where water spillage or condensation
will cause damage to furniture products or floors.

---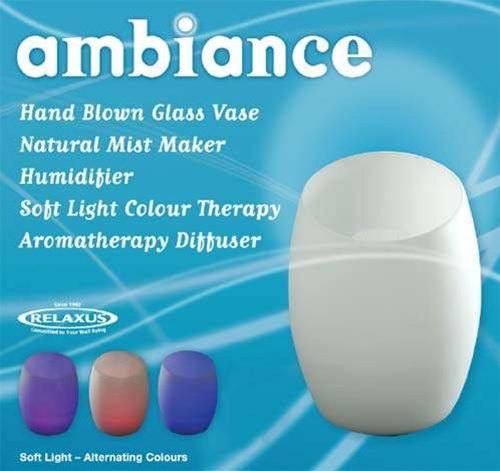 REL24



The Ambiance Natural Mist Maker has a compact size but a more than ample mist output. Using ultrasonic vibration, it creates the mist as well as generating negative ions to improve air quality as well as eliminating odors from the air. With it's color changing LED's it is a great color therapy product as well as a wonderful aromatherapy diffuser, just drop one or two drops of your favorite essential oil into the water and relax!


---
---
How To Purchase Items
Click the Add To Cart button beneath the product description to purchase the item. A shopping cart will appear on the right side of the screen. You can continue to add items from different pages on our site, then when you are ready to check out simply click on the cart icon, and click Checkout.


Contact Momentum98.com to purchase any item that does not have an Add To Cart button. You can purchase the item by email at

moment98@gmail.com

or by telephone at

614-262-7087

.


Read our terms and conditions of sale.

Mist of Dreams & Magic Sky Prices

You can mix and match colors & styles for volume discounts.

Mist of Dreams 1000


Contact Us For Demo Models




CODE

PRODUCT

REG. PRICE

SALE

2 OR MORE

4 OR MORE

MDR60
Mist of Dreams 1000 model - white

Unavailable

$69.95
55.95
51.95
49.95
MDR61
Mist of Dreams 1000 model - blue

Unavailable

$69.95
55.95
51.95
49.95
CODE
PRODUCT
PRICE
2 +
4 +

REL24




Relaxus Ambiance Mist Maker




$39.95

$31.95

$29.95

REL13

Relaxus Tabletop Mini Mist Maker

$45.00

$40.00

$35.95


CODE

PRODUCT

REG. PRICE
SALE
2 OR MORE
4 OR MORE
MDR03
Mist of Dreams 3000 model - green

Unavailable

$69.95
55.95
51.95
49.95
MDR01
Mist of Dreams 3000 model - blue - Sold Out
$69.95
55.95
51.95
49.95
MDR02
Mist of Dreams 3000 model - pink - Sold Out
$69.95
55.95
51.95
49.95
MDR04
Mist of Dreams 3000 model - white - Sold Out
$69.95
55.95
51.95
49.95
MDR05
Mist of Dreams 3000 model - amber w/ gold trim - Sold Out
$69.95
55.95
51.95
49.95

CODE

PRODUCT

REG. PRICE
SALE
2 OR MORE
4 OR MORE
MDR22
Mist of Dreams - pink - 7000 w/counter stand -

Unavailable

$69.95
55.95
51.95
49.95
MDR20
Mist of Dreams - white - 7000 w/counter stand - Sold Out
$69.95
55.95
51.95
49.95
MDR21
Mist of Dreams - blue - 7000 w/counter stand - Sold Out
$69.95
55.95
51.95
49.95
MDR23
Mist of Dreams - green - 7000 w/counter stand -

Unavailable

$69.95
55.95
51.95
49.95

CODE

PRODUCT

REG. PRICE
SALE
2 OR MORE
4 OR MORE
MDR13
Mist of Dreams 2000 - blue - ON STAND - regular prices-
$89.95
69.95
64.95
59.95
MDR16
Mist of Dreams 2000 - white - ON STAND - regular prices- Sold Out
$89.95
69.95
64.95
59.95
MDR14
Mist of Dreams 2000 - green - ON STAND - regular prices - Sold Out
$89.95
69.95
64.95
59.95
MDR15
Mist of Dreams 2000 - pink - ON STAND - regular prices - Sold Out
$89.95
69.95
64.95
59.95

CODE

PRODUCT

REG. PRICE
SALE
2 OR MORE
4 OR MORE
MDR10
Oscillation Unit with LED for Mist of Dreams - UNAVAILABLE

$29.95
$22.95
$19.95
$17.95
MDR11
Cord transformer for LED for Mist of Dreams UNAVAILABLE
$14.95
$11.95
$9.95
$8.95
MDR56
Mist of Dreams 7000 Amber Bowl
(bottom bowl) (4"x 15.5") -

Unavailable

$29.95
$24.95
MDR53
Mist of Dreams 3000 Green Bowl
(bottom bowl) (4"x 15.5") -

Unavailable

$29.95
$24.95