Momentum98

NEWSLETTER: DECEMBER 2007 - Expires 12-31-07

3509 N. High St., Columbus, OH 43214
800-533-HERB (614-262-7087)
Open 7 days a week ! M-F:10-7, Sat:10-6, Sun:12-6
Visit our website: Momentum98.com
---
This Month:
GREAT GIFT IDEAS!
We carry many unique items that make great gifts!
Or purchase a gift certificate and let them get what they really want.
Complete your order by 3PM Dec. 20th** to receive your domestic shipment via USPS Priority Mail by Christmas! (December 22nd** for Express Mail)
**Applies to in-stock items sent to domestic non-military addresses (See All Shipping Deadlines)
---
The Authentic Ma Rollers are back in time for the holidays!

Many companies claim to sell MA ROLLERS, but most are trying to push cheap imitations as the real thing! Don't be fooled... Authentic MA ROLLERS have the MA insignia burned into the wood.

Ma Rollers are hand-crafted of beautiful wood. The middle ridges straddle the vertebrae giving your back a firm massage to relieve all your pent up stress from the holiday hoopla!

WE ARE THE IMPORTER!
---
Give the gift of great tasting water!
Reverse Osmosis forces tap water through the tiny holes of a filter membrane (filter cartridge) which are up to 620,000 times smaller than the width of the human hair, and which are also smaller than the size of bacteria.

Reduces 96.2 % of dissolved solids
Reduces 99.3 % of dissolved lead
Reduces 99.3 % of dissolved arsenic
Reduces 99.97 % cysts
Eliminates chlorine taste and odor

Comes with a FREE TDS (Total Dissolved Solids) Tester.
A $46.00 value!

---
UNIQUE MAGNETIC JEWELRY
Great Stocking Stuffers
---
Journey To The Wild Divine
Combo Pack of The Passage & Wisdom Quest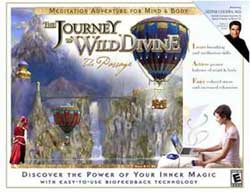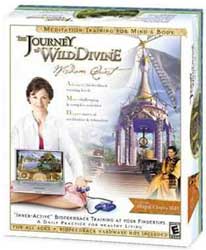 WLD243 - Reg: $199.95 Sale: $189.95
A $220.00 Value
Begin Your Journey with The Passage. The First in "The Journey" Series. Step out of time and into a realm of endless possibility, where you'll practice breathing and meditation techniques, like the heart breath, an ancient yogic breathing technique that will help you achieve control over your mind & body to help reduce stress and improve physical and mental wellness.
Continue Your Journey with Wisdom Quest. The second in "The Journey" Series. Featuring Deepak Chopra, M.D. and Dean Ornish, M.D., as two of your new guides, Wisdom Quest builds upon the skills you acquired in
The Journey to Wild Divine: The Passage.
Practice new and exciting meditation and breathing activities for advanced training as you learn to integrate this wisdom into your daily life.


"The Journey to Wild Divine allows people to influence what is happening in their body, in their mind, and the world they create everyday."
- Deepak Chopra, M.D.

Biofeedback hardware is included with The Passage.
Wisdom Quest is a software only product that works with the hardware from The Passage.
---
FIR (Far Infrared) Radiators
FIR wavelength is 4-14um
These Radiators are very safe, they do not emit any Near Infrared Rays (which can cause sunburn or other side effects).

These will not burn or scald the user, and you cannot even ignite a tissue touching the semiconductor unit - yet it emits a high power FIR radiation that is much stronger than competing companies. It can also be used instead of a space heater or a warm blanket to keep you nice and toasty. When this energy is absorbed into the depth of our bodies, it will activate our cells and promote metabolism. This is excellent for our health. The Lovely Panda FIR Radiator (150 watt) and the FIR Table Lamp (200 watt) both generate enough energy to have a very beneficial effect on the human body.
---
Designed to be used in the car, home or office, it is lightweight to take anywhere with you. It fits over most seats thanks to its elastic straps. You control the type of massage you want with the remote control. The massage pad has 3 independent motors to target your upper back, lower back and thigh area You can set it to vibrating or pulsing movements. It also has a built-in heater and 3 variable intensity levels to make your massage that much more comfortable.
---
NATURAL SALT LAMPS Natural salt lamps create a soothing glow and mood while ionizing and cleaning the air.
Salt lamps are made from natural salt crystals. These lamps are sold as either natural chunks or shaped into spheres or pyramids. They are an attractive decoration and a unique gift. Salt lamps are said to provide health benefits to those who use them because they release negative ions into the air. Negative ions help remove odors and particles from the air, but even more intriguing is its effects on mood. Clinical studies have shown that high density negative ions are as effective as light therapy for Seasonal Affective Disorder (S.A.D.) and has even shown benefits for chronic and non-seasonal depressions. These lamps use a candelabra bulb (included). https://www.momentum98.com/saltlamps.html
---
QUANTUM AGE WATER STIRWANDS
Makes a great stocking stuffer!
A do-it-yourself technology that converts drinking water to more hydrating, more oxygenating water! Read more
View clinical trial results here.

8 Types: Basic, Olympian, Zen Master, Warm Heart, Guardian, Illuminator, Gardener, & Gourmet.

•45-Day Money Back Guarantee.
•5 Year Warranty against
manufacturers defects.



All 8 stirwands shown
QAW01 - QAW08 - $69.95 $59.95/ea
QAW09 - All 8 Wands - $559.60 $400.00

https://www.momentum98.com/quantum.html
https://www.momentum98.com/qp.html

---
---
PROFESSIONAL MASSAGE
TABLES


---

AVAILABLE COLORS:
Amethyst, Burgundy, Mystic Blue, or Teal

ACCESSORIES:
Deluxe Headrest: $85.00 $60.00
Deluxe Carry Case: $99.00 $69.00

TABLE PACKAGE:
Includes Spirit Table,
Deluxe Headrest & Deluxe Case
Reg: $539.00 Sale: $528.00
OVERSTOCK SPECIAL: $509.00

---
Momentum98
Taking Advantage of the Moment! Propelling Yourself into Greatness!
We Are Your
Wellness Headquarters !
We carry a large selection of wellness products for home or professional use. We have a huge selection of massage products, acu-products, supplements, herbs, homeopathics, bath and beauty, aromatherapy, meditation products, books and gifts. Our fine massage products include electric and manual massagers, nourishing and uplifting massage oils, professional massage chairs and tables, accessories and more!
The specials in this newsletter are honored for purchases both online and in-store until the expiration date at the top of this newsletter. Come in the store and receive an additional 5% OFF your entire order when you mention this newsletter. If you live in the Central Ohio area, come and
visit our store at
3509 N. High St., Columbus, Ohio 43214
Open 7 days a week ! M-F:10-7, Sat:10-6, Sun:12-6

WE SHIP ANYWHERE!

Complete your order by 3PM Dec. 20th** to receive your domestic shipment via USPS Priority Mail by Christmas! (December 22nd** for Express Mail)
**Applies to in-stock items sent to domestic non-military addresses (See All Shipping Deadlines)

$7.95 flat rate domestic shipping & handling for contiguous US, unless otherwise noted. Call for AK, HI, PR & international rates, we ship worldwide.
Email us at moment98@gmail.com, or call
(614) 262-7087 or toll free at 1(800) 533-4372
Review our shipping/return policies. Visit our Web Site Momentum98.com

If you are having trouble reading this email, please visit:
https://www.momentum98.com/newsletter.html
Please add us to your Email Address Book or Safe List to
ensure the delivery of our newsletter to your inbox.
If at any time, you would like to unsubscribe from this newsletter, please click here.
---
MOMENTUM98 - 3509 N. High St., Columbus, OH 43214 - 1800/533-4372