Taking Advantage of the Moment! Propelling yourself into Greatness!
Since 1980

Season's Greetings from Momentum98
Upcoming Shows and Expos
Incorporate Integrative Medicine Conference
Jan 28th - 30th 2011
in Orlando Florida
www.theifim.com


Body Mind Spirit Expo
February 5th - 6th 2011
in San Diego California
https://www.bmse.net/bmseweb/event/eventhome.php?eid=138

Great Gift Ideas:
The World's Smallest Wallet
Hitachi Magic Wand
Zen Alarm Clock
NEW Promassagers
Acu-Masseur
Coupons for in Store and Online Discounts
Two of the newest additions to our product line are the Eurossager and the Runnerssage Pro! The two amazing massagers were developed by a chiropractor to give the user effective relief from muscle tension without the aid, or cost, of a professional massage therapist. It is based on the full size model market to doctors but with it's smaller size, lower overall weight, and smooth quiet operation, it can provide many of the same benefits without the visit to the doctors office. It works using two or four massaging heads, interchangeable to suit your personal preferences, that alternately rise and fall by 1/4" similar to the pistons in an automotive engine. With it's multiple speed settings it allows the user to adjust the speed from 20 strokes per second up to 40 strokes per second. The best part is that not only are both these products amazingly effective, they are both surprisingly light and very easy to store!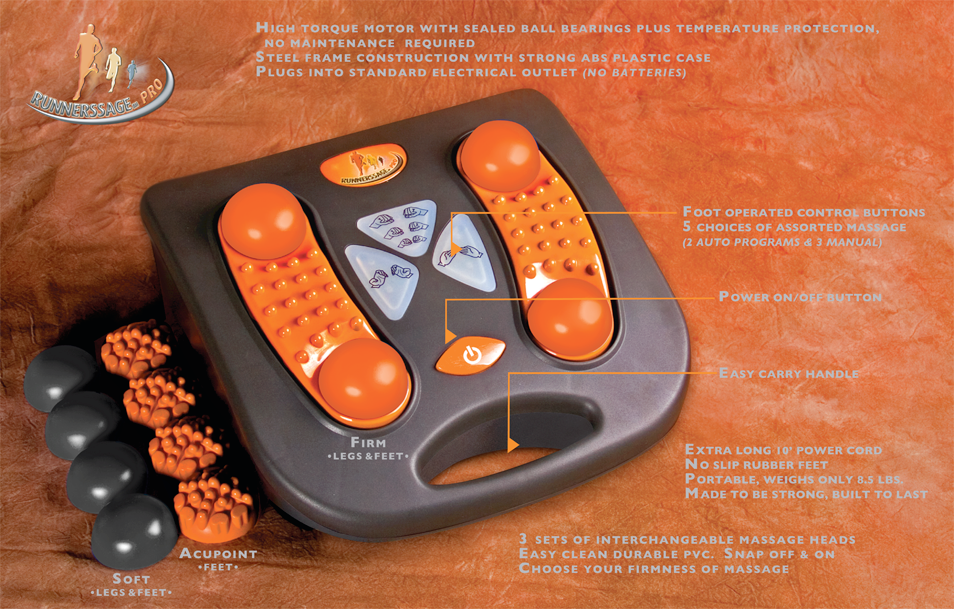 In our line of work we get to see TONS of electric massagers but few stand out as really being great tools. These two are both not only ones that we love and recommend but ones that stand out and have distinguished themselves from all the others on the market as being simply wonderful products! How many of you have gotten massagers as gifts or purchased them for yourselves only to have them end up on a table at a garage sale or are found years later dusty and unused because they simply did not live up to their expectations? This is one product that is far from likely to suffer such a fate, everyone that has tried one has been blown away by the relief it provides! Similar to the sauna, this is one we feel you have to experience to truly appreciate and for that reason, we also have them open and available for you to try right in the store. Given just a few short minutes using one of these and you'll understand how this relatively new product has become one of our favorites so quickly!



This is a massage tool that one has to try to believe.
It can be thought of as the massage tool for massage therapists.
Hard to get points on the shoulders and neck are easily accessed by the golf-ball like knobs and the bow-like Acu-Masseur.
By pulling the red string with one hand and drawing it from the back to the front, one can then set the position of the red knobs to wonderfully massage particular muscles such as the trapezius muscles and the rhomboids.
In Store Coupon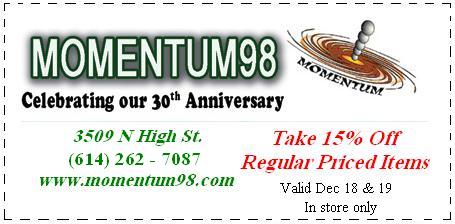 To print, click the coupon above to open it in a separate window

PLUS...
Take $5 off your online purchase of $40 or more (not including shipping) when you enter the code
" SALE1210 "
into the comments box when you order!
Like the new look of the newsletter? Please let us know, we always appreciate your feedback!
EMAIL: moment98@gmail.com
SHOP ONLINE: https://www.momentum98.com
PHONE: 1-800-533-HERB (4372) & 614-262-7087
3509 North High Street,
Columbus, Ohio 43214
DIRECTIONS to the store !
Hours: M-F: 10-7, Sat: 10-6, Sun: 12-6