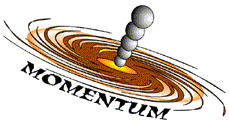 Momentum98
Taking Advantage of the Moment! Propelling yourself into Greatness!
Since 1980

Celebrating our 30th anniversary in 2010!!
In this edition of the newsletter..
A Message from Momentum98
Upcoming Shows and Expos:
Incorporate Integrative Medicine Conference
Jan 28th - 30th 2011
in Orlando Florida
www.theifim.com
What's Going on in the Store:
Upcoming In-Store Open House
Featured Products:
Dr. Christopher's Super Garlic Immune Formula
Bach Rescue Remedy & NEW Rescue Gum
Sovereign Silver
Yogi Cold Season Defense Herbal Tea
The Relax Infrared Sauna
&
NEW Eurossager and Runnerssage Pro
Coupons for In Store and Online Discounts
A Message from the Momentum98 Staff
"The most important things in life aren't things"
~Anthony J. D'Angelo

Regardless of which religion, if at all, you follow, most seem to agree on at least one thing; that where ever we may be headed once our time on this planet has come to it's end, we can't take the physical 'things' with us. In this logic, the most important thing in life is life itself, the combined experiences we have or our quality of life. The biggest thing we can each do to improve our own quality of life is also one that is all too often overlooked, our health.
Here at Momentum98, we are given the opportunity to help many people improve their health on a daily basis and to share the knowledge that we've gained through our experiences so that the people we are fortunate enough to assist can not only make positive changes in their own lives but also help others do likewise. With the fall fading quickly into winter and the temperature dropping, it would seem that tis' the season for colds.
Fortunately, there is a wealth of things you can do to help your immune system fight off infection and over the years, we've seen and heard of a great many of them. This year we'd like to take a moment to share with you some of the products that our experience has shown are most effective in fighting off sickness and keeping the body strong and healthy. These are not just new flashy looking packages that claim to provide relief but rather ones that we personally use and between our own experiences and those of our customers, have found to be highly beneficial.


~Momentum98 Staff
What's Going on in the Store
Open House
4 December 2010
10:00 am - 2:00 pm

Featuring:
Local Practitioners

Anthony DeLaCruz~ Massage Therapist
Victoria Parks~ Reflexology

Jeffery Richards~ Hypnotherapy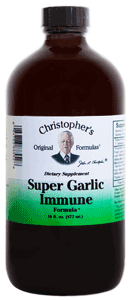 Dr. Christopher's Super Garlic Immune Formula

This formula has historically been used for common colds, flu, and other infectious diseases. Containing garlic bulb, aloe vera gel, wormwood, lobelia, marshmallow root, white oak bark, black walnut hull, uva ursi leaf, mullein, & skullcap, it has traditionally been used to aid in treating bacterial infections, common colds, influenza, pneumonia, sore throats, tuberculosis, typhoid, upper respiratory infections, and yellow fever.

Dr. Christopher's Super Garlic Immune Formula is one that has certainly earned it's place as one of our staff favorites. It's effectiveness as well as versatility makes it a product that is well worth the small price tag and one many of us like to make sure we always have on hand!

"We've seen amazing results with some of our customers and our staff struggling with very stubborn cough and lung issues.
Dr. Christopher's Super Garlic Immune Formula is one of our favorites!"
-Momentum98 Staff


Everyday our emotions are put to the test; whether it be a traffic jam, impending work deadlines, dealing with travel or the never-ending car pool. Whatever the situation – immediate or ongoing - Rescue® Remedy can help. Taken anytime, anywhere Rescue Remedy is totally natural and contains five of the 38 Bach ® Flower Essences: Rock Rose for terror and panic, Impatiens for irritation and impatience, Clematis for inattentiveness, Star of Bethlehem for shock and Cherry Plum for irrational thoughts. Rescue Remedy is the original. It is available in both 10ml and 20ml sizes. To use dilute four drops of Rescue Remedy in a glass of water and sip at intervals replenishing as necessary.

For even more convienance, rescue remedy is now available as chewing gum. Using the same recipe that has proven so effective for so many, there is now yet another option available to ease anxiety and naturally lower your stress level!

Both the gum and the others in the rescue remedy line have long since secured their place among our favorites. The convenience and comfort that Rescue Remedy provides has made it a must have! Similar to the garlic formula described above, this is a very versatile remedy that we've had great success with and our customers agree! It's a wholesome, effective product that many of us use personally when the weight of stress is just too much on our emotions. They have a full line of products, including some for pets, and all match the level of high quality we've come to expect from Bach.


Sovereign Silver

Nanotechnology has rendered silver into an exceedingly powerful tool destined to be one of the most commonly used minerals in the health industry, communications industry, sanitation industry, energy industry, alternative power industry, environmental management industry among many others. As conventional medicine's resources continue to diminish in effectiveness, consumers, researchers, and physicians are once again turning their attention to silver as a primary immune support tool. Its use as a respected preservative, disinfectant, and regenerative agent dates back thousands of years. Today, Sovereign Silver™ has delivered the ultimate refinement of an amazing metal—a true colloidal silver hydrosol.

So much in the health world that involves metal of any sort seems to be associated with the idea that they are all bad for us, hence the great number of general detox and heavy metal cleanses on the market (we have tons of those too and would be happy to assist you in picking the one that's right for you!). This idea, while accurate for the most part does not do much for informing people that not all things metallic are bad. Sovereign silver is one of these products that is often overlooked as a result. Silver has been a resource that health professionals have been using for centuries but recently it has been somewhat eclipsed in favor of pharmaceuticals. With the population searching for alternatives it has begun to make it's way back into the lime light but with so many still unaware of the benefits it can provide, we want to make sure this proven staff favorite get's the attention it deserves!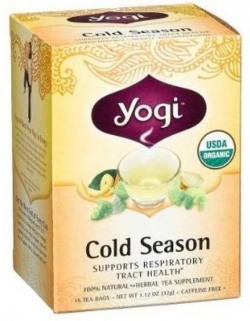 Yogi Cold Season Herbal Tea

Cold Season is a soothing all organic herbal tea specially formulated for use during the cold-weather season. We start with the warming herbs of Ayurveda—ginger, cardamom, cinnamon and clove—known as "heating herbs" that support nasal and bronchial function. The blend is complemented with traditional herbs peppermint, eucalyptus and basil to support free breathing, as well as lemongrass, one of the best herbs for supporting a healthy sinus. So when the cold season has a hold of you, relax and sip a steaming cup of Cold Season tea to keep your internal fire blazing.
Many people know of the benefits that can be found in herbal remedies but are sometimes hesitant to try them out. This particular herbal blend is one that we encourage all of you to give a try. Drinking tea is a simple way of getting the benefits the herbs have to offer and one that is neither expensive, nor does it require strict guidelines stating how and when it must be used. Also to it's credit is the simple fact that it too has shown itself to be highly effective and every year shows just how much it can help! Our experience with this tea has made it one of our favorites and we think that if you're willing to give it a try, you will surely agree!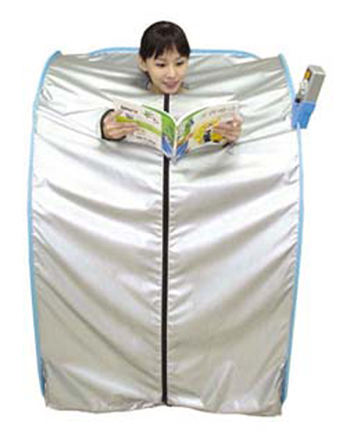 Relax Far Infrared Sauna
The one product we can't help but feature is the Relax Infrared Sauna. It is certainly a familiar product for many of you that have seen our newsletters, ordered any of our products, or even just been in the store but with the astonishing results our customers have had, we want everyone to experience the energy for themselves! While it is called a sauna, it does not work in the same way sauna's as we know them work. Traditional sauna's work by heating the air around the body to force the body to utilize it's protecting reaction of sweating to cool the body and protect the vital internal organs. The Relax sauna works differently by isolating the wavelengths of light (or energy) that are most like that of our own bodies. By providing the body with this additional energy, the body produces a different sweat than the type caused by a traditional sauna. The sweat response occurs not because of a need to cool the body off but rather as the bodies way of using the extra energy to rid itself of harmful toxins and begin healing itself. We have a demo model ready for use in the store and as always, it's completely free to use so come on it and experience the wonderful healing energy of the one and only Relax Infrared Sauna!


The Relax sauna is the one product we simply can't say enough good things about but you don't have to take our word for it, here's just one of the many great responses we have gotten from satisfied sauna users!


"Hello,
I purchased a Relax Sauna from you about 3 weeks ago. Prior to using the sauna, I used to suffer from constant hiccups, hours of yawning, fatigue, and headaches. I used to have to go in frequently to my doctor to measure my oxygen saturation levels and do oxygen therapy throughout the week. Three days before I started using the sauna, I had just gotten my latest test- only 67% oxygen saturation. I started to use it 15 min. daily. I just went to see my doctor (3 weeks since my last visit-longest ever) and my levels of oxygen saturation read at 100%. I havent had any headaches, fatigue, yawning, or hiccups. I feel amazing! Thank you!"
~C. G.
Two of the newest additions to our product line are the Eurossager and the Runnerssage Pro! The two amazing massagers were developed by a chiropractor to give the user effective relief from muscle tension without the aid, or cost, of a professional massage therapist. It is based on the full size model market to doctors but with it's smaller size, lower overall weight, and smooth quiet operation, it can provide many of the same benefits without the visit to the doctors office. It works using two or four massaging heads, interchangeable to suit your personal preferences, that alternately rise and fall by 1/4" similar to the pistons in an automotive engine. With it's multiple speed settings it allows the user to adjust the speed from 20 strokes per second up to 40 strokes per second. The best part is that not only are both these products amazingly effective, they are both surprisingly light and very easy to store!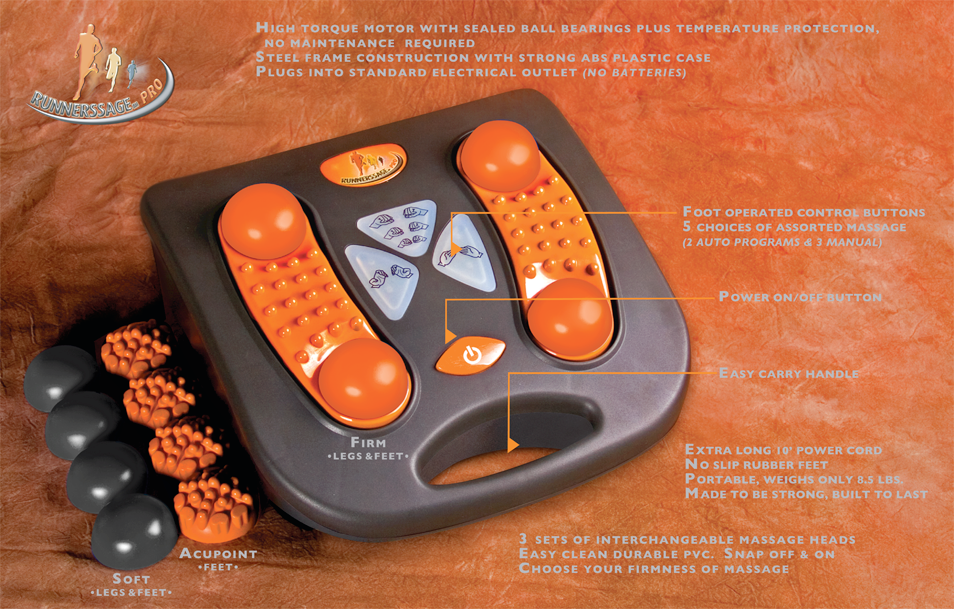 In our line of work we get to see TONS of electric massagers but few stand out as really being great tools. These two are both not only ones that we love and recommend but ones that stand out and have distinguished themselves from all the others on the market as being simply wonderful products! How many of you have gotten massagers as gifts or purchased them for yourselves only to have them end up on a table at a garage sale or are found years later dusty and unused because they simply did not live up to their expectations? This is one product that is far from likely to suffer such a fate, everyone that has tried one has been blown away by the relief it provides! Similar to the sauna, this is one we feel you have to experience to truly appreciate and for that reason, we also have them open and available for you to try right in the store. Given just a few short minutes using one of these and you'll understand how this relatively new product has become one of our favorites so quickly!
In Store Coupon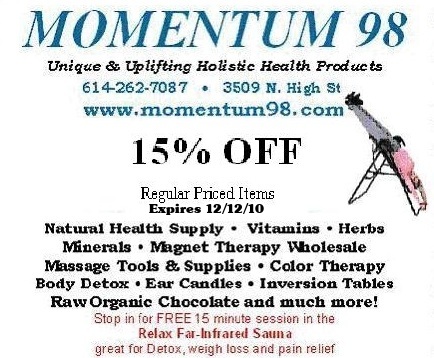 To print, click the coupon above to open it in a separate window
PLUS...
Take $5 off your online purchase of $40 or more (not including shipping) when you enter the code
" SALE1210 "
into the comments box when you order!

Like the new look of the newsletter? Please let us know, we always appreciate your feedback!
EMAIL: moment98@gmail.com
SHOP ONLINE: https://www.momentum98.com
PHONE: 1-800-533-HERB (4372) & 614-262-7087
3509 North High Street,
Columbus, Ohio 43214
DIRECTIONS to the store !
Hours: M-F: 10-7, Sat: 10-6, Sun: 12-6