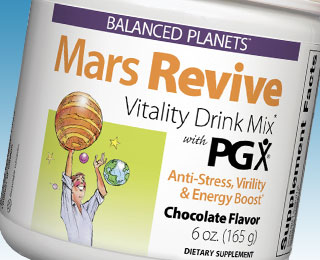 Modern living quickly depletes the nutrients that the body needs in order to function properly. Stress especially makes demands on the body to create more stress fighting hormones, which can create an imbalance.
Mars Revive Vitality Drink Mix with PGX provides nutrients that support the body to enhance function and over all health. L-theanine and GABA help to promote a sense of well-being, while improving your sleep quality. L-theanine also can counter-act the negative effects of too much caffeine, which can emphasize the negative aspects of stress. Goji, acai and cacao help to provide broad-spectrum antioxidant support.
PGX is a source of water-soluble polysaccharides that help to balance blood sugar fluctuations, reduce food cravings and curb emotional eating. Apple pectin also provides a source of dietary fiber which helps to promote elimination and regularity.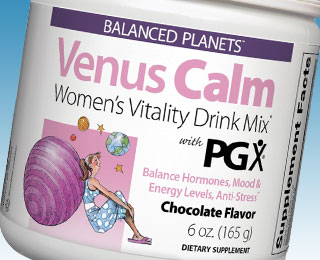 The constant demands of day-to-day living can leave anyone feeling stressed and anxious. How can you combat feelings of being overwhelmed and put your best face forward? Venus Calm Vitality Drink Mix with PGX.
Venus Calm is a synergistic formulation designed to enhance your over all feeling of tranquility and peace. L-Theanine, GABA and 5-HTP help to promote a restful state of mind, reducing anxiety and promoting a sense of calm. As stress robs your body of supporting nutrients, Venus Calm replenishes with healthful ingredients like goji, acai, maca, and cacao.
PGX is a source of water-soluble polysaccharides that help to balance blood sugar fluctuations, reduce food cravings and curbs emotional eating.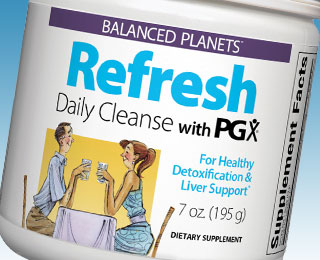 Cleansing is not a new concept. The idea of cleansing the body of toxins has been around for thousands of years, and for good reason. This ancient ritual helps to rid the body of harmful toxins and impurities that can diminish vitality and increase illness. By gently cleansing daily, the body is able to remove these waste materials slowly and gently, improve health and vitality.
Health rejuvenating ingredients like apple pectin, aloe vera, sea salt and lemon help the body to slowly remove harmful wastes. Apple pectin reduces heavy metals and is a source of dietary fiber which encourages the body to eliminate harmful waste. BerryRich provides the healthful benefits of high-antioxidant fruits and berries, providing a whole-food nutrient profile. Aloe vera and lemon help to support the digestive tract.
PGX is a complex of water-soluble polysaccharides that help to improve bowel function by providing an excellent source of dietary fiber. PGX also helps to reduce blood sugar fluctuations and lowers cholesterol.

SuperFoods Daily Power Shake
Available in Whey & Vegetarian Protein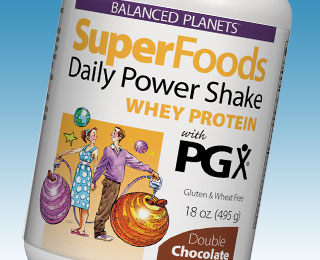 The term "superfood" is commonly used to imply a food has many health benefits due to its extensive nutrient profile. Imagine the nutrient content when superfoods are combined. They work together to support to the brain and body, and when the body is properly nourished, it is possible to more effectively cope with stress and have the available energy needed to go about your daily tasks.
The Superfoods Daily Power Shake combines undenatured whey protein with antioxidants, minerals and vitamins for the boost you want every time you use it. The high-quality whey protein supports your immune system and helps build healthy muscles while providing a long lasting source of energy.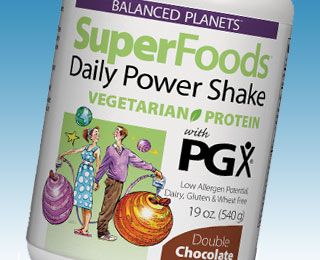 PGX (PolyGlycopleX) is a water-soluble polysaccharide that supports healthy blood sugar levels preventing the spikes and drops commonly associated with meal time. It slows the digestion of food, which helps to ensure a gradual release of sugar into the blood stream. It also helps to lower cholesterol and maintain a healthy weight.
Goji berries, cacao and acai help to boost vitality and energy, and enhance your body's ability to function properly, defending against environmental and age-related toxins. Available in two delicious flavors Double Chocolate and French Vanilla.