Olive Gold O3
Testimonials
Go to Olive Gold Page with lots of information on Olive Gold

Testimonial page top

Testimonial page bottom

Go to Olive Gold Liver-Gallbladder flush suggestions
---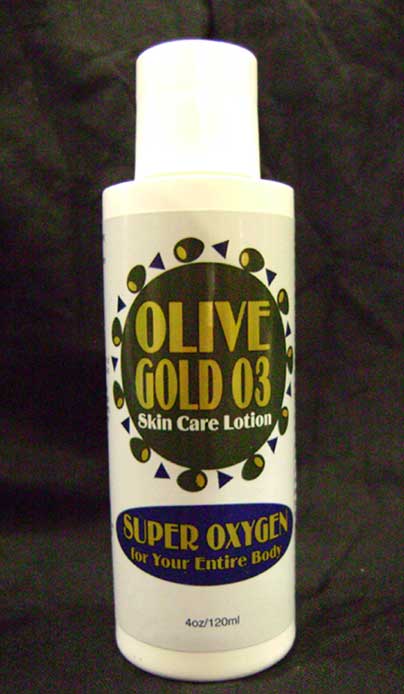 OLG01 - 2 oz
OLG02 - 4 oz
OLIVE GOLD 03 :
A MIRACULOUS Multi-Purpose Topical Lotion
AUTISM:
I am so grateful to have met you and your OLIVE GOLD O3.My kids are incredible and I am so lucky to have them recover. They're 8 year old twins, we and they are getting better emotionally due to the healing. I work with Anju Usman M.D., who treats kids on the Autistic spectrum, from all over the world. After seeing the results of our kids, she brought a bottle for personal issues. -Jane Casey - Mom, Chicago, IL

ACNE/BAD SKIN:
I have used the majority of products for my acne, but nothing helped and some made it worse!
I was afraid to use anything. After 2 weeks of using OLIVE GOLD O3, WOW!
My acne is so much better and my bad skin is clearing up! My skin became softer and healthier for sure!
-Lauren, Front Desk -Salon Margrit, P.B., FL

ASBESTOS POISING:
- I had difficulty breathing with chest and lung pain. I take 2 drops in the morning.
In addition, I applied OG3 to my face, underarms, heart, back of neck, temples, and scrotum after showering.
After applying OG3, I breathe easier and my pain has dissipated.
My liver sports the size of a quarter were gone in 1 week! -55 Male, Big Fork, MT

BITES/SORES/PAIN/ENERGY:
I had sores on my legs and hand due to mosquito bites.
I never experiences such fast healing and disappearance of skin blemishes as with OG3. In addition,
I had leg encrusted sores and pain. In less than 2 days, they were gone and no marks were left on the skin.
Pain was alleviated and I felt a boost of energy. Tony, CT

DIABETES:
I'm on the road to recovery after having 2 toes amputated on my left foot.
I have used Olive Gold which took care of the pain and circulation in my foot. Just started walking!
-Desmond Braithwaite, St. Lucia, Caribbean
PSORIASIS:
I was diagnosed 1 year ago with psoriasis. I did not want to use the new biological drugs by injection
because of their side effects. I tried product after product, but nothing helped my psoriasis until I came across
Olive Gold O3. It hydrated and softened my psoriasis. I had been 1 month since I started using OG3.
Some of the smaller lesions are gone. The larger lesions are improving and I expect full resolution.
Thank you Olive Gold O3!
Dr. Thomas Klein man, D.C. Atlas Chiropractic, Palm City, FL

Afflicted male, 17 years old. Condition: Severe Psoriasis
on 90% of my body including arms, legs, back, and hands.
After applying and taking Olive Gold O3 in water, day and nighttime and having a healing crisis for a couple of days,
my skin cleared up. I had great energy when not consuming grains, sugar, yeast, and alcohol.
It was like someone turned on a light switch. I can walk again without pain and feel healthy.
Prior I could barely get around and work was excruciating because of psoriasis.
-JL, 47 years old, Heavy Equipment Operator, Napa, CA

HIGH CHOLESTEROL, STROKE, DEPRESSION, OVERWEIGHT:
Been going to VA Hospital. Got a VA Physical last week. BEST PHYSICAL IN MY LIFE!
Cholesterol back to normal. Lots of energy.
Stress was reduced and lost 10 lbs. Changed nothing except taking OG3 externally and 3-4 drops in water AM and PM. -Painter, Male, 60
SCIATICA/BAD HIP/BURNED/ HEART/ WRINKLES:
I would love to tell everyone about OG3. I have had a very bad hip and sciatica for years.
I decided to try a bottle of OG3 Within a few minutes, the pain stopped
in the hip and I could actually walk without pain. I could not believe it was real! Yet OG3 did it!
I'm amazed and thankful for this amazing product. I went to a tanning salon, forgot protection
and was severely burned. I rubbed OG3 on, within 10 minutes the pain and burning stopped!!
Even my mother, who has a heart condition, rubs OG3 around the heart and the pain goes away!
We also use it on our face for wrinkles. Unbelievable, we can see the very tiny wrinkles disappearing.
I don't know how I lived without OG3 in my life, but now that I found it, I will never be without it!
-Mary Finnell, Head Coffee Roaster, Whole Foods Market, P.B.G., FL

MIGRAINE HEADACHE:
After using OG3 for 2 days, my migraine headache went away!
Have been using OG3 for 1 month and haven't a headache of any kind since using OG3. It's terrific!
-Darlene, Dr.'s Assistant, Stuart, FL

DRY SKIN/ GROWTH ON A GREYHOUND:
This morning at the end of my shower, I rubbed OG3 on all o
ver while still wet and it felt great! It felt like my body was drinking it in and really needed it.
We live in a very dry climate and this is going to help my skin. We applied OG3 on a Greyhound
that had a nasty growth. It fell off in 3 days completely! Thank your OG3!
Amy Snow, Tall Grass Animal Acupressure Institute, Larkspur, CO
SUPER HEALING BENEFITS FOR INTEGRATIVE MEDICINE:
Our clinic will administer, in practical terms,what works for the patient!
Treatments are by a variety of mainstream and alternative approaches.
Homeopathy, nutrition, colon, chelating, and ozone therapy are some of our cutting edge modalities.
Continually, Olive Gold O3, has done wonders pre-, post-, and during treatment. Patients want immediate results
and report overwhelming advancement in their comprehensive health and well being by using OG3!
Across the board, OG3 is a favorite of ours!
Dr. Leonard Haimes, M.D. The Haimes Centre Clinic, Boca Raton, FL

NEUROMUSCULAR THERAPY:
Olive Gold O3 is a beautiful product! As a LMT, I do neuromuscular
therapy and other form of soft tissue body work. I apply 20 specific techniques in approaching problems of pain.
This releases muscle spasms and restores normal tonus to the body. OG3 seems to break the stress, tension,
and pain syndrome. I have used many different products. I personally use OG3 daily for general maintenance.
-Barry Brantley, LMT #MA0014465, Jacksonville, FL
SUN SPOTS/ FACE LINES / NUMB THUMB & TOE:
OG3 is working for me. My face is clear, lines lightening, scars are 98% gone and my left toe is completely healed!
My therapists are delighted with their work and OG3.
I can make a fist with my right hand and I can feel it. I haven't been able to do that for a year.
My grip is almost all the way back to normal (I was in a car wreck and one of my injuries was losing circulation
to my thumb and toe). My family uses OG3 too and love it!
-Kimberly D., Medical Writer, Springfield, MO

WRINKLES / FINE LINES / COMPLEXION / SCALP CONDITION / ECZEMA:
The most noticeable benefit from using Olive Gold O3 is my complexion.
I've used various skin care products. Now Having used OG3,
my skin is more moisturized and noticeable less fine and wrinkles. OG3 is great as a makeup base and remover too!
My best friends keep looking at me wondering if I have had anything done. - Sue Stewart, Sales, P.B.G., FL

FLAKY SCALP:
OG3 rid my flaky scalp due to eczema, made my hair look shinier.
I have a healthier looking complexion. Irritation due to razor burn was quickly gone.
I put OG3 on my neck & shoulders after a long day at work to help me relax! Awesome Product!
Erica Rego, Customer Service, WHM P.B.G., FL

LYMPH NODES:
My mother found nodules on her lymph in Feb 2007 and I sent her OG3. She used 2 bottles.
Nodules have drastically increased, impressing her doctors tremendously.
Thank you for providing my mother with Olive Gold O3. I think it was a combination of her altering
her diet, prayer, and OG3. Blessing!
- Jolene, Oregon School of Massage Bookstore Coord. Portland, OR

NASCAR, MOTOR CLASS, & SUPER CROSS PERFORMANCE
/ FASTER HEALING / PAIN RELIEF:
My wife Bekki and I are health practitioners for those in Nascar, Motor Class, and Super Cross.
We professionally train young race drivers. After a variety of tests, have determined that our top drivers
have increased their performance overall by 4% using Olive Gold O3. The Driver's Vision, Endurance,
Energy, Stamina, has improved dramatically. Back, neck shoulder aches and pains (associated with the
intense stress of racing) diminished! We normally have healed bone fractures in 10 days.
With OG3 the same was done in 5 days with improved quality of healing.
-Dr. Deniis & Bekki Medsker D.C./ Medsker Clinic and Racing College - Florence, S.C.
---
---
Information provided on this page is for educational purposes only.
Always consult a healthcare professional before using any product.
---