Oxylent - Oxygenating Multivitamin Supplement Drink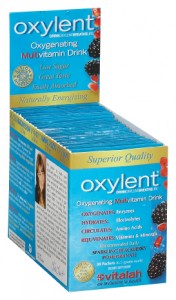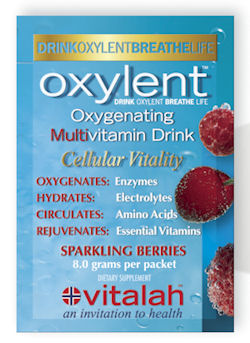 VTL02

Sparkling Blackberry Pomegranate Box 30

VTL01 Sparkling Blackberry Pomegranate 1 packet

OXYGENATES: The enzymes, SOD and catalase, work together to promote the conversion of toxins into beneficial oxygen and water, enhancing cellular oxygenation.

HYDRATES: Important electrolytes control the balance of fluid in the body. They are also important for muscle and nerve function, blood pressure, movement of nutrients into the cells, and the removal of waste
product from the cells.

CIRCULATES: The amino acid, L-Arginine, promotes healthy blood flow, which significantly improves circulation.

REJUVENATES

: A full range of B vitamins support adrenal health and immune and nervous systems

5

. Powerful antioxidants, CoQ10, vitamin C, and bioflavonoids, are also included. 1000 I.U.s natural vitamin D3 supports bone and heart health



Oxylent is a high quality, great-tasting, daily multivitamin effervescent that can be mixed with water for a refreshing and nutritious daily drink. Oxylent comes in three delicious flavors. The effervescent delivery system offers nearly 100% immediate absorption of vital nutrients and is gluten, caffeine, lactose and preservative free. By purchasing Oxylent,
you are supporting Vitamin Angels & a local company!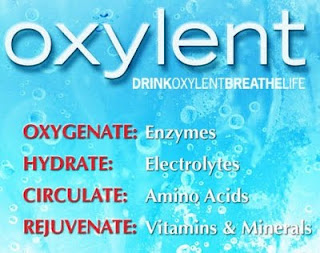 Oxylent incorporates the latest nutritional science to deliver the next generation of nutrition to people of all ages–in one small convenient package. A single effervescent packet of Oxylent dissolves quickly in water and provides an optimum blend of vital nutrients to assist in oxygenation, hydration, circulation, and rejuvenation.



What is it?

Oxylent is a revolutionary approach to total well-being. Based upon the latest nutritional science, Oxylent provides complete, synergistic, cellular nutrition in a highly absorbable form. A single effervescent packet of Oxylent dissolves quickly in water to provide a unique blend of vitamins, minerals, amino acids, and enzymes that promote oxygenation, hydration, circulation, and rejuvenation.*



How does Oxylent work?

The high quality ingredients in Oxylent work in harmony with your body's chemistry to create a balanced atmosphere for your body to function properly. Oxylent replenishes your body with a synergistic blend of the essential nutrients it needs to repair itself and return to homeostasis and optimal health.
What makes Oxylent unique to other supplement



Oxylent is unique both because of its blend of essential ingredients and its highly absorbable delivery system. The minerals used in Oxylent are sourced from Albion. These ultimate mineral forms gained notoriety because of their superior bioavailability.

Albion® Human Nutrition is the most established and globally recognized leader in the chelate industry. Albion is the first bis-glycinate chelate manufacturer to be approved by EFSA, European Food Safety Authority.

In addition to several essential vitamins, Oxylent provides the unique ingredients, SOD and catalase, which are naturally occurring enzymes that protect cell membranes from oxidative damage. SOD and catalase work together to promote the conversion of toxins into beneficial oxygen and water. Catalase's powerful anti-aging action also works in harmony with the potent antioxidant, CoQ10, and the amino acid, L-Arginine. Together, they support healthy circulation and metabolism, to synergistically oxygenate, hydrate, circulate, and rejuvenate every cell in your body.* Oxylent's effervescent powder form also sets it apart from other supplements, providing a delivery system that far surpasses pill, tablet, or capsule form.

Why are vitamins in powder form so beneficial?

Effervescent powder form has many benefits for a number of reasons. First and foremost, the powder form improves the bioavailability of vitamins and minerals because: (1) powder form supplements are produced with less processing of the ingredients (including avoiding excessive heat and binder ingredients such as cellulose), (2) less time elapses between blending and processing which reduces the exposure of the ingredients to air, and (3) the powder form is better absorbed by the body because it does not need to be broken down by the stomach acids to be absorbed in the small intestine—an advantage especially important for people with digestive difficulties. Additionally, the powdered, effervescent delivery system is a convenient way for parents to give children the essential vitamins and minerals they need, as well as a useful option for an aging population that finds swallowing and absorption more challenging. The reduced carbon footprint of powder-form supplements is also an increasingly important benefit. Powdered vitamins and minerals are a more environmentally sustainable form of supplementation, as they require less energy and expense to produce, less fuel and thus less emissions to transport, and don't require petroleum-based plastic bottles.

How do we know vitamins are best in powder form?

According to the Physicians' Desk Reference (2000), our bodies can only absorb approximately 10–20% of vitamins and minerals in pill form. In contrast, Oxylent's effervescent powder form provides nearly 100% bioavailability.




---
---