MINI TRAMPOLINES
THE REBOUNDER

---
THE SOFT-BOUNCE, FOLDING
REBOUNDER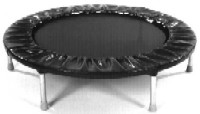 REB03 - The Needak Rebounder

The Needak Rebounder is 40 inches in diameter and stands 10 inches tall.
The "jump mat" (rebounding surface) is 28 1/2 inches in diameter, providing ample room for exercising.

Rebounding is an exercise that can reduce your body fat; firms your legs, thighs, abdomen, arms, and hips; increases your agility; improves your sense of balance; strengthens your muscles over all; provides an aerobic effect for your heart; rejuvenates your body when it's tired, and generally puts you in a state of health and fitness.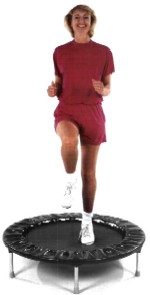 You can easily perform this exercise in your living room, your office, and your yard. The traveler may wish to carry a folding rebounder for use in a hotel room. It's the most convenient, metabolically effective form of exercise around.
The Needak Soft-Bounce Spring absorbs as much as 85% of the impact of each bounce. This is due to the unique barrel shape of the spring. The diameter of the coils increases as you move toward the center of the spring. Note: springs will break - when you flex metal, it will eventually break. So, if you use your Rebounder often, eventually you will have to replace the springs:

Click here to see Replacement Springs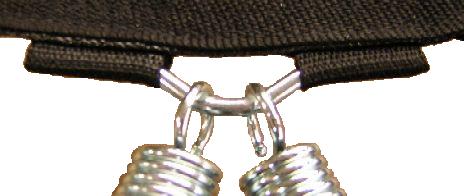 Needak uses a mat made from Permatron material, which has a smooth finish- It should give no stretch during the downward landing, while at the same time providing a resilient rebound. The Permatron is resistant to ultraviolet rays, doesn't break down as do other fabrics, and allows no moisture absorption. The mat is sewn together using 5760 stitches of high-grade nylon thread with two layers of strong polypropylene webbing stitched around the mat's edges.

Attached to the heavy-grade, all steel round frame is an oversize spring mechanism holding four-inch-long, custom-made jumbo springs which deliver a soft bounce. Thirty-six springs made of quality wire will hold the mat to the frame. The springs are shielded by a protective cover. Individual spring mounting pins prevent frame wear. Tapered coils help to give extended wearability to such springs. (Untapered coils allow low-quality springs to break frequently, requiring replacement.)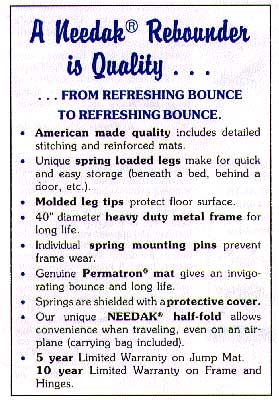 This website is owned and operated by an Authorized Retailer of Needak® rebounders. Needak® Manufacturing shares no ownership interest in this website and has no responsibility or control over content, opinions, or healthcare advice presented or any financial or personal data collected through this website. Needak® is a registered Trademark of Needak® Manufacturing, LLC O'Neill, NE USA
.
---
---
A Note From Phil Wilson
Owner of Momentum98
We introduced the Rebounder to Columbus, Ohio during the 1981 Ohio State Fair. I believe in this product to such a great extent that I spent the seventeen days of the Fair rebounding to demonstrate to the crowds how easy and beneficial it is...

A little history behind this great product:

When the rebounders first came out, people were discovering that they felt better when they rebounded. Others were discovering that the lymph system got pumped in an incredible way. People who were ill became better, and those who weren't ill, were becoming even healthier, glowing individuals. It may be also because it pumps the lymphatic system, and pumping the lymphatic system can help eliminate toxins from the body. Those promoting rebounding were able to make money at it, and hence they could expend their energies educating people about rebounding. There was great job in rebound world, and the people were health and happy....
Unfortunately, the rebounding industry got too big, too fast. The educational aspect of marketing this product did not keep up with the technology. Rebounders were mass produced - consequently the quality of the rebounders suffered and the educational aspect of the product disappeared.

Rebounders are now rebounding back (pun intended). Although many of the original companies manufacturing Rebounders went out-of-business with the mass production of lesser quality Rebounders in the 1980s and 1990s, we have discovered Needak. This manufacturer produces high quality rebounders.

We don't sell 150 rebounders every month any more like we used to in 1981 (at $169.00 apiece) - but more and more people are rekindling an interest in the benefits of this product.So here they are, and here is your opportunity to start exercising with them, and benefiting your health, and your life.
---
The experts on Rebounders:
Go to the Rebounder Book & Video Page

As Dr. Samuel West has indicated many times in his many lectures and in his book on the 7 Golden Secrets Plus One that there is nothing that pumps the lymphatic system like rebounding.

Al Carter in his classic book, The Miracles of Rebound Exercise, stated many times that Rebounding is the most efficient exercise ever designed by man.

Harry (PhD in Fitness Training) & Sarah Sneider did a lot of research, worked with many athletes of all kinds, and even wrote a book, The Olympic Trainer, on their results in increasing the effectiveness of their fitness training system.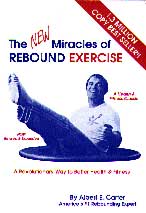 The Classic Book on Rebound Exercise
by Al Carter
OUT OF PRINT
---
---
SUPPORTING EQUIPMENT
---
STABILIZING BAR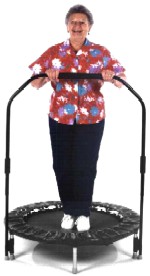 REB05
The Stabilizing Bar hooks right onto Needak Rebounder.
---
---
REPLACEMENT
SPRINGS
| | |
| --- | --- |
| | |
| IJSPR - Old-style Spring | IJSPR2 - Needak Soft-Bounce Spring |

COMPARING SIZES:
Old-style Spring = 3.5 "
Fits most Rebounders from the 1980s.

Soft-Bounce Spring = 4.25 "
Made for the Soft-Bounce Needak Rebounders.
---
---