MAYUMI
SQUALANE & SQUALENE
BEAUTY PRODUCTS MADE FROM SHARK LIVER OIL EXTRACT
---
| | | |
| --- | --- | --- |
| | | |
| Squalane Oil | Squalene Capsules | Squalane Cream |
The pure, natural way to beautiful skin...

A 99 percent pure, all-natural oil, Mayumi Squalane is a unique source of
healthier, more beautiful skin.

Derived from the liver of shark which thrive in the cold, deep waters of the Western Pacific, this valuable, time-proven oil is used
in some of the world's most expensive beauty formulas. Still, these skin treatments use just three to five percent Squalane,
providing only a small portion of the health and beauty
benefits Squalane can bring to your skin.

That's why Mayumi Squalane is pure beauty

SQUALANE BEAUTY
The inherent quality of pure Squalane provides a variety of
health and beauty benefits to your skin.

*softens wrinkles and tiny maturity lines around the eyes and mouth.

*provides relief for many minor skin ailments, including rashes, scaly skin, scars and itching.

*helps remedy the effects of detergents and other harmful external agents, while curing minor skin eruptions and chapping.
*maximizes the benefits of your moisturizer and smooths your flawless make-up application.

*enhances your skin's appearance, making it more radiant and supple.
---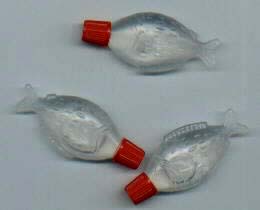 The famous samples of the squalane oil are back in this world of air !
One of the most precious oils on the planet !
So fine, as to be used in Rocket Ships !
( & in some of the world's most expensive beauty formulas.)
---
---
SQUALANE
OIL
JAP02 - 1.12 oz
JAP03 - 2.17 oz
For over a half century, Japanese women have enriched the beauty
of their skin through the use of Squalane.
Now Japan Health Products bring you Mayumi Squalane, the purest source
of this time proven beauty oil, giving women around the world healthier, more radiant skin.
Used regularly, this pure Squalane can do more than merely enrich your skin... it can transform it, by helping to soften fine lines and making
the skin more supple and youthful looking.
Natural...

Not only is it likely to be an ingredient in many high quality moisturizers,
it is also produced in small amounts by the body daily.
However, most people do not synthesize enough of this vital oil,
which can lead to rough, dry skin. Squalane supplements your
body's natural processes to give your skin that dewy glow.
The Squalane difference:

Used regularly, additive-free, fragrance-free Squalane can do much more
than merely moisturize your skin...
it can transform it, making it more supple and youthful looking.
Penetrating Power

Because Squalane oil is so fine, it permeates and is absorbed deeply into the skin -
without leaving an oily film - and with amazing quickness.
This smooth, deep penetrating oil assists in the acceleration of new cell growth.
The Cleansing Factor

Squalane has been known to discourage the growth of bacteria
that can block normal skin cell development.
At the same time it helps protect your skin from the harmful affects
of skin, extreme cold, smoke and pollution.
Using Squalane:

After cleansing, apply Squalane to those facial areas where you want to soften lines and create additional smoothness.
Squalane is highly concentrated, so use sparingly (usually two or three drops will suffice). Now you are ready for your make-up, moisturizer or night treatment, with the benefits of Squalane sealed in.

Round the clock benefits:

Apply throughout the day to soften dry, scaly spots on all portions of the body. Use under make-up for a flawless application and as a base to maximize the effects of your moisturizer. Squalane is also an ideal addition to your night-time facial treatment, or just use it by itself.
---
---
SQUALANE LOTION
BODY AND FACE

JAP06 - 8 oz
A pure, natural Skin Supplement...
Mayumi cream is super-rich with cosmetically pure Squalane. A moisturizing formula for all seasons that assures you a soft, silky texture during the cold winter or sunny days of summer. The natural way to heal both ski & beach sunburned skin. As a maintenance program just apply and feel the luxurious change.
Try the Squalane Difference in a cream formula for intensive skin care treatment year-round. Softens and soothes dry, rough skin and is an excellent way to relieve sunburned sensitive skin.
Fragrance Free.
---
---
SQUALENE
CAPSULES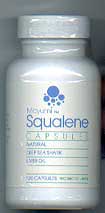 JAP04 - 60 caps
JAP05 - 120 caps
Each capsules = 450 mg of Squalene
SQUALENE CAPSULES
The beauty and medicinal benefits of Squalane are also available in a capsule form known as Squalene. Squalene capsules are cholesterol free and are known to possess a number of natural healing qualities. Daily use of Squalene may help supply extra oxygen to cells,
bolster the healing process in cells, strengthen the body's immune system,
and nourish and protect your skin. Over 90 million Squalene capsules are sold annually in Japan.
The story of Squalene:
This natural treasure from the deep, cold waters of the South Pacific
was discovered in 1906 by a Japanese doctor.
However extensive medical research did not begin until 1930 when it was
noted that sharks do not develop tumors and are cancer free.
Squalene is an extract of shark liver oil from the Aizame Shark whose natural
Pacific habitat is un unpolluted ocean depths of 3,000 feet in 35 degree waters.
Mayumi Squalene is a superior source of shark liver oil from Japan where great care is taken in its preparation to insure potency and stability. The richest source of Squalene is found in the livers of Aizame (dogfish) shark; but there are also minute amounts in olive oil, rice bran and other healthy foods.
Oxygenating Effect:
The active ingredient (C30H50) is a high-quality unsaturated hydrocarbon which studies seem to indicate is capable of re-supplying the cells with much needed oxygen. This increased oxygen produces a more efficient metabolic process enhancing energy metabolism at the cellular level.
Detoxification Factor:
Natural, pure Squalene functions in our body as part of the detoxifying system and may help to protect us against foreign substances which can weaken or cause damage to our natural defensive system.
Anti-oxidant:
Because Squalene is easily absorbed, it penetrates the cell membranes and plays
a versatile role as an antioxidant in the cells of the body's organs.
Fortifying Effect:
Squalene is an important factor within the defensive systems of the body.
Regular supplementation with Mayumi Squalene assures that the body receives all the
Squalene it requires for optimal functioning.

Suggested Use:
One to Three Capsules With Each Meal
---
---