Victory of Light Expo 2016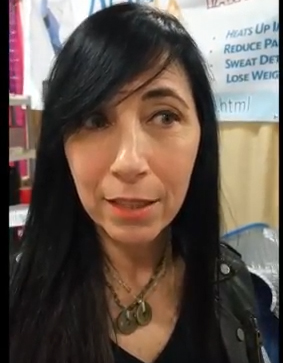 https://www.youtube.com/watch?v=YDbR-Z87YXw
Sherry loves her sauna that she has had for about 3 years. She says that it is the best thing that she ever received for a present. They heard she was going to purchase it on her own so they bought it for her. It heats up right away, no wasted time and it really gets into your bones.
She has an autoimmune condition known as Reynauld's, as do a lot of women, and the sauna helps with that considerably. She does hot yoga. On the way home she usually gets a chill so she hops in the sauna and takes a shower afterwards. When she can't make it to class she does several sauna sessions and sweats it out. "It's great. It's perfect. I recommend it to everybody."
She recommends it to people with autoimmune problems, weight loss issues, high blood pressure. Since the head is out of the sauna you can still breathe cool air and your body is not overstimulated to the point where your heart rate goes so up. You can unzip it a little bit and get some air before you zip it up again. Its easy. She says it's not like the type of sauna where you go in there and it's stifling and you can't wait to get out. She says to go out and buy one now! It's worth every penny. And she catches up on her email while she is sitting in it.
She loves using it in the winter as she is one of those people who seem to never be able to warm up. She finds that many types of other saunas have inconsistent heat, sometimes too hot or too cool or going from one to the other in the same session. Both he and her husband love the sauna's ability to relieve the aches and pains people experience as they get older. Her husband played ice hockey and had been a weight lifter and ended up having both of his shoulders done and his knee resurfaced and he loves the sauna, too. Her skin-dryness condition improved using the sauna. I think it is a great product. The people she knows who had gotten one of the cheaper far Infrared saunas ended up getting rid of them, just put them in the basement and never used them.
---
Tubby Love, Jordan of One Tribe, and Mikey Pauker at UNIFY FEST
https://www.youtube.com/watch?v=s5JX8SUmvpM
Tubby Love, Jordan (with One Tribe), and Mikey Pauker (with Seeker of Life),
Jordan and Mikey in the Relax Sauna, getting great Far Infrared Sweats, just broke out in song, and presto, we had a spontaneous celebration of Love and Joy, inspired by how they felt in the Relax Sauna.
Sounds good! Listen in! Click on the video! Singing in the saunas.