WELLGENIX PRODUCTS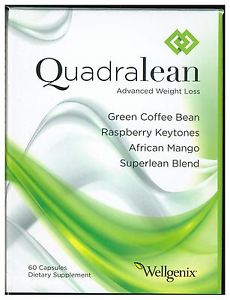 QuadraLean
Advanced Weight Loss
Green Coffee Bean
Raspberry Ketones
African Mango
Superlean Blend
60 Capsules
Formulated to help you lose the maximum amount of weight in the shortest period of time and keep it off.
With our unique combination of natural ingredients,
QuadraLean was formulated to help control your appetite, burn fat and inhibit fat production.
QuadraLean is simply the most complete combination of effective weight loss ingredients ever combined into one easy to use product.
For best results, use in conjunction with a healthy diet and exercise program.
Green Coffee Bean Extract---800 mg
(50% Chlorogenic Acid)
Raspberry Ketone---100 mg
Blend of: African Mango Extract, Acai Fruit, Resveratrol, Apple Cider Vinegar (powder), Kelp, Grapefruit (powder)---10 mg
Directions: Take 1 capsule 20 minutes before breakfast, lunch, and dinner. Maximum 3 times a day.