COLONIC UNITS
---
PROCTOSCOPE - 6 3/4" Long

New and Improved tip is slightly thicker for more comfort.
Large tip diameter = 11/16"
Regular tip diameter = 9/16"

---
A Note From Phil Wilson
Owner of Momentum98
History of The Wood Colonic Unit:

Well, this is actually a history of my involvement with the Wood Colonic Units, and my experience with colonics.
Interwoven in this history is a little bit about why this Stainless Steel proctoscope with plastic jugs, and metal hoses
is called the Wood Colonic Unit. There ain't no wood anywhere in the colonic unit that we ship to you. None whatsoever.
However, infused in this colonic unit is a rich tapestry of history.

Long before I ever heard of Colonics (having been born in Gary, Indiana), along came a man by the name of Dr. Wood.
He actually ran a school of colonic therapy in my home town of Gary, Indiana.
Well, Dr. Wood lived to be around the ripe old age of 89 or 90 before he finally was allowed to graduate.

I was introduced to this colonic unit by a man we will call "Green," who now lives in Hawaii.
He and his friend Rita, who I had known for many years taught me about this unit,
and why this method was superior to other methods of colonic irrigation.
Since I had had colonics that were NOT gravity fed, but were based on pressure,
I really found this method of a gravity fed colonic unit much easier on my system.

Well, after Dr. Wood died, one of his students, by the name of Helen Wood ( no relation - just same last name)
took up the banner of educating people about the benefits of hydrotherapy.
Helen taught colonic therapy for many years in Chicago.
Helen now teaches colonic therapy at her clinic in Kissimmee, Florida, just a few miles from Disney World.

Back in 1984, 3 of my good friends traveled to Chicago to taken Helen Wood's course in Colonic Therapy.
They came back inspired. Since I kept on running into Helen at the National Health Federation shows in Chicago,
we became friends, and eventually, I was able to work a deal with her,
whereby I am one of the only ones besides her where one can get these Wood Colonic Units.

We feel that this site may also educate people enough to want to take her colonic course.
There are other many colonic schools. And all of the shools are great.
And we believe that colonics can help your health, no matter what colonic system you choose to use.
If you are interested in talking Helen Wood's Colonic School, let us know and we will forward your information to her.


The Superior Home Colonic Unit
The Wood Colonic Unit

Dr. Wood did spawn off a few other students, who are versed enough in Colonics to teach colon therapy.
And there are others throughout the country who teach colonic therapy using different, more expensive units.
These more expensive units cost about $5000 each, and are electric powered.
This Dr. Wood Colonic unit is a professional model, but it also can be considered a home unit, as well.
There are other do-it-yourself home units, which are a little messy, which I do not like, and which we do not sell.
But before the Wood unit was available to the public, it was the only other low cost unit available.S
o it did get considerable press in the 70's and 80's. Because it doesn't have an outflow tube, it is a little messy.

What makes the Wood Colonic Unit superior to the other colonic machine (not electric) is that this unit,
as you can see in the pictures below, has an INFLOW tube, and an OUTFLOW tube. This is good. No mess.
This means the water comes into the colon through the proctoscope.
And you then eliminate through the other tube into the commode.
There is a view tube so that you can see what is going out, should you desire to.
By using your heal, you can keep the outflow tube dammed up until your damned well ready to let it go.
Sometimes, you want to keep things in the colon, and you want to massage the colon with your hands
or with something like the Hitachi Magic Wand.
Then when you are ready, you release your heal, and a lot of waste goes out of you into the commode.

The 5-gallon jug holds (yes, I know) 5 gallons of water. I cut a hole in the top of the jug,
and then let my shower fill up the jug. I use a shower filter, definitely, cause I don't think it is a good idea to put chlorine
into your colon. (We also sell a very good shower filter, the AquaSana, at our store.)
I then fill the jug so it contains almost 5 gallons. One can then refill the jug 2 more times. Or...

One can leave the shower water on, and time the water flow so that you can pretty much fill up the equivalent of
3 - 5 gallon jugs, which is approximately how much water you need to do a good colonic treatment.
As you are using the water in the 5-gallon jug, the gradual flow from the shower if filling up the jug
so that you will always have good water at your disposal.

It is best to have this done for you the first time by a Colonic Therapist.
After you have been taught how to use it, you can then apply this to yourself.
Or you may want to continue to work with a colonic therapist to assist you.
Or you may wish to have someone else supervise you, if it is convenient for them and you.

Many colon therapists use the Relax Sauna on their clients, BEFORE they do a colonic.
It will make the colonic go a lot smoother, and be much more effective.

We use on the proctoscope Equinox Botanical Golden Salve before we insert the proctoscope into the rectum.
---
---
Proctoscope for colonic unit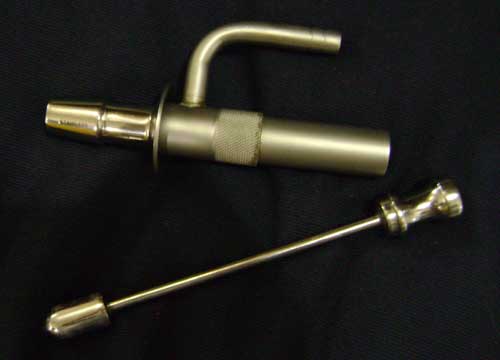 Proctoscope with Scope - Stainless Steel

The women's tip is slightly larger (11/16") than the men's (9/16").
The name comes from Dr. Wood, who "invented" the Wood Colonic Unit.

---
Five gallon Jug & Tubes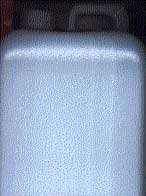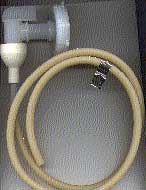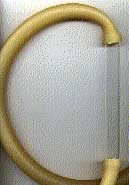 Jug, Tube that came out of Jug into proctoscope & then into intestines
and tube that goes onto proctoscope for liquid to go out of the intestines and into commode
(with 7.5 " see-thru tube)
Parts shown above are:
Jug
Spicket attached to the jug
Suction cup that connects inflow water tube to jug
Outflow tube (2 parts)
connected by a view tube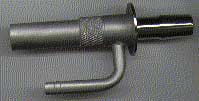 Brushes for tubes
The little tube goes on to the lower part of the proctoscope.
---
Directions
After inserting proctoscope (upper right part of proctoscope) into rectum, using the scope
(shown at top of page),
one then takes the scope out of the proctoscope, and puts the large tube on the
upper left part of the proctoscope.
This produces a very un-messy outlet for waste,
and is one of the virtues of this particular colonic system.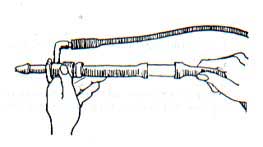 ---
If you are very serious about using this colonic unit for whatever reason,
we actually advise that you
take the colonic course from a place in Kissimmee,
Florida where they teach the classes on colonic therapy.

If you are interested in these classes, please email us,
and we will give
you their phone number & you can contact them directly.
---
One needs to find their own table (i.e. massage table) to lay on, while the 5 gallon jug lies on a pedestal,
connected to a water source (like a shower head, preferably with a shower filter).
Gravity brings the water from the jug through the small tube into the proctoscope, and into the colon.

By using the little steel clip, one can hold the water from coming into the colon.
By using the heal of the foot, one can hold the water in the intestines until the proper time to release.
Gravity brings the release of the water from one's intestines into a commode.
This is a gravity fed colonic unit.
---
Basic Instructions For Home Use Only
1). Fill tank with 5 gallons of warm water (98%).
2). Screw cap on tightly with teflon tape to ensure no leakage.
3). Place the tank on its side about 24" above the table with the spigot pointed downwards
for proper water flow. ( Also use teflon tape on spigot).
4). Attach the small water feed in tube to small opening of instrument.
5). Water the instrument with warm water ( 98%).
6). Lubricate the point of the instrument with anal lubricant.
7). You should lie on your left side with knees bent.
8). Insert the instrument slowly and carefully into the body.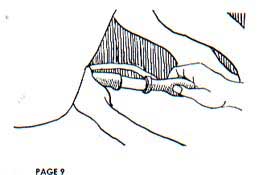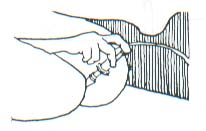 9). Pull out the shaft and attach the large hose ( turn down edge of hose about 1/2"- make a cuff).
10). Allow water through by releasing the clip.
11). Tip view tube to fill with water, then squeeze large tube near view tube to send
the water around the colon in the following manner.
12). Count up to 5, release, then count up to 5 again, release or until pressure is felt,
count up to 10, release, then count up to 10 again, release or until pressure is felt, count
up to 15, release, then count up to 15 again, release or until pressure is felt, count up to
20, release, then count up to 20 again, release or until pressure is felt.
13). Close clip on water feed in hose.
14). Then turn on your back.
15). Move your hand from the hose by the view tube to the end of the instrument,
keeping the score tightly pressed against the body.
16). DO NOT use more than a 10 count while your on your back.
17). Gently massage abdomen until bowel eliminates.
Please note: You may use more than 1 tank of water.
Be sure to close the water clip on the small hose when adding more water.
---
Inserting the Proctoscope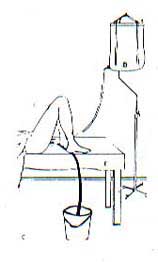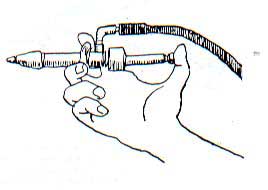 Here is a picture of the Proctoscope, with the scope inserted into the proctoscope, and with the tube from
the water jug already connected to it. The shaft allows the proctoscope to
gently be inserted into the rectum, painlessly. Otherwise, there could be shrieking, and tearing,
and it would not be fun. Once the proctoscope is inserted (either by yourself, if you are doing this by yourself)
or by the colon therapist, then the shaft is drawn out, and put wherever.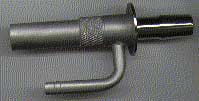 The Large Tube (outflow tube to the commode, including the view tube) is then connected to the proctoscope.
In the picture above, the large tube would go on the top left. The right top is already inserted in the rectum,
because the shaft has allowed it, and has been removed. The smaller inflow tube is connected to the jug
where the water comes from. That is connected on the lower left.
---
---