T

aking Advantage of the Moment !

Propelling yourself into Greatness !


Since 1980
.


Celebrating our 30th anniversary

in 2010!!



See us at
Psychic Fair & Holistic Expo
Evansville, Indiana
August 28-29, 2010
11am - 7pm
also
See us at BODY
MIND
SPIRIT EXPO
August 28-29, 2010
,
Sat 10 - 7, Sun 11 - 6 Booth504
NC State Fairgrounds, Kerr Scott Bldg
1025 Blue Ridge Rd,
Raleigh, NC
---
Saturday Sale


Saturday

,

August

14th, 2010
(Discount applies to non-sale items)


Mention "Saturday Sale" for your 15% discount



Special Saturday Hours 9:00-6:00

Local Farmer's Market in front of the Store from 9:00-12:00


.

Wild Jungle Peanuts

FAA05 8oz $10.95


10% off in August

Unlike domestic peanuts, Jungle Peanuts are

free of aflatoxins

(

aflatoxins are toxic chemicals produced by a type of fungus and are considered to be one of the most carcinogenic substances known

).

"These are a favorite around our store with employees and customers! Better flavor than commercial peanuts - you can taste the exceptional nutritional quality!

"




Raw Organic Wild Jungle Peanuts:


Subtle yet rich, aromatic and earthy - as different from regular peanuts as wild strawberries are from bland, commercial ones. They're also a nutritional revelation - containing all 8 essential aminos, plus methionine, with a whopping helping of the beautifying oleic acid. And they're loaded with protein, heart-healthy mono-unsaturated oil, vitamin E and much more.




The forests of the Amazon contain places where wild peanuts have survived undisturbed for thousands of years. These ancient varieties of peanuts offer unique flavors and appearances. Wild rainforest peanuts have a beautiful striped color and smooth, rich flavor that many people find far more pleasing than mass grown commercial peanuts.




Raw Power Protein Superfood Blend

Original, Vanilla and Chocolate flavors




Certified Organic, 100% Raw, Vegan


Ingredients

: Brazil nut protein powder, hemp protein powder, maca, goji berry powder, maca extreme.




NFL04 16 oz $29.95


The ingredients in Raw Power Protein Superfood Blend all work synergistically, giving the one of the most balanced, nutrient-rich protein product

available

.





Product Features:




100% raw, vegan and certified organic.




Contains full spectrum of amino acids.




Healthy amounts of omega 3 and omega 5 essential fatty acids.




Large of array of vitamins and minerals for maximum nutrition.





Brazil Nut Protein Powder

contains nearly 50% protein, a full spectrum of amino acids, high levels of selenium (a powerful antioxidant) and is rich in dietary fiber. Traditionally, Brazil Nuts have been regarded as the most calorie-dense of all vegetarian foods.



Hemp Protein Powder

is a naturally complete protein powder. It contains over 50% protein, branch chain amino acids, Omega 3 & Omega 6 Essential Fatty Acids (EFAs) and healthy dietary fiber.



Maca

is an ancient superfood that was consumed by Incan Warriors to increase strength and endurance. It also has the reputation of being a powerful aphrodisiac. Maca Root contains nearly 20 amino acids, essential minerals like calcium, phosphorous, zinc, magnesium, and iron, as well as vitamins B1, B2, C and E. Maca can help provide energy/stamina for intense adventures and training sessions.



Goji Berry Powder

is a naturally concentrated extract of the world's most nutrient-rich fruit. It contains 18 amino acids, essential minerals, antioxidants and polysaccharides. It is the most concentrated food source of beta-carotene known.



Maca Extreme

is the most potent form of Maca in the world. Cold-processed immediately after harvesting, Maca Extreme helps you feel "juiced" before those important workouts.


Raw Power Smoothie:
Make your own Raw Power Smoothie


Directions:

Blend all ingredients for 20 seconds, or until you have a

nice consistency.
Enjoy.


White Mulberries

VIV15 1/2 lb $11.95

10% off in August



Nature's Raw Candy




These wild-crafted, certified organic, sweet, chewy, dried White Mulberries burst with a nectar-like flavor. A delightful grab-n-go snack or addition to your sweet treats. Mulberries are an excellent source of iron, vitamin C, calcium and protein. Reservatrol is a powerful antioxidant found in these mature mulberries and is also known to be present in red wine.



We also have a great Wild Raw MacMulberry Mix with delicious macadamia nuts and the white mulberries together


Raw Foods Bible




by Dr. Craig B. Sommers


BOK167 $24.95


The Secrets of Longevity and Vibrant Health
The Science Behind Living Foods
Gourmet Live Food Recipes
Acid-Alkaline Balancing
How to Regulate Body Temperature with Food
Cutting Edge Information from Ancient Societies to Modern Science




Dr. Sommers travels the globe giving lectures on how to achieve optimum health through proper nutrition and lifestyle habits. He is also a certified yoga instructor, certified nutritionist and the author of Raw Foods Bible, a comprehensive easy to read guide to the optimum diet and lifestyle.





The name of this book implies that it is strictly about food; it is not.

This book explains three main areas related to one's health: nutrition, lifestyle, and the mind/body connection

This book is great! It not only address nutrition, but also how to improve one's lifestyle and mind-body connection!
A must-read for anyone desiring greater health and happiness!!

"I have benefited greatly from healthy lifestyle choices, positive thinking and a diet predominantly composed of uncooked and unprocessed whole foods."
Craig B. Sommers
*****************************************************************************

Stop by and check out our great selection of other raw food items, including Jackfruit, Goji Berries, and Cacao (Cacao Powder, Cacao Butter, Cacao Paste so you can make your own yummy chocolate treat)!!

*****************************************************************************

******************************************************************************

The RELAX Portable Far Infrared Sauna


Experience the Healing Light of our Far Infrared Sauna




No Cost for In store 5-10 minute sessions. Stop by soon!



Phil Wilson, owner of Momentum98, has been selling the Relax Sauna to customers around the world for over six years. He has done extensive research on Far Infra Red technology, and has been writing, publishing and lecturing around the United States, Mexico and Canada. In this article he explains, in layman's terms, why the Relax Sauna technology is far superior to the other portable saunas. He also discusses the advantages of this unit over the high priced, high maintenance, wooden saunas.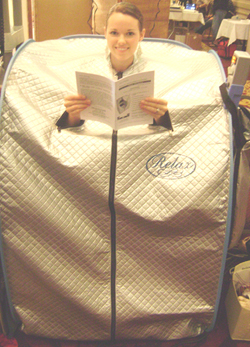 ---
Your feedback is always welcome !
EMAIL: moment98@gmail.com
Thanks for subscribing to our newsletter !
Phil Wilson, President