ALIVE ENERGY FORMULAS
CHINESE TONIC HERBS
---
Unique Chinese Herbal Formulas with American Names

Because the Alive energy formulas contain only select grade herbs and the finest all natural ingredients, they supply real energy you can feel. And because they're super concentrated whole foods, your system easily assimilates them for maximum benefit. But that's just the foundation for solid nutrition. The dynamics of how our formulas work to actually help improve your life and health, comes from the synergistic action of the extraordinary ingredients in each unique formula. To gain a better understanding of what this means, let's look at one of our best - selling products.
---
POST-DEPRESSANT REBUILDER
(DETOX)


ALV16 - 60 tabs



Facing yourself when you are down can be tough. If you don't find some reasons to keep trying, sometimes it's hard to see any light at the end of the tunnel. The synthetic drugs that modern science has developed mask our deeper problems instead of helping us deal with them. They curb the drive to accomplish meaningful work and suppress emotional difficulties. Solving problems takes a clear mind and an honest approach to what needs to be done. Drugs don't supply these things.





Post-Depressant Rebuilder's concentrated nutritional support may help you convince

your system it no longer needs drugs, but no natural product alone can induce you to stop if you're not ready. If you have decided that you are better off without drugs, POST-DEPRESSANT REBUILDER will help you find the reasons to pursue a drug-free life.




Ingredients:

Platycladi, dioscorea, Evodiae, Cynanchi, Sesami, Lindarae, Inulae
Suggested Use:

3 tablets twice a day for the first week. Thereafter, take 3 tablets once a day.
Then as useful until product no longer fits in your life.
---
---
FORMULAS FOR
VITALITY & RESILIENCE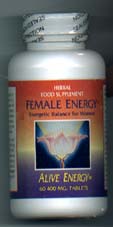 FEMALE ENERGY
ALV26 - 60 tabs
Powerful energy and vitality energizer.
---
---
FORMULAS FOR
TRANSFORMATION & SUPPORT
FEMALE ESSENCE
ALV09 - 60 tabs

MID-LIFE FORMULA
ALV24 - 60 tabs
---
---
OTHER ALIVE ENERGY PRODUCTS
THAT WE HAVE IN STOCK:

FEMININE HEALTH - ALV07
FIRST DEFENSE - ALV08
MAXIMUM MOBILITY - ALV29
POST- WORKOUT RECOVERY - ALV38
SMOOTH & STEADY - ALV63
---