Relax Sauna is one of the BEST things for Arthritis
---
Arthritis in the hands is gone after a short session!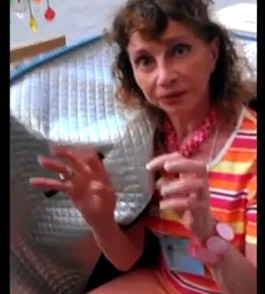 https://www.youtube.com/watch?v=gbkUsa7Z26E
Joy is sweating for the first time in her life in the Relax sauna. She had arthritis so bad that she could not move her thumb and after 20 minutes in the sauna she was surprised to find that she could move it. She had been in an auto accident a year ago and her knees hurt and she hurt all over and had been working to relieve a pain in her neck. She, also, had arthritis in her fingers with a lot of pain. After using the sauna, the pain in her fingers and her knees was gone and she felt so much better all over. "I can't believe it." This was the first time she had ever been in the sauna and she is excited!
---
Pain is gone from Arthritis and Fibromyalgia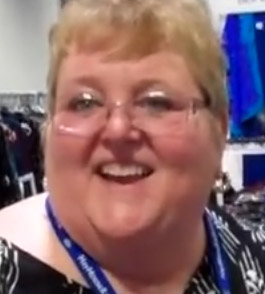 https://www.youtube.com/watch?v=qEtoyRPA4yk
It was fantastic. I suffer from fibromyalgia and severe arthritis. With these few minutes of infrared heat I feel release. I feel pain free right now and I am able to stand here and give you this testimony. It's been a wonderful experience. I look forward to hopefully purchasing one for my own home use. - Cindy
---
Beth is able to stop using her cane after using Relax Sauna regularly

https://www.youtube.com/watch?v=RNK0Cn0g9_4
Beth is a regular to our store where she learned about the sauna and realized that it, not only would be a great help to her, but to a lot of other people as well. It is fantastic for people with autoimmune diseases. Beth has the beginnings of arthritis. She recently moved and likens the move to doing to five days of heavy aerobics, similar to going to the gym. She was very sore from having lifted all those heavy boxes, so the first thing that she did was jump into her sauna. As she does every night when she is in the sauna, she keeps her hands down by her sides so that they get the full benefit of the light in the sauna. She feels that this is very valuable in treating her arthritis and that anyone with arthritis would benefit, as it stops the progression of the disease. It helps relieve pain, stiffness and also swelling.
Lsat year. she had hurt her leg in another move and it was very painful. Soon after that, she actually fell down and thinks she probably tore something. She used the sauna and the far infrared lamp on her leg and thinks that it helped a lot since it only took about a month to heal. "It made a big difference."
Two years ago she broke her toe. It was black and blue and she iced it everyday and was walking with a cane every day for six months due to the broken toe. Then last year. she stubbed her toe and it began to swell considerably later on inside her shoe. It was very painful and she thought she was going to have to go through the whole process again! The next morning, she remembered her far infrared lamp and she use that on her toe for about 20 minutes each day. It happened on a Saturday and by Wednesday all the black and blue was gone, the swelling was almost completely gone from her toe and it was well. Something that had previously taken six months, with icing and elevation and hobbling, was done in 5 days. "That is phenomenal."
Some days when she eats too much sugar, she notices that she cannot see as well the next day in the morning. She thinks it is contributing to cataracts. When that happens, she either uses the far infrared table lamp directed towards her eyes or, when she's in the sauna, she keeps her head inside and the far infrared increases the circulation and carries the toxins from the sugar away from the cells in her eyes. She says that literally she can see better after that five or 10 minutes session. She finds that that is all the time she needs to see better - that is how dramatic it is. Phil commented that he does it all the time and that it feels heavenly. He comments that there is a lady in Washington state who had been blind for about two months, due to diabetes, and that after using the far infrared table lamp, she regained her vision in less than 2 more months.
Beth has pain in her tooth and thinks she may need a root canal. It aches enough that she needs to take an aspirin or an Advil. However, when she uses the lamp for about five minutes for 1 or 2 days each time that she feels the pain return, it goes away for about six weeks each time she uses it.
In June, she had a very bad case of strep throat and the antibiotics that she was prescribed we're not working yet. She opened her mouth and directed the light from the far infrared table lamp towards the back of her mouth, along with salt water rinses. As she repeated this over the course of a couple of hours, the infection cleared up and she was able to go to sleep. She had been afraid to go to bed before because she thought that her throat might close-up during the night but she had no problem with that after her 2-hour treatment.
She thinks that to say that this is nice to have is totally wrong. She says that this lamp and the sauna are what everybody should have and everyone will have in the near future because it helps you take care of yourself. It helps you to avoid having different kinds of illnesses getting worse and it helps you stay young. No medicine chest should be without this Relax sauna.
Phil said that, one night he was coming down with a sore throat, so he took the table lamp into the bed with him and in the morning his sore throat was gone. The table lamp has a safety feature that prevents it from burning the sheet or body tissue or catching anything on fire so it is safe to use in bed.
Beth thinks that this is indispensable for families, especially ones who have "weekend warriors" with aches and pain, bruises and sore muscles. It would save a fortune on pain relievers!
---
Lost 90 Pounds, Level 10 Arthritic Pain All Gone - She's Now a "Jumping Jack! "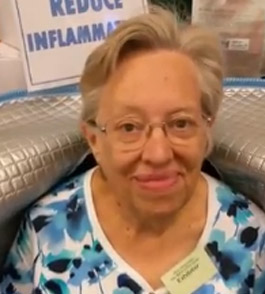 https://www.youtube.com/watch?v=XP6DCpXbcS4
Jan has been using the Relax sauna for about four years. She had been very overweight and used the sauna about four times a week for about 20 minutes.
She sweated a lot and within the first year lost over 70 pounds. She had weighed 245 pounds and got down to 170 pounds. In in the last six months she has lost maybe another 20 pounds.
She also had a lot of inflammation, particularly with arthritis, and it really helped with that. She had been so stiff she could not bend over and pick things up off the floor. Her arthritic pain had been at a level 10, then it diminished down to a level of 5 or 6 and now she is pain-free! She says she is like a Jumping Jack now.
"I feel like a new woman. I feel younger, I feel like I have more energy than I ever had before" She says that when her friend introduced her to the sauna "that was the beginning of the new me."
'It definitely works. I would totally recommend it. It really saved my life."
---
Massage Therapist Uses the Relax Sauna to Treat Clients and Help Friends and Family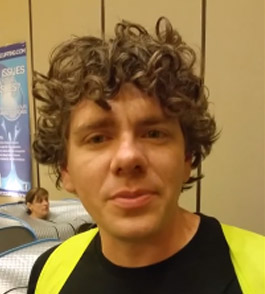 https://www.youtube.com/watch?v=H23iefQlsWQ
Mark and his business partner bought a Relax sauna a year ago and have sold 5 of them since then in their Massage Therapy Practice. He uses it in his work and his clients love it because they can relax and don't feel as much pain while they are going through the session. His mother had back pain, rheumatoid arthritis and osteoarthritis. After using if for a full year, her doctor's test readings showed that she no longer has rheumatoid arthritis and her back pain is totally gone.
His mother-in-law has had double knee replacements and has no issues with increased mobility and range-of-motion as she uses the sauna. His clients love them and use them multiple times during the day in their homes. They send Mark more people and this has brought more business and income into the spa as they add the sauna to the services they provide.
Mark, himself, says the sauna has helped heal his skin issues and that he has more energy and less fatigue, that he doesn't get as winded when he rides his bike and that it helps with recovery, as he no longer has that post-workout soreness. "It's really a fantastic machine, I love it." He says he comes out of a session feeling more relaxed and rejuvenated. He uses it between every client for 5 to 7 minutes because he finds it keeps his energy level up and he doesn't have as much fatigue at the end of the day. At home he uses it twice a day, morning and evening, gets a good sweat built up in about 10 minutes and is drenched in 20 minutes. Afterwards he feels completely refreshed.
---
Craig is amazed with the FIR energy of the Relax Sauna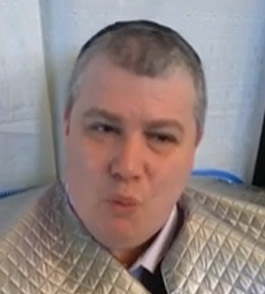 https://www.youtube.com/watch?v=KyxRXYsArb8
Craig was in the sauna for about 5 minutes and felt muscles releasing and his arthritic knee starting to feel much better. He also felt more energized and says that it is a very interesting heat - not a regular sauna heat. It's a heat that gently penetrates into your body and heals, like it's working it's magic inside your body. He had used far infrared devices before but he had never had a whole body experience and said that it was better than anything that he had expected and that it was like being enveloped in a warm soft healing cloud. It works where hurts and begins unwinding the pain and replaces it with lack of pain. That's the only way to put it, he says. His pain is gone. He does work out and he would like to use the sauna before each workout. It is so effective and he can't believe that he didn't know that it existed. He has been working with other far infrared products for about a year but never realized that you could be wrapped in it. It's like a dream come true. When his next commission check comes, the sauna will be in his home. "This is great."
---
1ST TIME SAUNA TESTIMONIAL (PAIN RELIEF)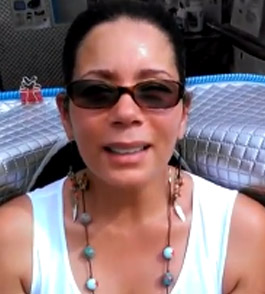 https://www.youtube.com/watch?v=tNKCReQ7RTU
She was visiting the Veggie Fest Festival, 2013, when she first tried the sauna for just 5 minutes. She has arthritis with pains in her knees, her feet and her neck and was surprised to find she could move her neck "It's amazing because 15 minutes ago, I was having pain while sitting down eating and now it's like - Wow! It feels really good and I am not sweating." She was moving her feet in circles because they, too, felt good then. Usually it's painful when she does that. She will be buying one.
---