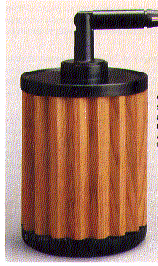 ION03
A note from Phil Wilson
Owner of Momentum98
We have been carrying the Aspen Air Negative Ion Generator
for ten years.
It works well and it is inexpensive.

---
---
Aspen Air disposable filters



At left: unused white filter
At right: used filter from cigarette smoke
Clean ion-rich air
The Aspen Air surrounds you with a bubble of healthy ionized country air. Clean air is as essential to your well being as a healthy diet and exercise. Breathing ionized air can help you feel better, think and even sleep better. It helps to relieve the symptoms of asthma, allergies, and other respiratory ailments. You breathe easier as it removes the respiratory irritants from the air you breathe.
Rid your air of cold and flu germs
The Aspen Air creates a protective bubble against common-cold germs and other airborne infectious virus and bacteria. It can also help protect you from breathing harmful radon gas, asbestos dust, and carbon soot. It collects side stream tobacco smoke before it enters the room. Place your ashtray next to the A-10-2 for optimum collection. It eliminates odor-causing bacteria from the air.

No noisy fans, blinking lights or expensive replacement filters!
Aspen Air is powerful and compact, yet outperforms air cleaners ten times larger!

Features:

1. Powerful air cleaning.
For maximum ion out-put use the modular flexible emitter.
Use only as needed to reduce dirt build up.
2. Air Freshening
For lower-powered air freshening, remove the flexible emitter and operate with the build-in soft emitter. (Dirt is less likely to accumulate rapidly on surrounding surfaces).
---
---