BEST OF GREENS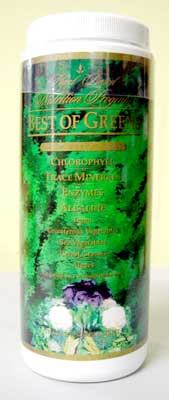 KAM08 - 5.3 oz
Best of Greens is perhaps the most important element of a Plant Based Nutrition Program. According to the USDA food pyramid we need two to three servings a day of deep green leafy vegetables. Unfortunately, 95% of North Americans never come close to achieving this.

Green leafy vegetables typically contain 20 times more essential nutrients than other foods ounce for ounce.

Furthermore the nutrients in deep green leafy vegetables are so important that they actually make the nutrients found in other foods work far more effectively. As a result, if we fail to eat quality green vegetables on daily basis, dozens of valuable cleansing, building and elimination functions fail to work properly. This contributes to diseases and discomforts including but not limited to: cancer, diabetes, ulcers, arthritis, gastrointestinal disorders, low energy, sexual impotence, overweight, periodontal disease, hair loss, body odor, psoriasis, acne, constipation, asthma and extreme acidity.
Each ingredient in Best of Greens has been selected for its unsurpassed purity, potency and ability to deliver five specific phyto nutrients, uniquely designed by nature to activate metabolic function.
CHLOROPHYLL, the "blood" of plants, has a structure almost identical to human hemoglobin in the blood. Chlorophyll is an efficient deliverer of magnesium and helps the blood carry oxygen to the cells and tissue. Chlorophyll assists in the chelation of heavy metals. Perhaps, most importantly, chlorophyll performs photosynthesis, a complex series of chemical reactions that convert sunlight, carbon dioxide and water into oxygen and plant sugars (calories). Without it all life would cease to exist. The stress of photosynthesis causes the plant to create a powerful antioxidant shield ENZYMES which are designer proteins that contribute to digestive function and immune response. The similarity between chlorophyll and hemoglobin create corresponding similarities in the type of antioxidant enzymes green pigmented plants and human blood contain. In addition to enzymes, green plants contains dozens of TRACE MINERALS often missing from western diets due to poor farming, top soil erosion, or a lack of proper eating habits. Best of Greens come from pristine organic farmland and pure Icelandic waters and reside within the natural plant matrix of organic vegetables, algae, grasses and kelp that make up Best of Greens. Green foods are highly ALKALIZING and contribute the necessary balance to the pH that is so sorely missing today. They also contain POLYPEPTIDES (free form amino acids) that act to create lean muscle, enhance potency and most importantly boost immunity!
---
---
The following foods selected from land and sea together
because they are the BEST OF GREENS!
ORGANIC ALFALFA GREENS: The father of all foods, alfalfa has roots that reach up to 60 feet into the soil to absorb trace minerals. Its lightweight proteins stimulate the rebuilding of tissues and strengthen hair skin and nails.
ORGANIC WHEAT GRASS: Clinics all over the world have been set up to administer the miraculous juices extracted from sprouted wheat plants. People report that the intensive cleaning the chlorophyll and enzymes provide is unsurpassed in its abilities to stimulate the immune response and instigate healing.
ORGANIC BARLEY GRASS: Over a dozen studies in several universities show the extract of young barley leaves to be a useful and powerful therapeutic agent. Rich SOD, calcium, iron and trace minerals, barley has been reported to relieve arthritis, gastrointestinal disorders, chronic fatigue, constipation, poor circulation, psoriasis, acne and body order.
ORGANIC OAT GRASS: One of the little known super stars among cereal grasses. Recent and ongoing studies indicate that unique proteins, lipids and other factors in oat greens may have tremendous usefulness as an antidote for male impotence and may possibly revive reproductive function.
SPIRULINA: Is an amazing of complete, highly digestible vegetarian protein that is rich in the B vitamins, particularly B-1, B-2, B-3, and B-6. More importantly, spirulina is the richest source of vitamin B-12 found in nature! Spirulina has also shown promise in the treatment of impaired immunity, protein deficiencies and eating disorders.
CHLORELLA: A natural source of HGH (human growth hormone.) Chlorella has been purported to contain valuable RNA and DNA protein, and is also rich in minerals, chlorophyll, and antioxidant vitamins like beta-carotene.
ORGANIC DANDELION GREENS: An excellent digestive aid and diuretic.
ORGANIC BROCCOLI: A powerhouse of anti cancer compounds including Endoles like endole carbinol 3 and sulfur compounds like sulfurophane. Broccoli is also rich in vitamin C and beta-carotene.
ORGANIC SPINACH: An excellent source of minerals like calcium, phosphorus, iron, potassium and zinc as well as antioxidants like carotenoids, vitamin C and vitamin E.
ORGANIC KALE: Rich in all trace minerals and is recommended to prevent brittle bones.
ORGANIC PARSLEY: An excellent deodorizer, antacid and anti-ulcer remedy.
ORGANIC CAULIFLOWER: Contains valuable sulfur compounds.
SEA KELP, SEA DULSE, and SEA VEGETABLES: Known to contain over 96 different minerals and trace minerals. These foods are nature's most potent mineral rich whole foods. The little known red kelp called dulse has been reported to restore kidney function, while the iodine in green kelp is helpful for people with thyroid problems.