SHOU WU CHIH
CHINESE TONIC
---
Other Chinese Medicinal Product pages:
Dragon's Eggs
Ginseng
---
VIR10 - 17.5 Fl. Oz.
The Chinese consider Shou Wu Chih to be longevity and sexual tonic herb that replenishes Qi,
and vital essence that is lost in excessive sexual indulgence. It is a crucial herb to nourish the blood.
Research has shown that it decreases cholesterol levels and also improves energy levels.
Polygonum multiflorum, better known as Chinese knotweed or Flowery knotweed, is a widely used Chinese herb. It is said to rejuvenate the body, and is also commonly known as fo-ti, fo-ti-teng, ho shou wu, or he shou wu. He Shouwu, a Chinese man who is reputed to have lived until the age of 132, is the first consumer of this herb to be reported.
Shou Wu Chih is one of the most popular liquid tonic preparations for men or women. It nourishes, warms and invigorates the blood, nourishes the liver and kidneys and benefits the eyes. Acts as a strong liver and kidney tonic herb, the prepared shou wu strengthens the bones and tendons. It is suitable for long term use.

EFFECTS:
• Promotes longevity
• Replenishes vital essence that is lost in excessive sexual indulgence
• Improves sexual endurance
• Provides tonic to the liver and kidneys
• Clears away toxic substances
• Nourishes the blood
• Increase fertility
• Nourishes your hair, reduces gray hair

Great toner for the blood, warms and invigorates blood, nourishes liver and kidneys, benefits eyes and tendons. A liquid concentrate useful as a strong liver tonic for men and women. Recommended when depletion due to sexual excess, childbirth or illness. Excellent for strengthening bones and tendons in back and joint aching.
The Chinese patent medicine called Shou Wu Chih has Polygonum multiflorum as one of its primary ingredients.

Main ingredients:
• Polygonum Root
• Dang Gui
• Phizoma Polygonati
• Radix Rehmanniae
• Chuanxiong Rhizome
• Dahurian Angelica Root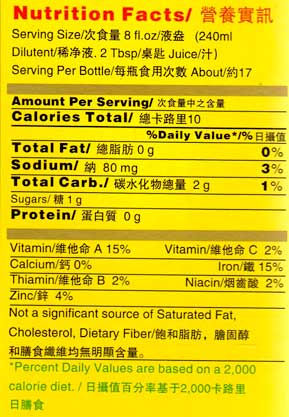 Directions:
Take 2-3 tablespoons, 2-3 times a day with tea or water, or in soup.
Add two tablespoons to a cup of hot water for a delicious tea.
Drink or mix with favorite beverage. Shake well before using. Keep it cool.