Shop Our Online Store:

Since 1980!

Momentum 98
Natural Health Store

Taking Advantage of the Moment!




Propelling Yourself into Greatness!
COLOR THERAPY
---
The Vitalight Color Therapy Lamp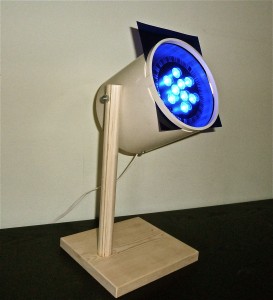 LAM021
This VitaLight is a newly designed lamp specifically built for use in applying color therapy as outlined in the book "Healing for the Age of Enlightenment" by Stanley Burroughs. This lamp uses the latest LED technology using an 24 watt LED bulb that is rated for 50,000 hours of use shining as brightly as a 90 watt halogen bulb that lasts only 2,000 hours. This bulb does not get hot which should allow years of use without having to replace the color filters, the bulb also shines with a very white light. This more balanced light gives all the colors of the spectrum a more balanced projection.
5 Color filters included (red, yellow, green, blue and violet)


One simply places the appropriate filter in the front of the lamp, turns on the light and shines the light directly on the body in a darkened room. One can be awake, or asleep or even reading while doing color therapy.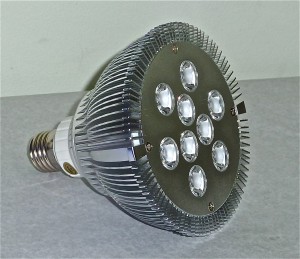 New long lasting LED light bulb



Light up your life now and see the benefits of color therapy!


---
Healing From The Age Of Enlightenment
By Stanley Burroughs

Click here to see more information on the book and author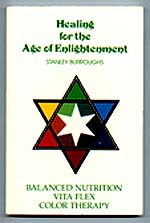 BK20



"I present this book so that you can help yourself and others.

Make the most of this work and know that is is the finest of knowledge in healing."
- Stanley Burroughs -


Three areas of a person's life:

1. Balanced Nutrition - The Master Cleanser (The Lemonade Diet - lemon cleansing)
2. Vita Flex Therapy (Reflexology of the entire body)
3. COLOR THERAPY (Miracle of Light and Color)
Go to PDF file of one page Flier on seven rainbow colors
Let There be Light
by Darius Dinshah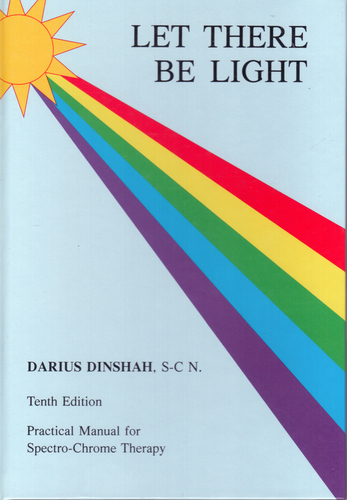 BK722
This book is about Dinshah's 46-year struggle to enlighten the healing profession regarding his Spectro-Chrome System of therapy and it also gives all the information necessary to test it for yourself.
Using his system is surprisingly simple. All that is required is an incandescent lamp, and a set of color filters. That Spectro-Chrome is effective was proven through years of use for a wide range of illnesses by the Senior Surgeon in a major Philadelphia hospital, and hundreds of other physicians as well.
Dinshah P. Ghadiali founded three organizations for the primary purpose of promoting Spectro-Chrome, the healing system he organized.
COLOR THERAPY LAMP


CODE

PRODUCT

PRICE

LAM021

Vitalight Color Therapy Lamp with 5 color filters(red, yellow, green, blue and violet)



$129.95

CODE

PRODUCT

PRICE

COL01

Color Therapy Eye Glasses (Violet)


$13.95

COL02

Color Therapy Eye Glasses (Indigo)


$13.95

COL03

Color Therapy Eye Glasses (Blue)


$13.95

COL04

Color Therapy Eye Glasses (Green)


$13.95

COL05

Color Therapy Eye Glasses (Yellow)


$13.95

COL06

Color Therapy Eye Glasses (Orange)


$13.95

COL07

Color Therapy Eye Glasses (Red)


$13.95

COL12

Color Therapy Eye Glasses (Turquoise)


$13.95

COL13

Color Therapy Eye Glasses (Magenta)


$13.95

CODE

PRODUCT

PRICE

COL29

Color Therapy Eye clip-on Glasses (Magenta) - Discontinued

$14.95

COL24

Color Therapy Eye clip-on glasses (Green) - Discontinued

$14.95

COL28

Color Therapy Eye clip-on Glasses (Turquoise)-Discontinued

$14.95

COL21

Color Therapy Eye clip-on glasses (Violet) - Discontinued

$14.95

COL22

Color Therapy Eye clip-on glasses (Indigo) - Discontinued

$14.95

COL23

Color Therapy Eye clip-on glasses (Blue) - Discontinued

$14.95

COL25

Color Therapy Eye clip-on glasses (Yellow) - Discontinued

$14.95

COL26

Color Therapy Eye clip-on glasses (Orange) - Discontinued

$14.95

COL27

Color Therapy Eye clip-on glasses (Red) - Discontinued

$14.95

CODE

PRODUCT

PRICE

COL14

1 of each Rainbow Colors (7 Color Therapy glasses )

$86.95

COL16

1 of each of the 9 Color Therapy glasses

$109.95

COL145

1 of each Rainbow Color (7 Color Therapy glasses )
+ Book Healing Age of Enlightenment

$106.95

COL165

1 of each of the 9 Color Therapy glasses
+ Book Healing Age of Enlightenment


$129.95








CODE

PRODUCT

PRICE

COL15

1 of each Rainbow Colors (7 Color Therapy clip-on glasses) - Discontinued

$94.95

COL17

1 of each of the 9 Color Therapy clip-on glasses - Discontinued

$119.95

COL155

1 of each Rainbow Color (7 Color Therapy clip-on glasses)
+ Book Healing Age of Enlightenment - Discontinued


$107.95

COL175

1 of each of the 9 Color Therapy clip-on glasses)
+ Book Healing Age of Enlightenment - Discontinued

$132.95



BOOKS



BK20

Healing Age of Enlightenment - By Stanley Burroughs


$24.95

BK28
The Master Cleanser - By Stanley Burroughs



$6.50



BK722
Let There be Light- by Darius Dinshah

$14.95