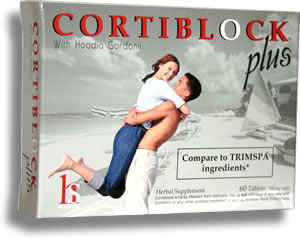 Discontinued !! HSV01 - 60 tablets

CortiBlock Plus cortisol inhibitor now with Hoodia Gordonii, is a weight loss catalyst,
formulated to reduce stress related weight gain.
Designed to optimize your metabolism
Maximum strength
Ephedra free

CortiBlock Plus is a new triple action diet system formulated to optimize your metabolism,
reduce stress related weight gain and suppress your appetite.
CortiBlock Plus contains the popular ingredient Hoodia Gordonii, a powerful natural appetite suppressant.
Hoodia works by mimicking the effect glucose has on the nerve cells in
the brain that tells us we're full and in effect stops hunger, foodcravings and snacking. In addition,
CortiBlock Plus" has added green tea extract for weight loss; magnolia bark extract for hormone balance;
phosphatidylserine to support brain function and balance hormone levels; chromium to regulate blood sugar;
and biotin to assist in metabolism of fat, carbs and protein. CortiBlock Plus also contains Rodiola Rosea,
which increases the body's capacity to adapt to stressful conditions thereby improving mood and providing relief from
everyday stress and anxiety.