Crystal Synergy Cream

The ANCIENT healing power of crystals and gemstones has now been harnessed into an all-purpose healing and pain cream. It's a safe, all-natural alternative to expensive treatments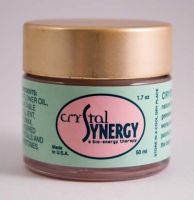 An all natural composition of powdered crystals and gemstones. When topically applied, Crystal Synergy works with your body's own energy to alleviate painful discomfort caused by interruptions to the body's natural energy flow patterns.

Crystal Synergy is a topically applied ointment developed using
vibrational medicine principles. It does not rely on heat or cold to
penetrate deep in the body.

Crystal Synergy is fragrance free.
Clear and invisible. No staining if used correctly.
Will seek out pain or imbalance, even if it is deep
within the body.
Produces long lasting relief. The micro crystals stay on the area until you wash them off.
---