DIET PRODUCTS
---
CORTIBLOCK PLUS
by Heaven Sent Naturals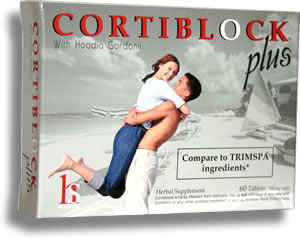 ** Discontinued ** HSV01 - 60 tablets

read more
CortiBlock Plus cortisol inhibitor now with Hoodia Gordonii, is a weight loss catalyst,
formulated to reduce stress related weight gain.
Designed to optimize your metabolism
Maximum strength
Ephedra free

CortiBlock Plus is a new triple action diet system formulated to optimize your metabolism,
reduce stress related weight gain and suppress your appetite.

CortiBlock Plus contains the popular ingredient Hoodia Gordonii, a powerful natural appetite suppressant.

Hoodia works by mimicking the effect glucose has on the nerve cells in
the brain that tells us we're full and in effect stops hunger, food cravings and snacking. In addition,
CortiBlock Plus" has added green tea extract for weight loss; magnolia bark extract for hormone balance; phosphatidylserine to support brain function and balance hormone levels; chromium to regulate blood sugar; and biotin to assist in metabolism of fat, carbs and protein. CortiBlock Plus also contains Rodiola Rosea, which increases the body's capacity to adapt to stressful conditions thereby improving mood and providing relief from everyday stress and anxiety.
---
---
HOODIA 2000 TR
by MaritzMayer Labs


MAR01 - 60 Tablets

Hoodia 2000 TR Timed Released Natural Appetite Suppressant
Sustained Release With South African Hoodia Gordonii
Hoodia gordonii, "Whoo De AH", is the botanical name for a leafless, spiky succulent plant that grows throughout the semi-arid areas of Southern Africa primarily the Kalahari desert. The San (local inhabitants) have rationally used Hoodia stems to stave off hunger and thirst when on long journeys, as it acts as an appetite suppressant. When South African scientists were routinely testing it, they discovered the plant contained a previously unknown molecule, which has since been christened P57. This molecule fools your brain into believing you are full making it easier to lose that excess weight. Pure Hoodia has no known side-effects, it is stimulant free, will not give you the shakes, make your heart race or raise your body temperature.
The chemical constituents in Hoodia 2000 TR™ work within the satiety center by releasing a chemical compound similar to glucose, but is up to 100,000 times more powerful. The hypothalamus receives this signal as an indication that enough food has been consumed and this in turn stunts the appetite. This pure organic Hoodia, contains a miracle molecule that, in effect, fools the brain into believing you are full, and even stops you from thinking about food.
Ingredients:
100% per Hoodia Gordonii (powder) 2000mg. Other ingredients: Magnesium Stearate, and Stearic acid.
Contains no sugar, yeast, starch, artificial flavors, colors or preservatives.
Directions:
Most people have positive results taking 1 - 2 capsules an hour before each meal with a large glass of water. Each Pure Hoodia™ tablet contains 1000mg pure Hoodia Gordonii refined powder. If you frequently crave a midnight snack, an additional capsule in the evening might help to curb those late-night cravings.
---
---
Natural Weight Loss Formula
by Cellfood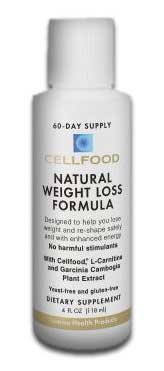 LUH04 - 4 FL.OZ = 60 day supply
read more

Cellfood Natural Weight Loss Formula will help get your weight loss program off to a strong, healthful start— and then keep it running smoothly. This new proprietary formula combines Cellfood with fat burners L-Carnitine and Garcinia Cambogia Plant Extract to promote healthful weight loss— even while you sleep!
Made from only the finest ingredients, this unique product works naturally and remarkably by assisting the body in:
* decreasing fat storage by inhibiting synthesis of fatty acids and cholesterol.

* increasing the body's metabolic action, transforming fatty acids into energy by accelerating the transport of these fatty acids into the cells' mitochondria.

* improving the cardiovascular system by maintaining healthy HDL cholesterol (protective cholesterol),
LDL cholesterol (damaging cholesterol), and triglyceride levels, keeping arteries clear, normalizing blood pressure and improving the heart muscle. The heart gets two-thirds of its energy by burning fat, so Cellfood Natural Weight Loss Formula assists the body by feeding the cardiac engine and strengthening the heart muscle.
And Natural Weight Loss Formula:
* deeply detoxifies the body
* cleanses the liver and bowels
* reduces stress
Ingredients:
Cellfood Natural Weight Loss Formula contains Cellfood proprietary blend, L-Carnitine, and Garcinia Cambogia Extract.
---
---
FucoTHIN
by Garden of Life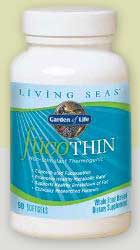 GAR69 - 90 Softgels - $49.95
read more

FucoTHIN from Garden of Life
Non-Stimulant Thermogenic for Fat Metabolism

• Supports the metabolism or breakdown of fat in white adipose tissue.


• All-natural concentrate from specially cultivated and extracted strains of brown marine vegetables with fucoxanthin levels 250-500% higher than wild seaweed

• The first marine algae-derived ingredient with clinically proven thermogenic effect

• Does not stimulate the central nervous system and will not cause jitters or lost sleep

• Included are other naturally occurring beneficial marine carotenoids and omega-3 essential fatty acids
What is fücoTHIN™?
fücoTHIN™ is a natural, whole food based supplement made with fucoxanthin combined with pomegranate seed oil, for a patent-pending formula that is naturally thermogenic.† Thermogenesis is the process by which the body increases its metabolic rate, requiring utilization of internal stores of energy, such as fat.
† These statements have not been evaluated by the Food and Drug Administration. This product is not intended to diagnose, treat, cure or prevent any disease.
Use with a calorie conscious diet and moderate exercise.
---
---
Ezee Slimming Patch
by BELL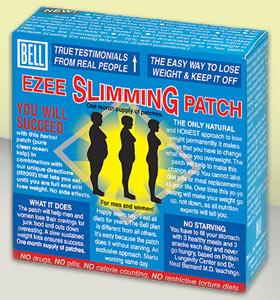 BLL04 - Slimming Patch - 15 Patches - $29.95
read more
THE ONLY NATURAL & HONEST
approach to lose weight permanently. It makes sense that you have to change what made you overweight.

You will succeed with this herbal patch in combination with their unique directions that let you eat until you are satisfied and still lose weight! No side effects.

Read complete TESTIMONIALS from people who used Ezee Slimming Patch!

All herbal - no side effects. The natural way to lose weight permanently.
NO starving. NO drugs. NO pills. NO calorie counting. NO restrictive torture diet.
The patch helps you to decrease your calorie intake and increase your
metabolism which uses up stored fat.
Enjoy eating the right foods that cause weight loss.
Same food plan as used by movie stars to lose weight.
NO ephedra. NO caffeine.
Iodine free. Iodine was removed.

(Information is from Bell Lifestyle Products, Inc.)
---
---
DIETERS' DRINK CAPSULES
by NATURAL GREEN LEAF BRAND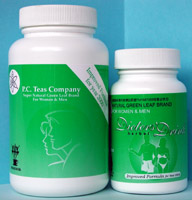 DIE04 - 30 Caps (400mg) - $6.95
DIE03 - 100 Caps (400mg) - $18.95 - Unavailable

FOR WOMEN AND MEN
A DIET FOOD SUPPLEMENT
100% Natural
Shed unwanted pounds without dieting
100% Caffeine Free
Safe to drink the whole year round
No chemical additives

Disclaimer: This information contained on this page is intended for educational purposes only and should not be considered a substitute for consultation with licensed healthcare professional.

Ingredients
Malva Verticellata (Chinese Mallow), Cassia Augustifolia (Senna), Persimmon Leaf, Stevia.

Introduction
Trying to lose weight by stringently reducing food intake or curbing one's appetite with harmful drugs is not always the best approach. Natural Green Leaf Brand Dieters' Drink is a 100% natural herbal beverage which will enable you to lose weight without starving yourself. In a word, you can enjoy nutrient rich, filling meals, while losing weight at the same time. Other popular uses are for abdominal distension and habitual constipation.

How does Natural Green Leaf Brand Dieters' Drink work?
Foods such as ice cream, fried chicken, butter, steak and cake are often rich in fats. Natural Green Leaf Brand Dieters' Drink can help interfere with intestinal absorption of these fats by essentially moving them through the body very quickly.

REMINDER
Natural Green Leaf Brand Dieters' Drink is safe to drink. You may experience extra bowel movements during the first few days of using this product. This is owed to the teas' laxative properties.
CAUTION
Natural Green Leaf Brand Dieters' Drink is not recommended for children under 12 years of age, pregnant women and nursing mothers.
PC Teas is the manufacturer of this product and uses the Three Ballerina trademark and copyright under license from the owner.
---
---
BLUE DIETLIGHT & HYPNOSIS CD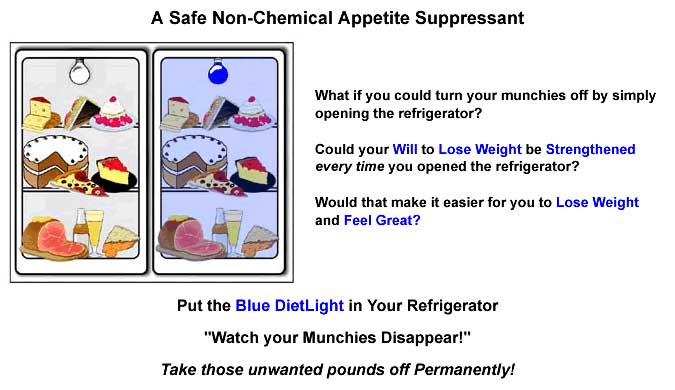 DIE02 - DietLight Light bulb - Unavailable
DIE01 - DietLight CD
read more

The Blue DietLight Refrigerator Appliance Bulb and
Weight Loss Hypnosis CD
The only blue refrigerator appliance bulb made in the world, combined with
The First Hypnotic Weight Loss CD to use Light as a Trigger for your Weight Loss Success!
The Blue DietLight uses the principles of Color Therapy to effect the body and mind. Studies have shown that the color blue is an appetite suppressant. Blue also promotes positive decision making, according to the Harvard Business School.
Putting a Blue DietLight into your refrigerator is also used by our Exclusive Hypnosis CD as a visual anchor for your weight loss success. By using the Blue DietLight in conjunction with the Hypnosis program, every time you open your refrigerator you will be reinforcing your determination to follow through with your weight loss program. Your appetite will be suppressed, your weight loss goals will be brought up by your unconscious mind, along with the image of you being at your perfect weight, to aid you in your quest to lose weight and feel great!
Use the Blue Color Therapy Glasses in conjunction with Blue DietLight to reinforce Blue's natural effect on the body as an appetite suppressant; they are great when away from home; get a second DietLight and carry it in your travel bag, how simple! Drink plenty of Red Solarized Water and stimulate your metabolism. Stay focused while supporting your elimination system with the Yellow Color therapy Glasses.
The Hypnosis CD "Hypnotic Meditations To Create Weight Loss Success" is an Exclusive product, made specifically to use the Blue DietLight as a hypnosis anchor. Every time you see the Blue DietLight, all of your goals will be reinforced. For that matter, the CD is designed to strengthen your willpower. It does this by using the blue light to remind you at the deepest level that you can succeed at losing weight. It also amplifies the effect of the appetite suppression, making the effect of the Blue DietLight even more effective.

This information is for educational purposes only
---
---
FATBUSTER DIET TEA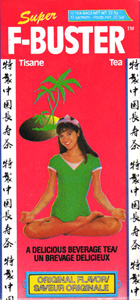 FAT05 - Natural Flavor - 15 tea bags
Fatbuster was invented by Robert Hwang, a Korean herbologist who has spent years studying the effects of natural herbal blends on overall health. Having had a weight problem for most of his life, Dr. Hwang was determined to develop the herbal blend that would have the effect of optimizing body weight while improving health and fitness. Dr. Hwang was displeased with the offerings of dietary herbal blends on the market - some acted as appetite suppressants with a deleterious effect on overall health, others caused digestive disorders such as diarrhea and cramps.

Dr. Hwang then invented Fatbuster - the first herbal blend that causes weight loss while promoting overall health.

Dr. Hwang, a proponent of natural hygiene, proposes that weight gain is primarily the result of a buildup of excess toxins in the body. These toxins result from the byproducts of foods that are not fully digested or assimilated into cell structure. Because we are not biologically adapted to deal with much of the food eaten in the United States that has been processed or altered from its original state by cooking, the incidence of toxic waste buildup leading to overweight is high. Fatbuster helps to eliminate the toxic waste in the body that is directly responsible for weight gain.

Taken ten minutes after a meal, FAtbuster creates the metabolic energy required to eliminate these excess toxic wastes. It does this without affecting the nutritional value of the food that was just eaten. Also, Fatbuster facilitates the elimination of excess water retained by the body to neutralize the acid buildup associates with the toxic wastes. The 100% natural herbal blend in Fatbuster causes no diarrhea or cramps and has an extremely positive effect on overall health.

Unlike other diet teas, Fatbusters contains no black tea and no caffeine.
All natural herbs ingredients:

Alfalfa, Chamomile, Chapparel, Comfrey, Cassia Euphorbia, Dandelion, Fennel, Licorice, Nettle, Orange Peel, Peppermint, Elder
---
---