What is DMSO?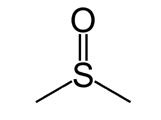 (CH3)2SO - DMSO

DMSO (dimethyl sulfoxide) is a by-product of the wood pulp Industry.
In the famous (10 cassette tape) Herbal Lecture Series, Dr. Christopher enthusiastically mentions the ability of DMSO to penetrate deeply into the tissue and relieve pain. He tells a story on how people around the wood pulp industry noticed that their arthritis went away. The connection was made, and word spread.
DMSO is known, when applied to the skin, (and along with whatever elements are integrated with it) to carry those nutrients deep into the cells of the body. It can also cause a strong garlic-like odor.
We have been selling these products for over 15 years now. They have sold steadily for years - many testimonials have come our way. Reports of DMSO used as a unique, global therapeutic agent used for the treatment of many painful and inflammatory conditions are widespread.
You can do the research on the internet on the folklore and history of DMSO.

Here is one such article on DMSO by a Medical Doctor
I can make no claims, here, nor do I wish to.
Many have heard of the benefits of DMSO already and know what it is.
** Special Note: DMSO is intended for use as a solvent only. DMSO passes through the skin readily and is used as a carrier solvent to transport other substances through the skin. The choice of the process used in the various applications is the sole responsibility of the user. It is unlawful to represent in any way that the product is useful or safe to use for medicinal purposes. **

Pure DMSO crystallizes at temperatures below 67 degrees F.
This does NOT harm the product.
Thaw in a warm place. Keep away from open flames.
---
What is MSM?


C2H6O2S - MSM (aka DMSO2)
MSM stands for Methylsulfonylmethane (Also known as dimethylsulfone - DMSO2)
is a chemically similar to DMSO.
An article with information on MSM
---
---