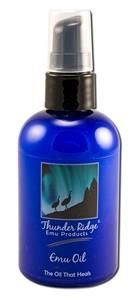 EMU32 8 oz $38.95

Emu oil is a natural pain relieving, anti-inflammatory, moisturizing oil with a PH balance very close to human skin.
Emu Oil is proven to have medical properties, as an intensive pain reliever with effects comparable to that of ibuprofen (without the negative side-effects).
It is used in the treatment of chronic arthritis, strains, sprains, and muscle pain. It is also widely used as a wound healing accelerant.

Emu Oil can help:
Emu oil naturally contains Vitamin E, which is a major antioxidant and healing agent; Vitamin A, a known skin repairer and antioxidant; linolenic acid (Omega 3), linoleic acid (Omega 6), which helps to ease muscle aches and joint pain; Oleic acid (Omega 9), which is a proven skin cell regenerator and anti-wrinkle agent; Sapogens, proven skin softeners; and Terpines, known antiseptics.
The application of Emu Oil will allow the Essential Fatty Acids to penetrate the epidermal layers of the skin down to the basal layer where it enhances new cell proliferation.
The hyper-oxygenation of the fatty acid esters contained in Emu Oil increase the local blood flow in the areas of application, accelerating the healing process.
A growing number of users, including professional sports teams, chiropractors, massage and physical therapists and other medical professionals, report excellent results from Emu Oil and Emu Oil basal rubs.

In addition to the healing effects Emu Oil, it is anti-bacterial, hypo-allergenic and a natural non-comedogenic (meaning that it does not clog pores).


Emu Moisturizing Lotion

The skin, being the outer protection of our bodies, is our first line of defense against the invasion of disease and other harmful elements.
Although often neglected, it is essential to maintain good skin integrity. Because of the Essential Fatty Acids (EFA's) naturally present in Emu Oil,
the lotion is not only a good moisturizer for for dry and irritated skin, but is also a great healer. Combined with Aloe Vera and other natural ingredients,
Thunder Ridge Moisturizing Lotion not only hydrates the skin preventing loss of skin integrity, but is also able to penetrate epidermal skin layers down
to the basal layer. Particularly important is the addition of both Sodium PCA and Dimethicone which not only act as moisture barriers protecting the skin,
but also draw and bind moisture to the skin.



EMU36 4 oz $13.95

EMU46 8 oz $21.95
Hippocrates, the father of modern medicine, prescribed massage, one of the oldest forms of health treatment for patients and athletes alike.
Combining the unique properties of Emu Oil and Aloe Vera, Thunder Ridge gives you a luxurious, moisturizing lotion as well as the glide needed
for massage. Designed for the professional therapist, Massage Lotion allows penetration through the epidermal skin layers down
to the basal layer allowing deep tissue bodywork yet leaves the skin smooth and conditioned without a greasy film or stain.
Nail ReNu' from Thunder Ridge provides an excellent natural alternative for safely treating sore, unsightly nails and foot odor at a fraction
of the cost of other products! It contains a unique combination of specially processed of specially processed Emu Oil and aromatic
essential oils with potent antimicrobial and healing properties.
Thunder Ridge Emu Oil contains 22 Essential Fatty Acids that promote healing and act as a carrier in transmitting the antimicrobial essential oils through
the skin and nails. The essential aromatic oils suppress the growth of fungi and other micro-organisms that normally thrive in dark, moist environments.
Twice daily application to feet and nails, in accordance with instruction, will lead to healthy nails without risk of serious adverse side effects. Life just got better!
Directions:
Soak nail in hot water.
File nail edge and top with nail file.
Apply Nail ReNu' twice daily for 2 weeks, then once daily until nail has grown out and appears normal.