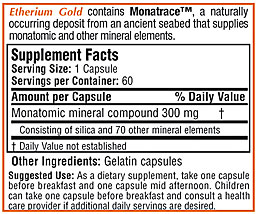 Monatomic Elements of Etherium Gold
| | |
| --- | --- |
| Element | Value |
| Gold | 94 ppm |
| Iridium | 24 ppm |
| Chromium | 225 ppm |
| Silver | 178 ppm |
| Rhodium | 15 ppm |
| Platinum | 78 ppm |
What does it do?

Etherium Gold positively affects the bioelectric patterns that move through the brain. In two clinical studies, Etherium Gold was observed to balance and harmonize the two hemispheres of the brain. This action causes the brain to produce more alpha brain waves. Many neuroscientists associate the alpha brain wave with greater creativity, enhanced mind body coordination, improved learning ability and less stress.
Etherium Gold Safety Studies:

Harmonic Innerprizes has taken considerable measures to assure the utmost safety of our products. Etherium Gold has endured extensive laboratory examination including an FDA Acute Oral Toxicity Screen and also measured for radioactivity.
In the Acute Toxicity Study, the mice were fed Etherium Gold at 50 times our recommended dosage calibrated down to their weight/size for fourteen days. All the rats in the test group remained healthy, gained weight, and no toxicity was observed during the study and after under gross necropsy.

In October of 1995, an independent laboratory study was performed to measure any radiation emitting from Etherium Gold. Gross alpha, gross beta and gamma were measured. The radiation from Etherium Gold was measured as insignificant and no greater than what one would expect to find in normal food.

In 1996 we conducted hair analysis on six individuals who signed affidavits stating that they have taken Etherium Gold every day for at least six months at or above the recommended dosage. The purpose was to determine if any of the mineral elements in Etherium Gold were accumulating in the body to toxic levels. The results of these reports showed that no individual exhibited heavy metal toxicity or exceeded the standard deviation for mineral imbalances as a result of taking Etherium Gold.

CAUTION: Do not take Etherium Gold if you are currently taking any neurotropic (substances that affect the nervous system) or psycotropic (substances that affect the brain) without the full knowledge and written permission of your attending physician.
---
Testimonial from Dr. R. Gerber
"As far as Etherium Gold, I base my comments on my own intuitive work with the material, some clairvoyant feedback from my wife, as well as intuitive input from Hilaron and other sources. The Etherium Gold appears to be a product best suited to those already upon the spiritual path, especially those who are open to working with their life lessons in a path of self-healing and increased spiritual awareness. At the physical level, Etherium Gold appears to enhance interconnectivity between the nervous system and the vast network of connective tissue throughout the body. It may achieve this because Etherium Gold contains trace amounts of rare elements such as gold, rhodium, and iridium that may produce a kind of natural biological superconductivity that enhances communication between the nervous system and the various tissues of the body.
The sleeping prophet Edgar Cayce spoke about the healing use of the gold vibratory energy as a treatment for imbalanced nerve signals in multiple sclerosis by using electrical energy pulsed through a gold chloride solution into certain nerve centers of the body. Cayce stated that the gold vibration was enhancing to the coordination of impulses in the nervous system. A certain aspect of this gold energy may even be clairvoyantly observed flowing into the chakras when an individual begins to take Etherium Gold.
At the subtle body level, Etherium Gold appears to enhance interconnectivity between the physical and the etheric body, and between the etheric and the mental and emotional bodies. Because of this enhanced interconnectivity, thoughtform manifestation may become more powerful when an individual is taking Etherium Gold.
The enhanced connection between the physical and subtle body is via these higher dimensional connections. This increased interconnectivity between the dimensional levels may also enhance the development of intuitive abilities. Because of Etherium Gold's energetic effects upon the higher subtle bodies, especially the causal body, it may assist in improving an individual's spiritual connection to their higher self.
All of these varied physiological and subtle energetic effects may improve an individual's sense of well being and their ability to cope with stress, especially if they are open and ready to work with these higher energies. Etherium Gold seems to be a product well suited to individuals beginning to open to higher consciousness, self healing and a path of spiritual transformation."