PILLOWS
---
Select a product:
---
---
EYE DELIGHT PILLOW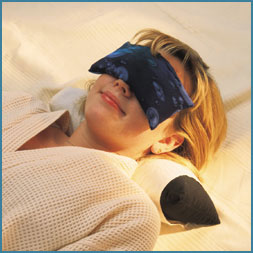 SOB11 - Unscented - Pattern Silk
SOB11L - Mild Lavender Scent - Pattern Silk

The simplicity of the eye pillow soothes the eyes and surrounding area while relaxing the mind. This pillow has become the most popular application to lighten the strain on the eyes accumulated from reading, computer programming, congestion and head discomfort. The natural flow of the flax seeds within the silk form around the eyes easing tension and stress. Place on the eyes and experience ultimate relaxation.

Use:
Place dark side against the eye and apply during sleep or relaxation. For ultimate coolness, placing the eye pillow in the freezer for any length of time will cool the contents with no disturbance to the pillow and lends itself as a remarkable healing device.

Hypoallergenic.
Do not was pillow or contents.
---
---
---
---
THE ORIGINAL SOBAGARA
BUCKWHEAT HULL
DELUXE CONTOUR PILLOW

Buckwheat Pillows:

• Helps relieve neck, back, and headache discomfort
• 100% Organic buckwheat hulls
• Contributes to easier breathing and helps reduce snoring
• Pillow covers are 100% organic cotton construction
• Zippered cases are removable for easy washing
• Stays warm in the winter, cool in the summer
• Stimulates acupressure points, thereby increasing circulation
• Self contours to give restful support for different body sizes
• Hypoallergenic
• Freezing the pillow provides 30 minutes of cooling for stress reduction
• Freezing also helps to reduce headaches
• Buckwheat hulls will not retain odor or moisture
• Helps release neck and shoulder tension
• Use daily as a therapeutic application to reinforce the cervical curve of the neck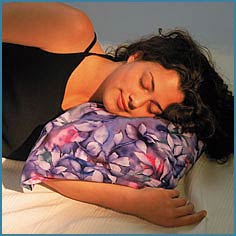 SOB04 - 16 inches long by 20 inches wide
Sleep like you've never slept before!
Originally from the Orient, the aromatic buckwheat pillow has been used for hundreds of years and is known even to this day for its wonderful benefits for people who require the very best.
For Back Sleeping or Resting:
Make a hollow area for your head in the center of the pillow and create a roll
support for the neck, adjusting the height and firmness for your comfort.
The Hulls allow special shaping that moves with you while maintaining support.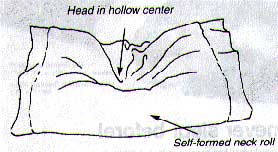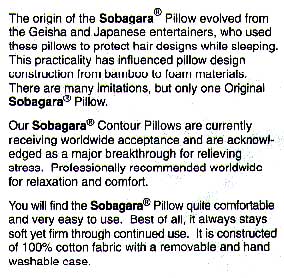 ---
Buckwheat Pillow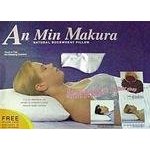 SOB15
15X18
100% pure premium-grade Buckwheat offers a customized pillow experience that reshapes easily to our unique features. Buckwheat husks allow for air to circulate, keeping you cool.
Chiropractic designed.
---
---
---
---