FATBUSTER
DIET TEA
---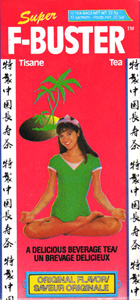 FAT05 - Natural Flavor - 15 tea bags
Fatbuster was invented by Robert Hwang, a Korean herbologist who has spent years studying the effects of natural herbal blends on overall health. Having had a weight problem for most of his life, Dr. Hwang was determined to develop the herbal blend that would have the effect of optimizing body weight while improving health and fitness. Dr. Hwang was displeased with the offerings of dietary herbal blends on the market - some acted as appetite suppressants with a deleterious effect on overall health, others caused digestive disorders such as diarrhea and cramps.

Dr. Hwang then invented Fatbuster - the first herbal blend that causes weight loss while promoting overall health.

Dr. Hwang, a proponent of natural hygiene, proposes that weight gain is primarily the result of a buildup of excess toxins in the body. These toxins result from the byproducts of foods that are not fully digested or assimilated into cell structure. Because we are not biologically adapted to deal with much of the food eaten in the United States that has been processed or altered from its original state by cooking, the incidence of toxic waste buildup leading to overweight is high. Fatbuster helps to eliminate the toxic waste in the body that is directly responsible for weight gain.

Taken ten minutes after a meal, FAtbuster creates the metabolic energy required to eliminate these excess toxic wastes. It does this without affecting the nutritional value of the food that was just eaten. Also, Fatbuster facilitates the elimination of excess water retained by the body to neutralize the acid buildup associates with the toxic wastes. The 100% natural herbal blend in Fatbuster causes no diarrhea or cramps and has an extremely positive effect on overall health.

Unlike other diet teas, Fatbusters contains no black tea and no caffeine.
All natural herbs ingredients:

Alfalfa, Chamomile, Chapparel, Comfrey, Cassia Euphorbia, Dandelion, Fennel, Licorice, Nettle, Orange Peel, Peppermint, Elder
---
---