Vita-Dreams Daily Greens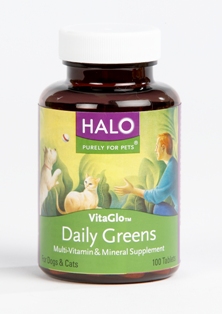 HAL07 100 tabs


.
Stops pets from eating potted plants and promotes stamina and cell efficiency.

For Dogs, Cats, Rabbits, Ferrets, Gerbils, Hamsters, Iguanas, Lizards, Monkeys, Horses, Pigs, and other small mammals.

Pets that like to eat potted plants or grass are actually telling you that their bodies are lacking certain nutritional substances.

Nature provides wild animals with access to a wide variety of leafy greens, plants, herbs and berries.

Since most commercial pet foods contain hardly any vegetables (check their labels), your pets may be truly missing out.

To ensure a nutritional balance for the health, vitality and longevity of your pet, HALO has created

VITA-DREAMS DAILY GREENS for dogs and cats.

Our delicious, complete Multi-Vitamin Herbal Supplement with live enzymes, trace minerals, amino acids and lots of healthy,

nutritious chlorophyllins supplies an abundance of that good green life nature intended. These natural SUPER-FOODS can help

restore nutritional balance, and digestion, purify the blood, strengthen the urinary tract, increase cell efficiency and promote stamina.

They also neutralize free-radical activity with important antioxidants, keeping your pets feeling YOUNGER, STRONGER

and HAPPIER every day.

Now your pets don't have to roam the countryside to satisfy their nutritional needs; they can benefit from

VITA-DREAMS DAILY GREENS right in your own home, provided by Nature, HALO and you.
---