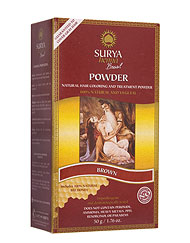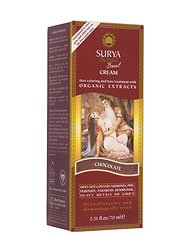 ---
SURYA HENNA CREAM:

It colors without damaging the hair structure. It is the only hair coloring product with organic extracts that treat the hair and scalp. It conditions, moisturizes and revitalizes the hair while coloring, leaving it much softer and shinier.
Instead of using synthetic fragrances, Surya Henna Cream is formulated with essential oils of Rose, Ylang Ylang, Jasmine and Sandalwood. These give it a milder and more pleasant fragrance than any other coloring product.
Since Surya Henna Cream is a semi-permanent coloring, it gradually washes out and does not stain.
Available in 15 different shades.
---
What it is:
It is a plant native to India but is also found in other Asian countries. Henna leaves are dried and ground to make hair coloring products. Its leaves are the only part of the plant that contains the pigment to color hair.
Henna leaves have an orangey red pigment. In addition to its natural colorant properties, Henna provides other benefits like reducing dandruff and hair loss, due to its natural characteristics that endow it to act as a bactericide, fungicide, fortifier, shine enhancer and hair protector.
Surya Brasil Henna products
do not contain synthetic ingredients that are harmful to health, such as lead and other heavy metals.
---
About:


Formulated with 100% plant ingredients, it contains henna (Lawsonia inermis) as its main ingredient – a plant possessing a natural dye that has great affinity with the hair. In addition to coloring, henna lawsone molecules coat damaged hair to restore damaged cuticles and leave the hair more sleek and smooth.
- It may be applied immediately after chemical processes (permanents, straighteners, relaxers, etc.).

- It comes with a honey sachet; honey nourishes the hair and leaves it more shiny, sleek and resilient.

- Because it is a semi-permanent hair coloring, it gradually washes out and does not stain.

- It is not tested on animals and contains no ingredients derived from animals.


---
Benefits:


In addition to coloring, Surya Henna Powder also moisturizes, revitalizes and nourishes the hair, promoting more shine, smoothness and resilience. It colors without breaking the hair keratin structure and coats each strand with a protective film.
To secure enhanced hair coloring results and intensive treatment, Surya Henna Powder is enriched with other plants native to India:
- Amla:
a fruit rich in vitamin C
- Shikakai:
this word means "fruit for the hair"; it promotes deep cleansing and hair growth
- Bibhitaka (Terminalia belerica):
an astringent
- Indigo:
coloring properties
- Indian gum-Arabic (Acacia Arabica):
rich in tannins; it acts to lock in color


---