MASEUR
SPORT STRAP SANDALS
---
** NOTE: MASEUR SANDAL BRAND **
THE FAMOUS & FAVORITE
OLD-STYLE SLIP-ON MASEUR SANDALS
ARE DISCONTINUED !

The general consensus is the that Old-style Slip-on Maseur Sandals are of far superior workmanship than the New-style Slip-ons which were introduced in 2005 - much to the disappointment of many of our customers.
We have decided to discontinue to carry the New-style Slip-on Maseur Sandals.

We highly recommend the Sport Strap Maseur Sandals
as the next best thing to the Old-style Slip-on Maseur Sandals.
For remaining Old-style Slip-on Maseur Sandals in stock:
Go to the main Maseur Sandal Page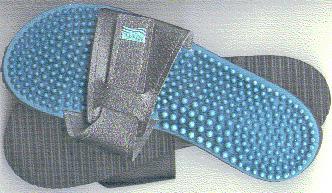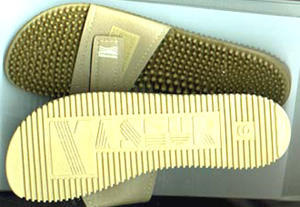 ---
For those who has sensitive feet, try:

The Maseur Smoothie Sandals
Go to the main Maseur Smoothie Page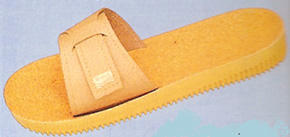 These Sandals have the same design and contour as the original Maseur Sandals, but without the nodules.

The cork-like sole contour and the zero heel makes it extremely comfortable.
---
---
MASEUR
SPORT STRAP SANDALS
Features:

* The ankle straps with velcro & buckle provide support.

* The double front straps with velcro provide even more support.
* Crepe sole.
These Sandals are strong. The nubs do not break off, as they are made of a different material than the Original Maseur (Old-style Slip-on) Sandals. We advise that you wear socks with the Sandals to break them in.

For those who want a slip-on sandal, and the Old-style Slip-on Maseur Sandal is NOT available in your size,
we recommend getting these shoes as an excellent alternative.
The buckle at the back of the shoe can be cut off and the two front straps are more than sufficient
to hold your foot in place so that you can walk in them with no problems.
---
---
| | |
| --- | --- |
| | |
---
---
A note from Phil Wilson
Owner of Momentum98
Why are Maseur Sandals the greatest?

The Maseur Sandal nodules apply the basic principles of reflexology and acupressure. Gravity carries the toxins in the body down to the feet (the ones that your body can not or do not want to release). These toxins crystallize in the feet, thereby causing pressure, hence pain. The Maseur Sandal rubber nodule action can stimulate the crystals at the bottom of the feet to dissolve, revive circulation, and give your body another chance to do some release work. And of course, the principles of reflexology, vita-flex therapy, and acupressure further explain why the feet, the back & the body respond so well to these Sandals.
Go to the main Maseur Sandal Page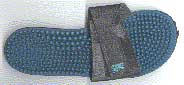 Features of the Maseur Sandals:

* Light-weight
* Zero heel
* Flexible rubber sole and sturdy rubber nodules

Momentum98 has twenty-five years of experience with Maseur Sandals!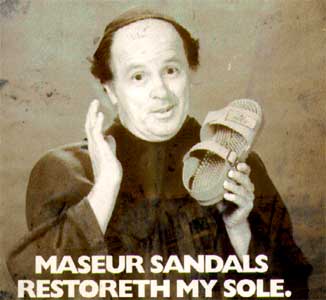 ---
---