Massage tables - reiki massage - massage therapists - body workers - health practitioners - acupuncture - custom craftworks
Last Updated: 4/6/11
Shop Our Online Store:

Since 1980!

Momentum 98
Natural Health Store

Taking Advantage of the Moment!




Propelling Yourself into Greatness!
Massage Tables
by Custom Craftworks
---
FeatherLock
The FeatherLock is a streamlined potable table that maintains the premium quality of CustomCraft, even at its modest price.
The comfort of the 2" double-Layered foam system and the solid efficiency of the integrated frame system make the featherLock a low priced investment that pays long term dividends.
Includes high quality Custom Craftworks features like two locking knobs at each height adjustment for lateral stability and convenient face rest holes at both ends.
Backed with their lifetime Warranty, the Featherlock is a reliable table that will serve you will.
widths: 24", 26", 28", 30", 33", 36"
(95% of the tables we sell are 30" width)
Lengths: 73" (can come 78" for extra charge)
Heights: 24" - 34" (can get 17" - 25" or 21" - 29")
Weight - approximately 30 lbs
Load Rating: UL listed 650 lbs Dynamic Load
Warranty: Lifetime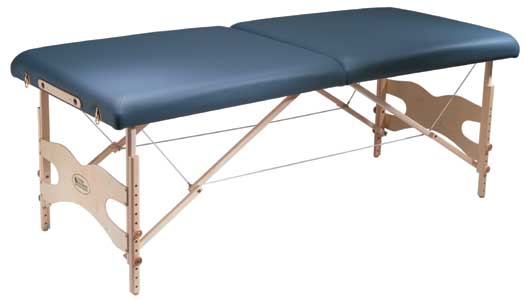 $369 + Freight = 40.00 . Total = 409.00
Crescent headrest additional $49.00 = Total $458 including s/h
We recommend the 30" width - Which is what most massage therapists want.

---
ATHENA
CustomCraft Athena Massage Table
The incredible Deluxe Quality Table
with posi-tilting Headrest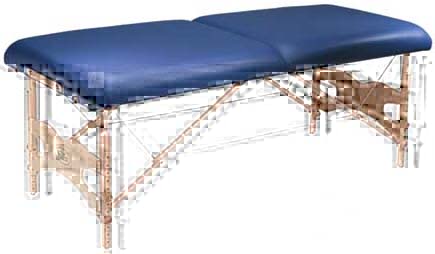 Luxurious, strong, silent, secure --
the Athena is the Custom Craftworks best selling portable massage table by far.
A classic beauty with invincible strength, the Athena outperforms all others.
When you see the beauty and feel the superior quality of this massage table, you'll know why.
Their world class 3" Triple-Wrap Foam System is a perfect blend of firm density
for structural support and medium density for receptive comfort.
The Integrated Frame System™ ensures solid, stable performance that's easier on your hands. Beautiful Hard Rock maple legs and braces are the crowning touch.
While you are building your massage practice by providing your clients
with the most comfortable massage table available, you are taking
care of yourself with the Athena's flex-resistant efficiency.
The preferred choice of the most prestigious massage schools, spas, resorts
and successful therapists, the Athena is the model by which all others are measured.
From start to finish, the Athena gives you supreme performance and the
professional pride of owning quality...Custom Craftworks quality.

(without headrest) $449 + 40.00 shipping = $489.00
regular headrest = $49.00 extra
tilting headrest = $89.00 extra
Special package: $649 including shipping, and you get
a bolster worth $29.00,
a carrying case deluxe, worth $89.00
the tilting headrest worth $89.00
and 3 flannel cotton face covers worth $18.00
Normally, that would be: $489 + 29 + 89 + 89 + 18 = $714.00
Widths 24", 26", 28", 30", 33", 36"* (extra charge $50.00 for 36")
(95% of the tables we sell are 30" width)
Lengths 73" (78" available for extra charge)
Heights 25"-35" (18"-26", 22"-30" optional)
Weight: Approximately 31 lbs
Load Rating UL listed 650 lbs.
Dynamic Load
Warranty: Lifetime
---
Testimonial:
The quality of construction and materials found in the Athena is unrivaled by any table I have ever worked with ... the best massage table available to the serious therapy professional today !
Paul St John, St. John Neuromuscular Pain Relief Institute
---
features of the Custom Craftworks Athena
3" triple wrap foam system.
A generous layer of high density foam on the bottom provides a solid foundation for you,
topped with two layers of medium density foam to deliver a
luxurious cushion of comfort for your client.
The sides of the tables are wrapped with foam so that you touch only softness.
Legs and braces glide on nylon inserts at the point of contact for smooth silent operation
Hardwood blocks in all eight corners are securely braced,
stapled and glued to provide maximum strength.
Reinforcing ribs are integrated into the frame to further strengthen the table top.
Helps eliminate flexing that can waste your energy.
If the top flexes, your hands work harder than they should.
Support top is made from the highest grade Finland birch, chosen for strength and flex-resistance. 33% thicker than other tables in its class.
Face rest conveniently fits inside table for transportation.
Face pillow has room to maintain fullness when stored in table.
Easy height adjustment provides optimum leverage and less back strain while you work.
Two knobs provide greater lateral stability, eliminates pivot points.
Face rest holes on both ends for convenience.
Silencing felt pads between legs and extensions eliminated
the squeaks and creaks common to many tables.
Full length hinge restricts lateral torquing between table halves.
Soft reinforced vinyl handles stay out of your way while you work
and are comfortable to hold when carrying your table.
---
Fabric Colors
This is standard on all tables:
made with Levante - Quality Vinyl that is supple, easily cleaned and wears well.
Here are 10 colors to choose from:
(The big dot to the left is Burgundy.)

(Please excuse the inaccuracy of some of the colors.)
colors left to right:
top row: agate, sage, teal green, burgundy, raspberry
bottom row: haze gray, willow, cloud, purple, black
Let's try this chart again...



(Please excuse the inaccuracy of some of the colors.)
Let's try one more time.



top row: agate, sage, teal green, burgundy, raspberry
bottom row: haze gray, willow, cloud, purple, black
---

Hopefully these 3 color charts will give you an idea of what the colors look like.
Willow, Teal Green, burgundy, and purple are some of the most popular.
---
Price $418.00 + $40.00 for freight (price includes headrest)
Tilting Headrest additional $40.00 (on Featherlock)
Beautiful Carrying Case (in beautiful Jade) - additional $85.00
Other Accessories are available... like bolsters, fitted sheets, etc.

---
Reiki Tables
Reiki Table - Price $450.00 + $40.00 for freight.
---