THE NETI POT

NASAL CLEANSING
---
Select a product:
Information on the Neti Pot and the practice of nasal cleansing
---
NASAL CLEANSING:
The practice of traditional Neti - a time honored East Indian practice...

* Frees the air flow through both nostrils to free breathing.
* Counteracts effect of environmental pollution.
* Alleviates sinus, cold, or allergy problems.
* Removes excess mucus.
* Relieves nasal dryness.


Why a Nasal Cleaning?
The nasal passages are lined with a thin layer of mucus that is one of our body's first lines of defense against disease. A nasal wash keeps this layer of mucus moist, clean and healthy. This gentle and effective technique of nasal irrigation is widely recommended by health practitioners worldwide as a wonderful way to improve your overall feeling of well-being and maintain radiant, vibrant health.

How often?
A nasal wash can be as routine as brushing your teeth. For regular health maintenance use 1-2 times a day,
upon rising and at least an hour before bedtime (which gives the mucous in your sinuses a chance to drain before you lay down). You may use more often if congested or infection is present.

Sinus relief...
The Nasal Cleaning is helpful in treating sinus and nasal congestion, pressure, infections, post nasal drip and headaches or used as a daily health maintenance practice.

For Yoga...
More and more yoga practitioners are now hopping on the Neti bandwagon. The practice of Neti helps increase breathing competency (which clearly would benefit any yoga practitioner). When breathing techniques and ability is strong, our body chemistry returns to a balanced state. For regular healthy maintenance use 1-2 times a day, upon rising and at least an hour before bedtime.

The practice of nasal irrigation:
The practice of nasal irrigation, known as Neti, has been used by practitioners of Yoga and Ayurvedia in India for hundreds, if not thousands of years. Neti is one of the six purification techniques undertaken prior to the practice of yoga to help prepare the body. It is referred to in the original yogic texts known as the Hatha Yoga Pradipika and the Gheranda Samhita. It is described at some length in the Complete Illustrated Book of Yoga by Swami Vishnu Devananda, published in the USA as early as 1960. Some yogic teachers consider nasal irrigation valuable in cleansing the energy channels and balancing the right and the left hemispheres to create radiant, energetic health and wellness, which is the foundation upon which true yogic practice can come to fruition.

Jala Neti
While there are advanced techniques using various herbs and herbal oils, the simplest technique, known as Jala Neti uses water (jala) for the cleansing process. Lukewarm water is used to gently open up the nasal passages. Use of a neti pot or vessel is recommended to ease this process. Advanced practitioners may use this pot also for the herbal or oil administration (referred to as nasya) as well. Useful for removing dirt, pollen, excess mucous, and other irritants. Soothing and moistening to dried out passages. Traditionally used as a purification exercise for the practice of yoga.


Instructions:
The technique is not as hard or uncomfortable as one may first think.
Once learned, the practice can be done in about 3 minutes.

1. Prepare the saline solution (often 1/2 teaspoon) and fill the pot.
2. Tilt your head to the side.
3. Insert spout of Nasal Cleansing Pot gently into the raised nostril creating a seal between Pot and nostril.
4. Raise the Nasal Cleansing Pot slowly to develop a steady flow of saline solution through the upper nostril
and out the lower nostril.
5. During the process breathe through your mouth.
6. Upon completion, exhale firmly several times to clear the nasal passages.
7. Reverse the tilt of your head and repeat the process on the other side.

** If you experience an uncomfortable sensation, adjust the temperature of the water slightly or decrease the amount of salt in saline solution. **

Please consult your health care practitioner regarding your condition for additional guidance or information.




A Note From Phil Wilson
Owner of Momentum98

The Practice of Neti is so successful that responses from first time users often changes from:

"There is no way I am going to do that!"
to
"Wow, this is great!"

Most find it a soothing and pleasant practice once they try it. If you are one of the many people who find that your nasal passages are blocked as a result of the effects of pollution, dust, pollen, and other irritants, you may find this a simple cleansing technique of invaluable benefit to you.

In the early 1990's, I became the first distributor to sell the Neti Pot in the U.S. And much like the Ancient Coning Candles, sales started skyrocketing immediately. When you are the only one progressive enough to carry such a "weird" product, people flock to your doorstep. Since then, we have sold thousands of Neti Pots.

We carry several competing Neti/Nasal Pots that are on the marketplace now.
They all work. They are all great. They all do the same thing.

* They soothe dry nasal passages.
* They gently wash away dust, pollen, and irritants.
* And, they remove excess mucous.. naturally.

Picking a Neti Pot is simply a process of personal preference.

Some like the Neti Pot because it is the original!
Some people like the plastic one because it won't break in the bathroom.
Others like the artistic Nasal Pots because of their beauty.
And others like the Nasal Cleansing Pot because of its lower price.



Man raves about sinus symptoms disappearing!

So whatever your inclination is, we are happy to supply you with a product that has
helped tens of thousands to get rid of chronic nasal problems.
We've gotten feedback from all over the country of customer satisfaction and
raves on the wonders of the Neti Pots in clearing about sinus symptoms!
---
---
BOOKS
ABOUT NETI
---
BKK255
Neti: Healing Secrets of Yoga and Ayurveda
by David Frawley

BKK602
The Neti Pot for Better Health
by Warren Jefferson
---
---
CERAMIC NETI POTS
---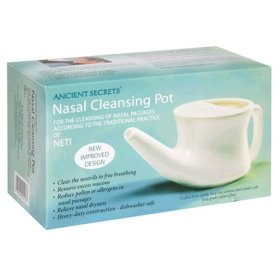 NET12 - Ancient Secrets Nasal Cleansing Pot
Teapot Style

Heavy-duty construction - dishwater safe.
Crafted from sturdy, lead-free ceramic and coated with food-grade sealant glaze.
The Ancient Secrets Nasal Cleansing Pot is the ideal answer for cleaning nasal passages.
You need only follow the simple directions inside to prepare the saline solution used to rinse through your nostrils.
---
Ceramic Neti Pot
BY THE HIMALAYAN INSTITUTE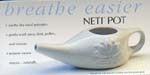 Breathe Easier Neti Pot - discontinued
---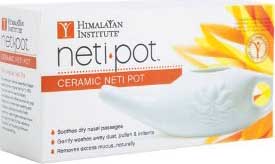 NET01 - Ceramic Neti Pot
Made with lead-free ceramic and food-grade glaze.



Comes with complete instructions on:
* How to use the saline solution
* How to tilt the head
* What to do after the nasal wash
* Suggestions on new ways to touch your toes.
---
CERAMIC NETI POTS


| | | |
| --- | --- | --- |
| | | |
| NET24 - Blue | NET23 - White | NET22 - Purple |
---
---
STAINLESS STEEL NETI POT
---

NET20 - Stainless Steel Neti Pot
---
---
PLASTIC NETI POTS
---
SINUCLEANSE NETI POT KIT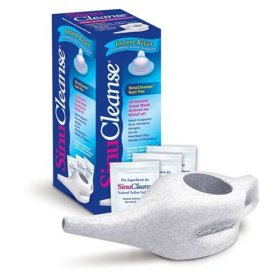 NET04 - Plastic SinuCleanse Neti Pot Kit
Includes 20 Saline Packets
---
NEW SINUCLEANSE
SQUEEZE BOTTLE KIT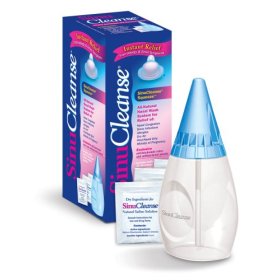 NET041 - SinuCleanse Squeeze Bottle Kit
Includes 30 Saline Packs
---
---
---
---