NUTRITIONAL LIFE
SUPPORT SYSTEM
---
These nutrient-dense botanical concentrates
contain digestible chlorella, spirulina
& Chinese Herbal Concentrates
These products are substantially REAL, possessing the unmistakable color, taste & texture of an uncommonly HIGH concentration level.
All elements are balanced for correct interaction and are suspended in a fluid
structure creating the most effective delivery system.


A Note From Phil Wilson
Owner of Momentum98

What is Spirulina & Chlorella?
Personally, I eat all these foods, because my body loves the nourishment. These are all different plants, yet they all algae. Algae are Super Foods, because they are loaded with nutrients, and you'll feel very balanced after ingesting them.
Read my:
A History Lesson
The popularization of Algae in the United States of America

Click to read more about Algae
---
---
** BEST SELLER **
TWO TIGERS ESSENCE
NLS344 - 4 oz
NLS34 - 8 oz
Energy, Endurance, Longevity
This formula is for energy, endurance, and longevity.
This product is NOT advertised or promoted as a virility product,
but since it contains essential herbal nutrients especially beneficial to the glands,
it probably is more effective than any of the other products promoted for virility.
It can give the martial artist extra endurance, as it definitely has many testimonials from martial arts practitioner supporting its ability to increase chi in the body.

The prime ingredients are Ginseng root and Tang Kuei and they strengthen internal organs, build energy (Qi), and enrich the blood. This formula counteracts any lifestyle excesses or deficiencies. The essence of longevity.

Contains: Cortex Eucommia, Corni Officinalis Fruit, Prepared Radix Rehmannia, Chinese Panax Ginseng Root, Tang Kuei, Radix Dipsaci, Radix Achyranthis Bid, Schisandrae Fruit, Radix Polygoni Multiflori, Eleuthero, Lycii Fruit, Licorice, Ramulus Loranthus, Saussureae, Cinnamoni, Molasses, Royal Jelly.
---
N3 NOURISH COMPOUND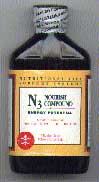 NLS35 - 4 oz
NLS05 - 200 caps
Deep Energy and Blood Builder
-Suitable for both Women and Men-
Function: To strengthen and insufficient body process and provide the nourishment necessary to rebuild body tissue. This formula greatly promotes the ability of the body's energetic system to drive a physiological activity in great demand, with a premium source of power.
This formula was designed to build, repair and strengthen body tissue: e.g., heart kidney, lung, etc. It does not rely on fast acting stimulants which will ultimately weaken the body. This formula does not include ingredients which contain caffeine such as camellia or guarana. Nourish is therefore appropriate for prolonged us without resultant detrimental side effects.

Constituents: 50% Supermicrogreen- 50%of the following herbs and actions:
Chinese Panax Ginseng - Known to increase mental acuity, memory, intellectual performance, reaction time, volume of work performed, cardiovascular tone, DNA production, RNA activity, learning potential, endurance, (anti-fatigue, sharpens reflexes), and life span. It is anti free radical, antitoxin, anticancer, has anabolic effects, anti stress capabilities; it improves adaptability of the nervous system, increases wakefulness and stimulates T-cell and interferon production.

Eleuthero - A potent adaptogen increasing resistance too many kinds of stressors. Increases the duration of physical activity before fatigue and increases resistance to certain environmental pollutants decreasing rates of spontaneous cancers. Helps normalize blood glucose levels. Used prolifically by Russian athletes to increase vitality and endurance.

American Ginseng - Provides tranquilizing effect, helps lower blood pressure, is anti- toxin, anti-inflammatory, it increases RNA production, anti-body and resistance to certain types of stress. It is a milder herb than the Chinese Ginseng.

Tang Kuei (Dong Quai) - Increases T- cell and interferon production, normalizes the functioning of the uterus, and is renowned by Oriental herbalists for its ability to build rich blood.

Fo-Ti (Polygoni Multiflori) - Nourishes the blood. Builds deeply situated body energy. Helps decrease cholesterol levels. Used for physical debility and weak lower back and knees.

Astragali - Helps decrease blood pressure, increases endurance, increases the number of phagocytic leukocytes, T-cells, and interferon. It strengthens digestion and raises metabolism. It enhances the body's resistance to disease.

Saussureae - In Oriental herbology, it is used to promote the functioning of the digestive system. It increases intestinal peristalsis. It is effective in preventing energy tonics such as Chinese Ginseng, or rich blood tonics such as Tang Kuei, from overburdening the digestive system. Saussureae promotes the movement of these substances through the vessels, thus preventing stagnant energy conditions.

Poligonati Rhizome - To nourish the yin and moisten the lungs and also to tonify the spleen and promote qi

Gingko Biloba - Improves blood flow to most tissues and organs; it protects against oxidative cell damage from free radicals.
*This formula is not recommended for use at the onset of an Illness (e.g. cold, flu, infections etc.) without regard to the appropriate herbal selection necessary to expel the disease producing influence. During this acute stage and while the pathogen remains active in the body, the Renewal system of detoxifying herbs from Nutritional life support systems may be considered.
---
R3 RENEWAL SYSTEM PURIFICATION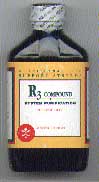 NLS48 - 4 oz
NLS06 - 200 caps

For Detoxification

Function:
Promote a deep, thorough cleansing and elimination. Clears infection in all parts of the body. Improves elimination of waste. Can be used in the prevention of colds, flu's, and urinary tract infection. Most effective if taken early when symptoms first appear.
Helps lessen the severity of existing colds or flu's and accelerates their resolution.

Therapeutic Principles:
• To stimulate phagocyte white blood cells and their products that takes part in the body's defense against foreign configurations (e.g. bacteria, viruses, or body cells that are mutant, damaged, or cancerous).
• To directly inhibit or cause the destruction of disease producing organisms by the use of herbs which, through pharmacological and clinical research, have demonstrated varying degrees of anti-inflammatory, anti-infectious, and anti-microbial effects.
• To supply a supplemental portion of the nutrients necessary to rebuild and revitalize body tissue.
• To trigger a series of homeostatic events that restores damaged tissues and inter-cellular conditions and expels pathogens.
*Renewal may be used in concert with the following methods:

FASTING:
Fasts of ½ to 1 ½ days will help toxins from the body. During this period of non-eating, the Renewal formula vegetable and citrus juices- preferably fresh, and plenty of purified water may be taken. Consult with your health care provider for the length of time in which you could be maintaining a fast. End your fast with easy to digest whole foods.

COLON CLEANSE:
An effective colon cleanse can be made by mixing one teaspoon of psyllium seed powder in 8-16 ounces of water or juice to be drank before gelling occurs. Repeat three times daily along with the renewal formula. This combination will create a powerful effect, removing putrefactive toxins from the colon. Drink plenty of water throughout the day while taking psyllium.
**Adjunct therapy may include clean air, clean water, relaxation, stress reduction, exercise, positive attitude, and proper diet.
Contains: 50% Supermicrogreen (Nutrient source) and 50% Propriety herbal blend containing: Chapparel leaf, Goldenseal root, Red clover, Myrrh Gum, Ginger root, Cascara sagrada, Dandelion (whole plant), Scutellariae root, Echinacea, Bupleurm root, Burdock root, and Coptidis rhizome.
---
E23 EMPEROR'S RESTORATION FORMULA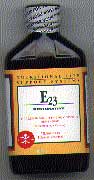 NLS37
For Stress Reduction/ Immune System
Maintenance/ Energy management
Promotes calm while maintaining clarity
Function: Promote calm while maintaining clarity, promote controllable energy, build rich blood to nourish body tissue, replenish the immune system, nourish the heart and balance emotions.
A profound suppression of the immune system can occur as a result of a chronically high stress level. Stress affects T-cell mitogenesis, the production of interleukin II, interferon, and the natural killer cell activity. The result of one study demonstrated that subjects in a control group who were experiencing chronic emotional stress had a 50% reduction in natural killer cell activity.
It is now known that we can manifest symptoms more serious than headaches. Stress is also a risk factor in the following:
Coronary Heart Disease* High Blood Pressure * Angina* Asthma* Hives * Hayfever* Hypoglycemia * Tooth Decay * Ulcerated gums * Skin Rash * Loss or graying hair *
Inflammation of Vein walls * Arthritis & Rheumatoid Arthritis * Infectious disease * Ulcers of the Stomach or Colon Cancer * Diabetes *

Premenstrual Tension Stress acts as a catalyst for some already present organic diseases such as cancer and arthritis, perhaps accelerating their growth. Because it is recognized that chronic stress plays a major role in illness, it should be understood that isolated immune system boosters, used to overcome the effects of a stressful lifestyle, cannot provide lasting results and may ultimately contribute to a chronic state of half wellness.
Taking energy stimulating herbs, vitamins, coffee, or substances in an effort to regain energy depleted due to a stressful lifestyle can cause an increase in stress levels as well as in energy levels and thereby intensify the causative factor- chronic stress.
It is clear we must consider the stress as well as the manifested symptoms. The proper herbal approach to reducing stress levels involves combining in correct proportion, herbs which will best perform the above stated function. These were the principles of development helping to produce the Emperors Restoration Formula. Ideally this herbal approach should be combined with other stress reducing techniques such as meditation- if so; the results can be almost immediate. By maintaining a moderate stress level we can progress through life experiences while remaining calm, focused and alert- ready to seize opportunity- our immune system on the defensive and our energy level sufficient for us to succeed in our endeavors.

Contains: Chinese Panax Ginseng Root, Astragalus, Poria Cocos, Biota Orientalis
Schizandra Chinensis, Salvia Miltoiorrhiza, Euphoria Longan, Zizziphus Jujuba, Tang Kuei, Polygala Tenvifolia, Atractylodes Macrocephala, Saussurea Lappa, Zizziphus Sativa, Baked Licorice, Ginger
---
GI COMPOUND
NLS38
Food breakdown/ Nutrient Absorption Program
Function: Improve digestion by strengthening the physiological activity of the organs involved in the processing of foods in order to increase nutrient absorption and limit the growth of harmful microorganisms. Provides concentrated nutrients for support. Helps release constraint in the digestive system due to emotional factors. Builds energy (Qi), especially of the stomach.

Also useful for occasional "upset stomach" or feeling of food retention due to a variety of causative factors.
The mechanical and chemical reduction of ingested nutrients into particles, then into molecules small enough to move through epithelial cells and into the body's internal environment, depends on the proper activity of the digestive system. If the body cannot perform this process efficiently, some degree of nutritional deficit can result regardless of how rich in nutrients the foods ingested may have been. A depressed "middle system" can adversely affect every cell in the body.

Contains: Supermicrogreen (Digestible Chlorella and Spirulina Microalgae), Atractylodis macrocephalae, Ginger juice, Cooked Cortex Magnolia officinalis, Dry cooked Rhizoma Cyperi Rotundi, Chaparral, Fructus A. Cardamomi, Atractylodis Lancea, Roasted Ginger root, Chinese Ginseng root, Saussurae Lappae, Baked Licorice, Pericapium Citri Reticulatae, Fructus Seu S. Amomi
---
MONTHLY CYCLE REGULATION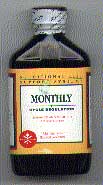 NLS47
Balance and Nourish for Women
Specifically includes Tang Kuei to assist in reducing physical discomfort and moderate emotional distress associated with premenstrual imbalance.

Contains: SuperMicrogreen (Digestible Chlorella / Spirulina), Tang Kuei, Rhizoma Corydalis, Rhizoma Cyperi, Radix Saussurea, Radix Lindera, Jixueteng, Amomi fruit, Herba Leonuri, Radix Paeoniae alba, Cortex Albizziae, Radix Bupleuri, Licorice
---
TANG KUEI COMPOUNT (DONG QUAI)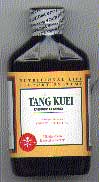 NLS27

Proper Balance Energy Potential
Nutrients for building rich blood to nourish body tissue and can regulate the female reproductive system. The herb Tang Kuei has also been used as a blood purifier, to promote blood circulation and nourish the blood in both sexes. It is high in iron content and may help to prevent iron deficiency and anemia.
Contains: Tang Kuei root, Radix Polygoni Multiflori, Radix et Caulis Jixuetang, Raidx Rehmanniae prepared, Raidx Paeoniae Alba, Poria Cocos, Radix Ligustici Wallichi
---
SPINOSA VALERIAN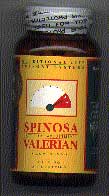 NLS315 - Spinosa Valerian - 105 caps
NLS31 - Spinosa Valerian - 210 caps
Attitude Adjustment
Promotes Calm and Relaxation
Formulated especially for the highly strung, irritable, and hypertensive personalities. Helps overcome headaches, insomnia and other imbalances caused by overstress. Best taken mornings.
Contains: Cortex Albizziae, Prepared Bupleurum, Processed Zizyphus Spinosa seed, Valerian Root, Passion flower, Caulis Polioni Multiflori, Paeonia Alba, R. Uncariae C.U., Spica Prunella, Flos Chrysanthemum, Magnesium
---
SEQUENTIAL BALANCE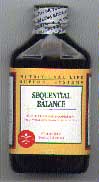 NLS50
Regulating and Nourishes the female system at the time of Menopause
Includes Tang Kuei to build blood and quell deficient heat symptoms.
Also includes nutrients to preserve essential energy and maintain normal balance.

Contains: SuperMicrogreen (Digestible Chlorella and Spirulina), Herbal Cistanches, Herbal Epimedi, Tang Kuei, Radix Rehmannia Prep., Paeonis Lactiflora, Biota Orientalis, Zizyphus Jujuba, Cortex Albizzia, Rhizoma Anemarrhea, Cortex Phellondendri, Licorice, Royal Jelly, Vitamin E (vegetable source).
---
OXYGEN ACQUISITION Triple Strength

Picture coming soon....
NLS30
Regenerative Energy Potential
A formula for optimal respitory function, health and overall well being.

Contains: Poligonati Rhizome, Schisandrae fruit, Platypus, Cosmogonists Root, Chinese Ginseng root, Pseudostellariae root, Lilii Bulb, Oil of Peppermint, Ligustici Wallichi Root, Licorice
---
R5 REDUCTION STABILIZING ENERGY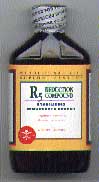 NLS49
Stabilizing Immoderate energy
Lowers Excess/ Calming
Formulated especially for the highly strung, irritable, and hypertensive personalities. Helps overcome headaches, insomnia and other imbalances caused by overstress. Best taken mornings.

Contains: Cortex Albizziae, Prepared Bupleurum, Processed Zizyphus Spinosa seed, Valerian Root, Passion flower, Caulis Polioni Multiflori, Paeonia Alba, R. Uncariae C.U., Spica Prunella, Flos Chrysanthemum, Magnesium
---
LNG3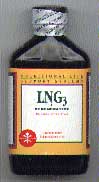 NLS43 - LNG3 (Lung Clearing)
Lung Clearing
Regenerative, Energy Potential

Contains: Poligonati Rhizome, Schisandrae fruit, Platycody, Ophiopogonis Root, Chinese Ginseng root, Pseudostellariae root, Lilii Bulb, Oil of Peppermint, Ligustici Wallichi Root, Licorice
---
---