ORBIT MASSAGER
---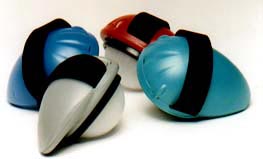 Four Orbit Massagers playing in the park.
---
Rolls Relaxation into your muscles!
CIRCULATING MASSAGER
Ball rolls freely in EVERY direction for IDEAL massage action.

SIMULATES the action of Swedish massage...
RELAXES stressed muscles...
SIMULATES blood flow...

This unique hand-held, omni-directional massager delivers the most effective
circulatory massage, whether you like deep muscle or light surface massage.
The Orbit Massager is designed to rotate in a circular, kneading motion
on the body to create circulation, which is fundamental in massage.

The Orbit Massager will enhance YOUR ability to simulate the technique of a trained professional.
---
---