FULL SPECTRUM LIGHTING
PRODUCTS
---
Select a Full Spectrum Light Product:
---
---
A note from Phil Wilson
Owner of Momentum98

We use Full Spectrum Lighting here at our Health Store in Columbus, Ohio. We find the light illuminates a special clarity that standard light bulbs just can not match.

If you think about - the grow lights are placed above plants to help them grow emit Full Spectrum lighting. Without Full Spectrum light, plants suffer. Why? Full Spectrum is natural light. Shouldn't humans benefit from this technology as well?

In the book, Health and Light, ( by Dr. John Ott who was the first one to perform the time lapse photography of flowers opening, etc.) in the 1950s for Walt Disney Studios, Ott points out a situation in one elementary school where 3 students in one class came down with leukemia. After much research, it was discovered that the teacher of that class opened the day by closing the curtains to the windows, thus depriving the students of natural complete sunlight.
Instead, the students were bombarded with normal lights, probably fluorescent bulbs.
These are not Full Spectrum, and it is indeed a sad case of American health that so many of the great grocery stores and department and other stores and offices of America have light provided by non-Full Spectrum fluorescent light bulbs.


Dr. Ott became a pioneer in Light Research. He discovered that distorted light and the radiation it emits had an adverse effect on plants, animals and humans. Through 40 years of research, he has developed a total spectrum of radiation-shielded lighting products for the home, office and outdoor activities.

The following products are the Full Spectrum Light Products that I have chosen to sell at the store (among the many brands and products out there on the market that I have come across over the many years I have been in the Health Business).
---
---
OTT-LITE
FULL SPECTRUM SUNGLASSES

| | |
| --- | --- |
| | |
| LIT04 - Standard style - Unavailable | LIT041 - Aviator Style |
Durable and light-weight, with impact-resistant lenses. Ott Sunglasses provide UV protection and perform well in all weather conditions. Each pair of Ott Full Spectrum Sunglasses includes a designer hard case and lens cloth.
Ott Sunglasses are created with the same lighting research science applied to Ott Lite Lighting Systems developed by Dr. John Ott. It is well documented that light entering the eyes influences the master glands, the pituitary and pineal glands, affecting our immune system and moods.
Ordinary sunglasses block out natural light and colors, which Dr. Ott established are as important to our bodies as clean air and pure water. Ott Sunglasses, on the other hand, aid our bodies by allowing all the colors in the light spectrum to filter through the lens while providing UV protection and glare reduction. Also, the full spectrum transmission of Ott Sunglasses allows you to see true to life colors with amazing clarity and comfort.

These Ott Full Spectrum Sunglasses are designed to take advantage of nature's full spectrum of sunlight, yet still provide you with a level of UV Protection. Whether you are piloting a 747, sailing a yacht, skiing down a mountain side or just driving the freeway, you will find that these Ott Full Spectrum Sunglasses will serve your needs.
---
---
LONGSTAR 26 WATT
FULL SPECTRUM LIGHT BULB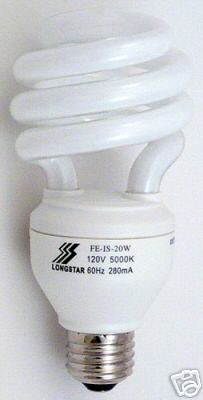 LIT036 - 30 watt
Light output - 1700 Lumens
Average Life - 10000 hours
---
---
VERILUX ORGINAL DELUXE
DESK LAMP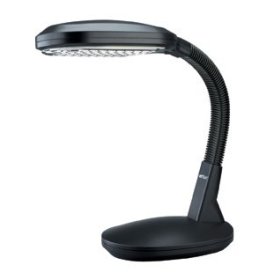 LIT41 - Burl color (brown hue)
LIT42 - Graphite color (gray hue) - pictured above
9.6" tall by 7" wide

Features:

* Exclusive Parabolic Light Diffuser shields your eyes from harsh glare.

* Patented 10,000-hour 27 watt bulb uses Trucolite Phosphor Technology delivers bright, soothing natural daylight.

* 2- way brightness control lets you adjust the bright, soothing light to suit your personal preferences.
* Flicker elimination technology assures instant-on, slicker-free illumination

*Flexible steel gooseneck for years of quiet flexible positioning.
It's a scientific fact: our eyes function most effectively in natural daylight. Verilux Natural Spectrum lighting was developed with this in mind. Refined to include the best of natural daylight without any harmful or unnecessary wavelengths, you will see greater contrast and truer colors with less effort and irritation. The result is just about the most visually efficient light possible.

Scientifically tuned to the Human Eye:

The human eye is equipped to process the full spectrum of nature's visible light. Key components making this possible include two types of photoreceptors called rods and cones. Rods are the most sensitive to blue-green light but transmit essential black and white information to the brain. Each of the three types of cone-shaped cells is sensitive to the long, medium or short wavelengths of the light, transmitting valuable information for color interpretation by the brain: L-cones capture reds, M-cones capture greens and S-cones captures blues.

Verilux Natural Spectrum lighting was developed on the basic premise that the eyes photoreceptors work best together when exposed to the full and balanced spectrum of visible light. With balanced stimuli, your brain is more efficient in interpreting the wide range of information needed to create an accurate mental representation of the world around you.

The birth of Natural Spectrum:

Suffering from chronic eyestrain and struggling to match colors on his award-winning paintings under ordinary light, renowned artist, educator and engineer Howard Scott developed and patented the first full-spectrum lighting system for use indoors anytime - day or night. Driven by the effectiveness and popularity of his invention, Scott founded Verilux, Inc. in 1956. Verilux technology quickly became the standard in the gemological industry for diamond grading and steadily gained recognition as a superior light source in many other professional settings.
---
To see our selection of Verilux HappyLights for seasonal affective disorder
CLICK HERE
---
---
INTERNET SPECIAL
DISCOUNTS ON FULL SPECTRUM PRODUCTS
*WE MATCH PRICES*
---