---
Unlike most air purifiers, the PIONAIR™ Air Treatment System doesn't wait for pollutants to contact a filter or plate. Instead, the PIONAIR generates air-purifying technology that migrates through the area and neutralizes organic odors, microbes, and molds at their source. As a result, the PIONAIR produces fresh clean air throughout your home or office uniformly, by addressing the pollutant source - without the use of fans, filters, or plates.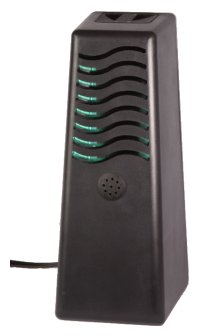 For maximum effect, the PIONAIR is intended for around-the-clock use. The system consists of a base unit and a lamp module. Coverage area depends on the lamp module, which comes in four strengths: 350 sq. ft., 750 sq. ft., 1500 sq. ft. The lamp modules are interchangeable, giving you flexibility to use the system in various locations. There are no moving parts or filters to clean, and the system is as quiet as a light bulb!
---
---
MiniMate
---
Sure, you have that box of baking soda somewhere in the back of your refrigerator.
How long has it been there again?

This great little unit will keep your refrigerator fresh smelling,
reduce food spoilage and keep foods fresh longer.

It is totally silent in operation and takes up about the same amount of space
as that old box of baking soda.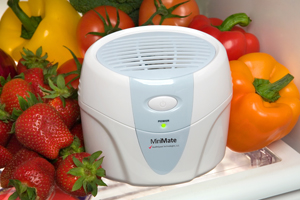 Features of the MiniMate
* An activated oxygen generator to eliminate odors, keep foods fresher longer and kill bacteria in your refrigerator
* Naturally kills odors without any cover-up scents or fragrance
* Reduces food spoilage and prevents cross-contamination of food odors
* Extends the freshness and life of many foods 3 to 4 times longer
* Breaks down pesticides and herbicides on produce
* Built-in CPU intelligently controls the operation cycle
* 4 D batteries last for about 4 months
* Easy maintenance with no costly filter to replace