---
Lee was in the sauna for about 12 minutes and says it was a very relaxing experience from the inside out and she felt much more flexible. "I could honestly go to sleep." She had felt some tension in the back of her neck and now she can move it around better. "I didn't expect for it to work so quickly in such a short amount of time."
She had been in a lot of far infrared wooden saunas before and said it would have taken a lot more time to achieve the results she experienced

in 12 minutes

in the Relax sauna. There was no preheating at all and within the first few minutes she instantly felt relaxed.
Her friend, Sebastian, had recommended she try the sauna and said it was amazing, a great experience. All of their team members who tried it said they also felt equally relaxed, Sebastian's feet had been hurting and after using the sauna they didn't hurt. The following morning his feet were still fine and he felt so refreshed. He could move and he was not as stiff as he had been prior to using the sauna.
She works at Inner Peace Organic Spa and offers services in massage, facials and waxing. She feels everyone would love the sauna, prior to the massage service in particular, but also anybody who would come just to relax.
Her parents had bought a far infrared sauna, so she was familiar with them, but she didn't experience any of the results that she felt in the first few minutes after using the Relax far infrared sauna. "It was a wonderful experience."
Acupuncturist uses and rates the Relax Sauna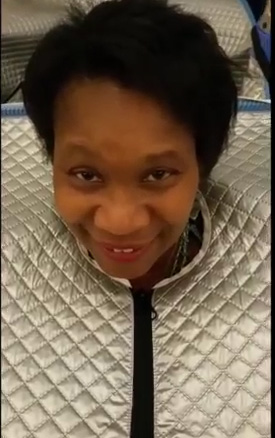 https://www.youtube.com/watch?v=qmHauoiAERA
Tunisia, an acupuncturist, tried out the sauna at the Acupuncturist Convention. After about 5 minutes in the sauna she said it was fabulous, more so than the wooden saunas she had used before. She had had some congestion on her right side and could now move her head easily from side to side. Her vision was now clear and the pain was greatly reduced.